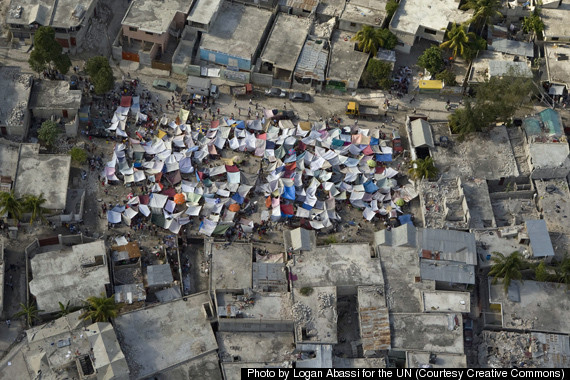 Six. Five. Ten. This is not a date to remember but rather an observation -- a note I made to myself recently. Six -- last week was six months since the earthquake devastated Haiti. Five -- this month is six years since Katrina destroyed parts of New Orleans. Ten -- next year it will be ten years since the Twin Towers were reduced to rubble and America was changed forever.
This past week I found myself drawing an unsavory parallel between all these events. I believe it was triggered by my own visit to Hangar 17 where I was surrounded by the wreckage salvaged from the 9/11 attack and a "tweet" I read.
The tweet was by Cameron Sinclair, who wrote: "The heat index in Port au Prince is 109. You could fry an egg on the sidewalk. If there were eggs, or sidewalks." The picture painted of Haiti at six months is grim. Little appears to have been cleared, and the figures being tossed around as necessary to begin the process are huge. Just to begin!
My interview with Claudinette Jean, possibly Haiti's future first lady, confirmed how slow moving and endless this rebuilding process is; a process, that at times, seems to have no end in site.
Walking amongst the twisted steel from Ground Zero, I couldn't help but feel a knot in my stomach. How would Haiti ever recover? With the trillions of dollars we have at our disposal to spend on rebuilding a multi-block radius, we have yet to see one building completed. Entire cities were destroyed in Haiti.
In Hangar 17 sits "The Meteor," an eerie compression of several stories of the towers formed into a solid rock-like structure. The families 9/11 victims believe human remains are embedded inside this singularly strong symbol of the devastation. Whether or not it should be put on display is still to be decided, but I am struck by the freedom to even decide. As the Haitian people walk past destroyed buildings, they are passing tombs filled with loved ones, strangers, and lost souls that will never be identified. They cannot avoid this. Is it necessary for them to become numb to the death surrounding them in order to exist?
Last year, I shot a documentary in New Orleans. I paid a local taxi driver to take me around and show me what I had only seen on television. We drove through the areas struck hardest by Katrina.
I was stunned to see blocks still filled with abandoned buildings; nothing changed since the hurricane, except a new state of decrepitness. In some areas, these blocks sat along side blocks of freshly painted and landscaped homes, now lived in.
The driver told me that this was because the people on those blocks had found a way to rebuild by their own means and determination while the still abandoned blocks relied on the government to follow through. I could see with my own two eyes that faith and reliance hasn't been working out well.
In writing this blog, I have come to see that Haiti's recovery is led by individuals finding ways to join together to make a change, to do good, to offer a hand, donate, volunteer. There are many catch phrases, but "doing something, anything" is the best way to say it.
Everyone can do "something." Just recently, Yele Haiti let me know they were running a toiletry drive -- shampoo, soap, toothpaste -- things we take for granted.
My next piece is about people opening their homes and hearts to Haitian children here in the US for medical care. Not everyone can undertake such an endeavor as to foster a child but anyone can find a way to make a difference, even if it means picking up the "two-for one" sales all year and putting one aside for Haiti.
SUBSCRIBE TO & FOLLOW WORLD POST