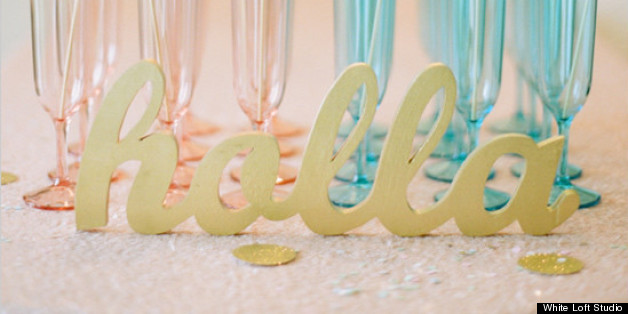 April showers bring May...weddings! It's that time of year. Wedding season is around the corner and your calendar is likely already sprinkled with a few (or more than a few) bridal showers.
Bridal showers can be a delightful treat. A time dedicated to showering the bride with gifts, love and support. Occasionally things go awry, and well-intended showers turn into awkward, stuffy or dramatic affairs.
Here are a few tips for throwing the perfect shower for a modern bride-to-be:
It's All About the Bride
There is no right way to throw a bridal shower. It is meant to be a special day for the bride, so make sure every detail reflects her. Plan a menu with her most-craved foods, decorate with her favorite colors and invite her bridesmaids, most cherished friends and family members.
Embrace the Unconventional
While some may believe that showers should reflect time-honored traditions, don't be afraid to put a modern touch on the affair. By acknowledging the personality and preferences of the bride, you will be sure that she and her guests have a great time. For example, if the bride is shy or reserved, she probably won't enjoy being in the spotlight or opening a huge pile of gifts in front of a crowd. Instead, create a beautiful place to display the wrapped gifts, making guests feel appreciated and the bride at ease.
Location, Location, Location
Many brides are going beyond tea sandwiches and cake and opting for unique themed showers, such as a wine and cheese party, bowling or even a group cooking class. Delight in the freedom you have here -- you aren't limited to a tea room or a garden. The possibilities are endless!
Keep it Simple
Pinterest is an amazing source of inspiration, recipes and DIY tutorials, especially when hosting an event. It can also be the source of some serious anxiety for perfectionist planners. Instead of trying to perfect every detail, prioritize the items that will be most meaningful and have the biggest impact.
It is not necessary to have jaw-dropping tablescapes, over-the-top florals and picture-perfect menu items for a successful shower. Are you famous for feeding the chocolate addictions of friends the world over with your killer torte? Put it on a pedestal and complement with a simple bouquet of fresh blooms. An overwhelmed host can overshadow the bride and the happiness of the occasion.
Include the Groom
Couples showers have grown in popularity over the past few years so don't be afraid to include the boys. Especially for a younger crowd, this can be a great opportunity for guests to make friendships prior to the wedding, making the big day even more fun for all.
If a couples shower isn't in the cards, consider inviting the groom to make a surprise appearance, perhaps bringing the bride a gift or a big, beautiful bouquet of flowers. Everyone will swoon at the romance of it all, and it might be a wonderful opportunity for some of the guests to meet the groom if they haven't yet.
Delegate
You don't have to do it all alone. Chances are you have a co-host or a slew of family and friends offering their assistance -- so take it! Willing cohorts (or bridesmaids) can help with duties from addressing invitations to flower arranging. Those close to the bride will be eager to play a role in making her special day memorable.
A Note of Thanks
Need a special gift idea for the bride-to-be? Pick up some personalized thank you cards. When it comes time to pen her many notes of heartfelt thanks she will appreciate the stylish stationery made just for her. Just remember that it is bad luck to use a new last name or monogram before the wedding!
Order some stationery for yourself while you're at it. Once the fete is over you will have your own list of people to thank!
Invite the Shutterbug
Designate someone to photograph the event. If it isn't in your budget to hire a professional photographer, recruit a member of the wedding party or a close friend to document the day. Posed pictures are nice, but even better are images capturing the location, décor details and candid shots of the blushing bride and her guests. After the shower, present the best pictures to the bride as a gift in an album, a photo book or slideshow set to music. She will cherish them forever!
Relax and Have Fun!
Even months of meticulous planning can't guarantee everything will go according to plan, so when the day arrives, allow yourself to enjoy every moment -- even the unexpected ones. Take a deep breath, sip a delicious beverage and celebrate!
SUBSCRIBE TO & FOLLOW LIFESTYLE
HuffPost Lifestyle is a daily newsletter that will make you happier and healthier — one email at a time. Learn more