He popped the question, you popped a bottle of champagne and now it's time to share the excitement with your friends and family!
Such life-changing news travels fast -- sometimes too fast -- especially in today's social media-obsessed world. Here are five tips to help you brides and grooms-to-be tell the world you're going to say "I Do" without the ew.
1. Impose a social media blackout
Ask everyone to hold off on posting about the big news online until you have had enough time to speak privately with your close family and friends, making each conversation a truly special one. A printed engagement announcement for your inner circle is always a nice touch.
2. Less is more
When it comes to sharing the news on Facebook, simple is best. A mere change to your relationship status or brief status update about the sweet proposal lets you effectively share the news without being too forthcoming.
3. Make it personal
Steer clear of clichés. Avoid intimate pet names, the phrase "my best friend," inside jokes, lyrics from Beyoncé songs and other overused lines. A short and sweet post that comes from the heart and reflects you both will induce smiles and be embraced in the social media world. Like this picture, for example: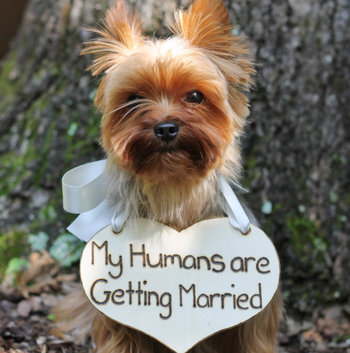 4. Be sensitive and tasteful
Share your delightful news in a tasteful way, keeping in mind that others may not be wearing the same rose-colored glasses of someone in love. It is a joyous occasion (and even more fabulous if you got that four carat ring you were coveting!) but read your announcement twice to make sure your post does not feel insensitive or boastful.
5. Honor your loved one
Remember you are only one half of the relationship. Make sure your partner is comfortable broadcasting the news and feels good about the way you decide to do it. Don't forget to include all three of you in the picture (you two and the ring!), you're engaged to the person, not the rock, after all!
SUBSCRIBE AND FOLLOW
Get top stories and blog posts emailed to me each day. Newsletters may offer personalized content or advertisements.
Learn more