Here's a quick and easy summertime pasta salad that's sure to please your guests at your next picnic or BBQ. No mayo needed -- just a touch of olive oil and lemon juice will do the trick, and the fresh corn, lemon zest and zucchini add the perfect sweet touch!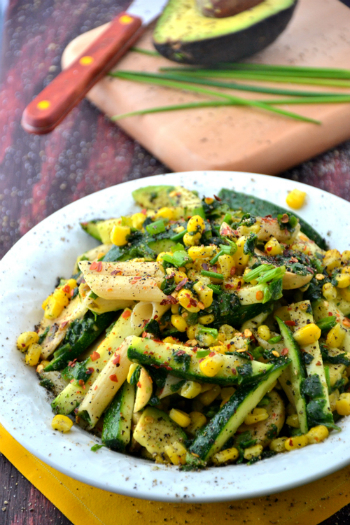 Photo by Amie Valpone, TheHealthyApple.com
Gluten-Free Zucchini n' Corn Pasta Salad
Gluten-Free and Vegan
Ingredients:
1/2 pound gluten-free penne pasta
2 large zucchini, thinly sliced crosswise
10 small button mushrooms, thinly sliced
1 (10oz.) package frozen corn kernels, thawed and drained
3 cups fresh spinach
1 tsp. grated lemon zest
2 Tbsp. lemon juice
2 Tbsp. extra-virgin olive oil
4 chives, finely chopped
¼ tsp. crushed red pepper
½ tsp. sea salt
¼ tsp. freshly ground black pepper
Instructions:
In a large pot of boiling salted water, cook pasta according to package instructions. Drain pasta, transfer to a large bowl, and toss with zucchini, mushrooms, corn and spinach. Set aside.
In a small mixing bowl, combine lemon zest, juice, olive oil, chives, red pepper, sea salt and black pepper; whisk well to combine.
Pour olive oil mixture over cooked pasta mixture; gently toss to combine.
Transfer to a serving bowl and serve immediately or cover and store in the refrigerator until ready to serve.
Serve chilled or at room temperature.
Here is another spin on my classic zucchini pasta salad: Gluten-Free Fiesta Pasta Salad
This Blogger's Books and Other Items from...
FOLLOW HUFFPOST