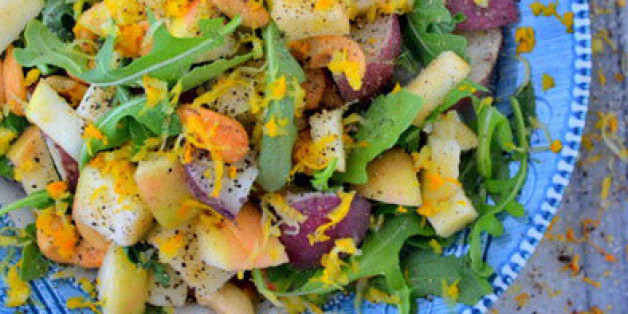 Since May is 'Salad Month', I thought it would be fun to share some tips on how to build the perfect salad that's not loaded with gluten, dairy, sugar or soy. With the weather warming up, you're probably craving fresh fruits, veggies and herbs that you can toss into a meal for lunch of dinner. Who wants to slave over their stove top or oven when it's hot outside? Make yourself a simple salad that you can tote to work and enjoy at your desk or add more oomph to your salad and enjoy it for dinner.
Healthy salads are a lot easier to create than they look. If you've got 20 minutes, you can easily toss together a filling and satisfying salad anytime with the below healthy ingredients. Start by upping the nutrition ante of your salad by choosing a healthy base of leafy greens such as baby kale, spinach and arugula. Give up the nutrient-void iceberg lettuce for a pre-washed bag of mixed organic greens. If you're pressed for time, just remember the main ingredients you'll need: grab a healthy fat (such as avocado), a lean protein (such as organic chicken breast), pre-sliced veggies or fruits (such as asparagus and apples) and a bag of organic salad greens from the food store and make a meal with what's already in your pantry.
Start by adding 2 cups of your favorite greens (choose from the below list) to a large serving bowl. Then, boost your salad with fresh fruits and veggies in an array of colors. Reach for raw or steamed veggies instead of veggies soaked in unhealthy vegetable oils. Choose 1-2 cups of fruits and veggies and pile them high into your salad bowl for an extra boost of fiber. Salads become meals when you add quality protein such as organic chicken or beans and legumes such as chickpeas and lentils. Toss in one serving of your favorite lean protein (be sure to avoid processed meats as well as fried proteins)! Focus on roasted, grilled or poached animal proteins or if you're a vegetarian, you can enjoy nuts, seeds, cooked beans and legumes. Add another dimension to your salad with textured toppings such as fresh herbs, nuts, seeds, avocado, dried fruits olives or croutons. And to top it all off, just drizzle your salad with a fresh dressing. There's no need to soak your salad in tons of oil; just drizzle your favorite oil along with an acid such as fresh citrus juice or vinegar and toss to combine. Here are a few suggestions you can use to build your healthy salad for May!
The Building Blocks for a Healthy Salad
Pick Your Leafy Green (s)
o Romaine
o Spinach
o Arugula
o Kale
o Endive
o Radicchio
o Collard Greens
o Swiss Chard
o Mixed green lettuce blends
Pick Your Fruit n' Veggies
o Cucumbers
o Bell Peppers
o Tomatoes
o Broccoli
o Mushrooms
o Carrots
o Red Onions
o Asparagus
o Sweet Potatoes
o Radishes
o Pineapple
o Berries
o Sugar Snap Peas
o Apples
o Kiwi
o Oranges/Grapefruit
o Purple Cabbage
o Avocado
Pick Your Protein
o Organic chicken or turkey
o Beans or legumes
o Eggs
o Nuts and Seeds
o Quinoa
o Salmon or other seafood
Pick Your Toppings
o Dulse Flakes
o Unsweetened toasted coconut flakes
o Seeds (hemp, chia, ground flax)
o Nuts (almonds, walnuts, cashews)
o Whole Grain Gluten-Free Croutons
o Fresh herbs
o Olives
o Figs
o Pomegranate seeds
o Dried Fruit (cranberries, cherries, mango, blueberries, golden raisins)
Pick Your Dressing
o Fresh Citrus Juice (Freshly squeezed lemon juice, orange juice)
o Healthy Oil (Flax oil, olive oil)
o Vinegar (Balsamic, Apple cider)
o Mustard (Dijon, spicy, whole grain)
This Blogger's Books and Other Items from...
SUBSCRIBE TO & FOLLOW LIFESTYLE
Get top stories and blog posts emailed to me each day. Newsletters may offer personalized content or advertisements. Learn more