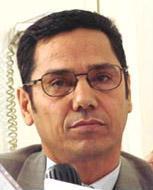 Abdolfattah Soltani was arrested at his office in central Tehran, at around four in the afternoon, on 16 June by four plainclothes security officials. The officials, who did not have a search warrant, a summons or arrest warrant, carried out a search of his office. They confiscated his files, his briefcase, his computers and his mobile phone before taking him away.
Abdolfattah Soltani is a member of the Center for the Defense of Human Rights which Nobel Peace Prize laureate, Shirin Ebadi and many other leading human rights activists founded in 2002. It was forcibly closed in December 2008 shortly before the center was to hold an event commemorating the 60th anniversary of the Universal Declaration of Human Rights (UDHR). The CHRD, whose members continue to work under the name of the center, has three stated roles: reporting violations of human rights in Iran; providing free legal representation to political prisoners; and supporting the families of political prisoners.
Abdolfattah Soltani represented the cases of prisoner of conscience Akbar Ganji, an investigative reporter who uncovered the still unpunished complicity of various government officials in the murder of intellectuals and journalists in the 1990s, and the family of Zahra Kazemi,an Iranian-Canadian journalist who died in custody in Evin prison in July 2003. In Zahra Kazemi's case, a Ministry of Intelligence official was tried and acquitted of her 'semi-intentional' murder. Hehad been considered a scapegoat for a senior judicial figure, and following the acquittal, Kazemi's family, represented by Abdolfattah Soltani, appealed to the Supreme Court, to launch a new investigation into her death in custody.
Mr. Soltani was arrested in 2005 and spent 219 days in detention, of which 43 were in solitary confinement. In July 2006 he was sentenced to five years' imprisonment by Branch 26 of the Revolutionary Court for "disclosing confidential documents," for which he received a sentence of four years; and one year's imprisonment for "propaganda against the system." The evidential basis for the charges brought against Abdolfattah Soltani was reportedly not made clear in the charge sheet or by the prosecution during the trial. According to reports, the verdict was issued with neither Abdolfattah Soltani nor his lawyers being summoned to court to hear it, and they were not given a copy of the verdict. Of his trial and the verdict, he said, "Neither me nor my lawyers were called for the court session mentioned in the verdict. We were unable to defend my case because we never saw the main evidence listed in the indictment."
Abdolfattah Soltani has stated "my crime is accepting political cases including cases of journalists, students, and two nuclear defendants, otherwise, I did not break the law. They are trying to treat me in a way so that no other lawyer would accept political cases."
To take action on his case, click here
FOLLOW HUFFPOST