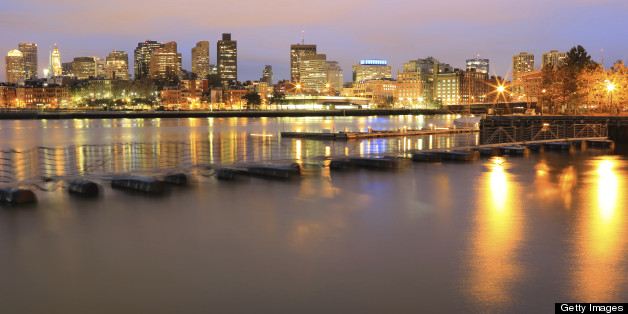 I am not a writer. But I love writing. If I write, it's usually about the topics I am most passionate about or care about. At the moment, I feel the urge to share how I feel while I am locked down in this beautiful city of Boston. Watching the news or following on Twitter is all I am doing since the bombings at Boston Marathon on April 15. It's surreal to believe what is happening in this otherwise safe city. Four days after the blasts, the surrounding areas were on lockdown. The search for the 2nd suspect was underway. Boston, Cambridge, Newton, Watertown, Waltham and surrounding areas are all on a lockdown. The buses, trains (MBTA) were all shutdown. So are all the stores. I have never felt or seen anything like this before so close to home.
I was in NYC from April 10-April 14 for a conference. I stayed near the 9/11 memorial and every night after the conference I passed that area to reach my hotel, my heart wept thinking about what happened at that location 11+ years ago. It's a feeling like many is very hard to express. Only you know how you really feel, no matter which part of the country or world you are from.
I grew up in New Delhi, which is now considered to be the rape capital of the world. I moved to Boston almost 10 years ago for graduate school. Now, I live in Newton, which is less than 10 miles away from the city (Boston). I am a graduate student at Bentley University. Most of the days during the week I am in the city (Boston) working on my projects, work, etc. Newbury or Boylston Street are my favorite places to work. Over the years I simply fell in love with the city.
On the day of the bombings, I had a class in the evening so I decided to stay home & study and not to go to the city. I have been visiting Copley Square every year to watch the marathon and cheer for the runner every year since 2006 as I worked in downtown for 7+ years. This year I decided to skip as I had a presentation in class the same evening.
I read on Twitter first about the explosion at the Boston Marathon finish line on Boylston Street. My first reaction was that it must be a rumor. How could this be but the picture I saw looked real. When I turned on the TV, I couldn't believe what I was watching. I couldn't prepare for my presentation since the time I heard the news. I was shaking, completely shocked, trying to digest what I was watching on television. It reminded me of the Nov. 26, 2008 terrorist attacks that happened in Mumbai, India. It reminded me of 9/11 in New York. Was this happening right here in my city? It took me a long time to come to terms with it.
I go to the city all the time. I may be living in Newton but the feeling I get when I am in Boston is indescribable. I take the green line (MBTA) train to go to the city. Each time I get off the Copley station, I cant help but admire the Copley area view of the Trinity church, Boston Public Library, Boylston Street, Westin, John Hancock. Each time I get off, I take a picture from exactly the same spot. Each time it is even more beautiful than the last. Rain, snow or sunshine, Boston is beautiful all year round. When I walk on Newbury, I feel like a free bird, happy, forgetting the stress life has to offer and just look forward to enjoy each moment I am there. But when I took the green line to go to the city on Wednesday (4/17), two days after the bombings, things were not the same. Sitting in the train I was just thinking of how the city must be, what I was going to view in sometime. Copley station where I get off each time was closed. I got off at Kenmore and walked on Commonwealth Avenue till I reached Newbury and walked that street till the end. Each and every street perpendicular to Newbury towards Boylston was closed (except Arlington and Berkeley). There was so much security everywhere. I didn't know if I should have felt safe or sad. I felt both. It was hard to see the place I am spending so much time to be all surrounded with cops, FBI, media etc. I didn't feel the way I always did. It wasn't the same. It was just sad. I stopped by every intersection on Newbury to stop and reflect on how the area is under normal circumstances. Who would have thought all this will happen to Boston?
While I was walking on Newbury, I saw two adorable Labradoodles. And my reaction was a big smile. It was so nice to see these adorable dogs in the middle of all this sadness, which everyone is still trying to accept. The owner was so kind. She said that they were therapy dogs that she got to the city for that day. She planned to take them to the hospitals later. It really was such a beautiful feeling to see these dogs that do not know what is going on around them, nor do they know the kind of effect they can have by just being there.
I was in the city on April 18 as well. After spending the day running errands in Cambridge and Boston, I got home. On my way back, it was dark and at that point looking at all the officers was comforting. The feeling was like nothing will happen since they are there. The same feeling I usually get when doctors are around a patient and I think now nothing bad can happen. But the same night, the two suspects who were still not caught killed an MIT police office Sean Collier. I had heard it on NPR. Boston is probably the safest city at the moment in the US. Maybe it wasn't.
On April 19, it's past 3 pm. The 2nd suspect (younger brother) is still on the run. Suspect 1 (elder brother) died the night before during a crossfire with the police department and was run over by suspect 2 who was trying to flee the scene. On the morning of 4/19, Governor Deval Patrick made an announcement during press conference that the city of Watertown and other cities including Newton, Waltham, Boston etc. are on lockdown. All day I was just home, hoping for suspect 2 to be caught alive so the city can get answers as to why they committed such a crime, killing so many innocent civilians and injuring many more. He was caught the same evening and all the cities were not on lockdown any more. The same night I visited the memorial at the intersection of Berkley street and Boylston street in Boston. The city was celebrating catching the suspect as well as remembering those who lost their lives.
Throughout this time since the bombings, I have visited the city so many times. And each time I just feel the pain for the people who were impacted by this tragedy. If you visited Boston during this time, you will see signs that says "Boston Strong", "Keep Strong Boston", "No More Hurting People - Peace - Martin Richard", notes sent from all over the world, hand-written notes by Bostonians and tourists form all walks of life. The city is so grateful to the support of first responders who without caring for their own lives rushed to save those injured, police officers, FBI who worked round the clock to keep us safe and made sure that the suspects who messed with the wrong city were caught, the doctors and nurses who take care of each and every patient without any biases in their minds with all their heart.
I am not from Boston but I feel I am one 100 percent from my heart. I feel even closer to one of the most beautiful cities in the U.S., where as President Obama says: "Boston is a tough and resilient town and so are its people".
"This time next year on the third Monday in April, the world will return to this great American city to run even harder and cheer even louder for the 118th Boston marathon," the president said from the Boston pulpit. "We will finish the race. Bet on it."
SUBSCRIBE TO & FOLLOW LIFESTYLE
We're basically your best friend… with better taste. Learn more