Amusement Parks In Seattle: A Huffington Post Travel Guide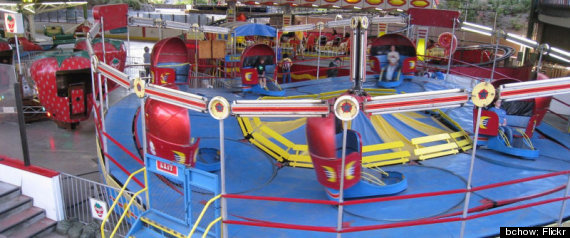 The sole amusement park in Seattle isn't actually in the city proper, but a half-hour drive down I-5 in nearby Federal Way. Still, don't let that dissuade you from considering a visit to Wild Waves as it features a variety of thrill rides and attractions, and plenty of waterslides and splash pools, too. As part of a Huffington Post Travel series on family-fun parks, here is our guide to all the key information visitors need to know about Seattle's one and only theme park.
Riverfront Park
Built in the 1970s as part of the World Expo '74,
Riverfront Park
is a year-round amusement center that features thrill rides during the summer and ice skating during the winter. Located in the heart of Spokane, the park features a variety of free attractions on top of its renowned rides and events.
Breathtaking Views
The
Spokane Falls SkyRide
is a fantastic trip that takes riders on a loop over the Spokane River and through the Huntington Park Natural Area. Each fully enclosed cabin holds up to six people and offers an amazing view of the natural scenic beauty surrounding the park.
Classic Rides
The park features a hard-carved, wooden
carousel
that is over 100 years old, as well as more typical amusement park rides like the Tilt-A-Whirl and Ferris wheel. You can also take a ride on a train that tours the area, play a round of miniature golf and watch an eye-popping film at the IMAX theater nearby.
The Bistro And The Sugar Shack
The park has a few food options, including a bistro that offers kebobs, hot wings and some vegetarian options, as well as a sit-down cafe. And, of course, there's a spot called the Sugar Shack to help quench your craving for funnel cake and ice cream.
Safety Record
Our research revealed no notable news reports of accidents or safety issues at Riverfront Park.

Address: 507 N Howard St.,Spokane, WA 99201
Phone: 509-625-6601
Hours: Rides are available starting at 11 a.m. and run until 6 to 9 p.m., depending on the day and time of year.
Price: Individual day passes that offer access to all the rides are $16.25, but discounts are available online.
Wild Waves
Wild Waves is a combination amusement and water park that boasts rides that will thrill every member of your family, as well as water slides, a wave pool and more aquatic fun. The park is situated outside the city limits of Seattle, but it's close enough for a day trip during your visit to the Emerald City.
A Coaster For A Cause
The signature ride is the
I-5 Dive Skycoaster
. The bright pink thrill ride hoists you (and two of your grown friends) 125 feet in the air and, when you pull the cord, gives you a healthy drop on a bungee. If the rush isn't enough, you'll be thrilled to know that a portion of the proceeds for this ride go toward breast cancer research.
Stay Dry Or Get Wet
Wild Waves offers up
roller coasters
and other heart rate-raising rides for adults, and a bevy of slow-moving fun rides for the little ones. The park provides other entertainment as well in the form of the
High Dive Spectacular
, which features trained divers doing acrobatic stunts and slipping into the water after dropping 80 feet. Of course, be sure to bring your swim gear to enjoy the water slides or simply to soak in a warming tub.
Food Options
There's plenty of food to be had at Wild Waves and it is pretty much the fare you would expect from a theme park: burgers, chicken strips, ice cream and lots of fried goods.
Safety Record
Until recently, the safety record for Wild Waves has been spotless. But in 2011 a pair of
malfunctions
on a couple of rides was cause for some concern. Luckily no one was hurt in either incident and both rides have been fixed and inspected.

Address: 36201 Enchanted Pkwy S, Federal Way, WA 98003
Phone: 253-661-8000
Hours: The park is open May through October, but times vary. Visit the Wild Waves website for details.
Price: General admission (48 inches and up) is $39.99; after 4 p.m., $19.99. Junior (under 48 inches), senior (55 years and older), ADA and active military admission is $29.99. Children 3 years and under are free. Be advised that there are fees for parking and for lockers should you use the water park, and some rides cost a little extra. Discounted tickets are available online.
Other Noteworthy Parks Near Seattle
Family Fun Center
Pacific Paradise Family Fun Center
Splash Down Family Waterpark
Westport Amusement Park
Oaks Family Park

Have you been to an amusement park in Washington?
Check out more AMUSEMENT PARKS.