Whatever results come from today's election, Democrats will largely have the Labor movement and workers across this country to thank for any silver lining they find. I have written recently about the critical role unions play in supporting democratic candidates.

For those who question whether the labor movement is still relevant in the United States, the last two months before an election should clear up any doubts. This is the time period in which Democratic politicians desperately seek help in getting elected. Organized labor, with its significant resources and savvy field operations, is by far their best hope--if not their only one.

It's not just because of the millions they have invested in campaign contributions and paid communications. There have been a multitude of ads crowding the airwaves across the country and endless reams of mail have hit voters' mail boxes. However, as it has always been, elections come down to boots on the ground and no one is better at getting out the vote than the labor movement.
According to the LA Times, Labor has once again pulled out all the stops "spending at least $200 million, closely tracking members' early voting activity and arranging phone banks, door-to-door contacts and get-to-the-polls transportation efforts."
In every state in the union, workers are talking to friends, co-workers and family, making phone calls, knocking on doors and helping get voters to the polls. With nearly 17 million workers represented by a union across the country, they are a source of energy unrivaled by any other organization.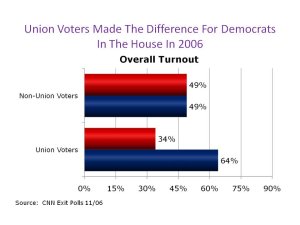 In the last ten years, union members have consistently turned out to vote in much higher proportions than the general population, and their support has often made up the margin of difference for winning candidates. During the last mid-term election in 2006, exit polls show while non-union voters split evenly between Democrats and Republican 49% to 49%, Union voters gave Democrats a 30 point margin and victory.
The growing economic crisis has weighed heavily on voters, union and non-union alike, and the results for today will be very different from 2006. As I said recently, Democrats can expect to pay a heavy price for the economic downturn and their own dithering on economic policies that directly help working people.
Every time the Democrats are too timid to promote a policy solution that the party's base actually wants, they walk into a trap. They end up passing something that is too insignificant to actually deal with the problem at hand but that nevertheless prompts hysterical denunciations from the right. Despite their efforts at moderation, they are vociferously condemned as "tax-and-spend liberals." At the same time, they have nothing to show for their efforts that might make them proud to have earned the label.
The base, which is largely made up of union members across the country, is rightly frustrated but I am proud that, despite the tough times, they have continued to fight for what is right and fair in this country.
Before the pity parties and recriminations begin, I hope that Democrats will see the silver lining and remember the millions of hard-working men and women who have stood up and fought for them. For those who are fortunate enough to return to Congress, they should be reminded daily that working people helped bring them back from the brink and can help pave the way for a brighter future for all Americans.

FOLLOW HUFFPOST