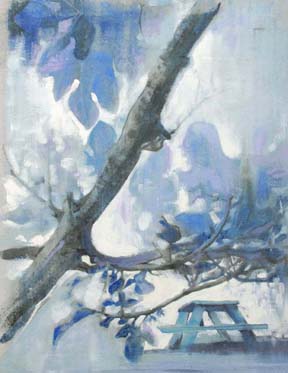 Blue Picnic 30x24 oil on canvas 2011
There are paintings drifting in my thoughts; snaps of thoughts and memories. They are breaths and wisps of colors and forms.
If I let my mind not my brushes do the painting, if I over plan the final work turns out stale; like my hands were bored when it came time to commit it to canvas.
I wanted to paint something more like a memory, less literal, more emotive. Like a Sunday picnic, a weekend plan, a date in the park that I didn't quite get too. I am peering through the trees, the cross of the branches keeping just out of the scene.
Hints to the shape of the leaves that surround me, the purple, the greens, the slight yellow of a cool sun; I meant to be there.
Amy at bernays dot net
www.bernays.net