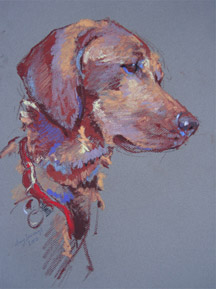 I like painting commissions. Sure, it's of a dog. Not exactly high art, but the finished piece will be loved. I am released from the constant art school critique in the back of my mind.
I can settle down and play in a clearly defined pen. The piece should be representational, should be pleasant to look at and should be of their dog and not someone else's dog that I just happened to have a better image of. The simplicity of knowing what to do is safe and secure.
On the other side of the studio is a painting of a house. It is not for a particular gallery. It is too big and heavy to ship to my gallery in the UK. I have no commercial place for it. I paint it because I need to; because the house explains something to me.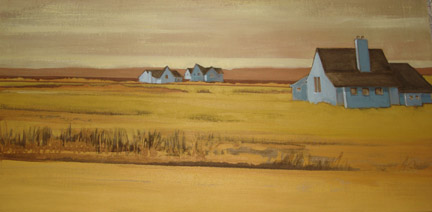 I am not sure what. Where it is, who lives there. All I know is that it is quiet there. It is a place on the other side of real; a remnant of a dream, a snippet of a memory. In this genre of my oeuvre I am out in the wilderness. There is no safe pen to play in.
Painting commissions is a bit like a busman's holiday. I used to be an animal trainer for work on TV, films and commercials. The relationship that people have with animals is not too far from what I try to achieve in painting.
Both involve no linguistic communication. Painting is telling the audience about something -- a relationship that we have once had, a friend we know or a feeling or memory that just slipped away. Some part of our experience communicated through lines, objects and colors. With animals we use sounds, expressions and body language to communicate.
Back in the studio, I keep scribbling with yellow smiles and blue shadows, with dulcet eyes and wise eyebrows. I bounce around the commission pen like a kid on a go cart. Color is my only risk; purple instead of gray, blue instead of black, laughter instead of language.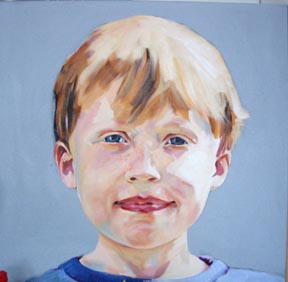 FOLLOW HUFFPOST