Women like me are finally starting to enjoy that last bastion of men -- we are joining car clubs. We often get a few quizzical looks and a few times it even leads to more. For instance, I met my husband through the National Capital Region Mustang Club.
Now ladies, don't get the idea that joining the Club is just a new way to meet guys. We women are serious admirers of all things Mustang.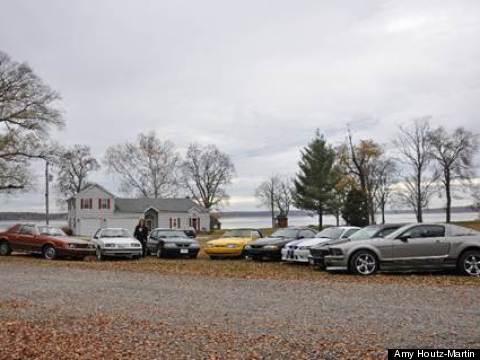 My infatuation began at an early age as my grandfather owned a used car lot and he was always bringing home different cars. I would notice different makes of cars on the road and I would tell him what I saw.
One day, a Mustang drove by and I instantly liked it. Not long after that, I went over to a friend's house and was pleased to see a "pony" parked in the driveway. I liked it so much that I knew one day I would have to own one. I wasn't even ten years old yet but I was hooked.
My connection to the Mustang grew when I attended C. Milton Wright High School in Bel Air, Md., which has the Mustang as its mascot. I also ride horses, so seeing that beautiful Mustang emblem on the car drew me even closer.
As I've gotten older I've developed an appreciation for the engineering, styling, and performance of Mustangs.
Mustangs are serious business in our family. My husband and I have about $100,000 invested in Mustangs. We tend to select cars for purchase based on their rarity -- not necessarily monetary value, but more of how often you see one like ours at a show or in a parking lot.
Other than the two newest Mustangs, we own we prefer to keep them as close to original as possible. We definitely don't want to lose money, but we are not looking for the cars to fund our retirement; it's more of a hobby.
Women who join a car club should not be intimidated by the guys. They should leap in and figure out what they like to do -- whether its track events or shows or both. A lot of the shows/tracks now have classes or awards for owners that are under 25.
Mustang people are very friendly. I have gone to out-of-state shows (one show was 500 miles away) by myself and have always managed to meet new friends. I find that going to national shows is a great way to see the country while driving your Mustang.
Thursday the new 2015 Mustang will be revealed live on Good Morning America. It will be a big moment for Mustang lovers like me. We are counting on Ford to keep the Mustang tradition alive with some modern twists as the car begins its 50th anniversary celebration.
Happy motoring and if you see me on the road in one of my eight Mustangs be sure to give a honk and a wave.