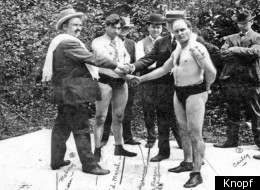 America has always admired a good confidence artist, that sleek and clever shyster whose fancy words promise a golden future. He is the bad-boy cousin of the self-made men, and a direct descendent of mythic anti-heroes like cowboys or noir detectives, who exploit the ragged edges of the modern world. We like him because he's smart and because he's not constrained by any of the giant institutions or corporations that make individuals feel so powerless.
But the con man is more than that. In his own sly way, he has been a prime mover in American economic development, almost without anyone noticing. The con man is an innovator in the financial world, the one who susses out opportunities and opens up markets ahead of the slow-moving and hide-bound elite. You could even go farther, and say that American would never have prospered without imposture, swindling, and counterfeiting. Con men have advanced the nation credit against its own future legitimacy.
In the 19th century, for instance, the nation lacked a national currency. Regional banks issued their own banknotes but even so, currency was scarce, especially on the frontier. Counterfeiters stepped into the breach, and though everyone knew the money supply was diluted with fakes, they used the bills anyway because crooked money was better than none. Forgeries greased the engine of trade.
Later in the century, the trading of commodities futures on the Chicago Board of Trade ignited a fervor for speculation, but only the wealthy could afford the steep margin requirements to participate on the exchange. Bucket shops arose to sate the appetite. There, a clerk or farmer could place a side bet on the direction of a given stock without actually purchasing any shares. Little did they know the betting was almost always rigged against them. Bucket shop proprietors made the working class feel as if they were breaking into the rarefied realm of high finance, until the new century when they finally did.
In the early 20th century, the big con exploded onto the scene. An intricately designed piece of theater, the big con consisted of actors, extras, sets, costumes, and nine scripted acts. In its most common form, the swindler convinced his mark that he was the lucky recipient of insider information on the stock exchange. He would place ever-increasing orders for stocks on the assumption that he couldn't possibly lose. It was the perfect game for a roaring economy, a financial market that was beginning to open itself up to the middle class, and a system which had always thrived by tolerating a bit of fraud to add liquidity.
It doesn't take much to detect the legacy of these confidence men in today's economic landscape. We are still grappling with how to differentiate speculation from gambling, as you can see in the Volker Rule, or in Warren Buffet's testimony before the Financial Crisis Inquiry Committee ("Gambling involves, in my view, the creation of a risk where no risk need be created"). One con man has come forward to explain how swindlers will be the ones to take the most advantage of Obama's new JOBS act. And Ponzi still lives among us; since Bernie Madoff's expose, the Securities and Exchange Commission has prosecuted over 200 people for ponzi schemes. Even the Amish have succumbed. Confidence men are not the outliers or the exceptions to American culture. They are its logical extension.
Amy Reading is the author of The Mark Inside: A Perfect Swindle, a Cunning Revenge, and a Small History of the Big Con [Knopf, $26.95]
The most notorious swindler of the American colonies was Tom Bell, an imposter who passed as a gentleman in order to gain entry into wealthy homes, borrow money from his new friends, and then make off with their valuables, including the clothes needed for his next imposture. From 1738 to 1755, he roamed from New Hampshire to Barbados, stealing, getting caught, and repeating the cycle. He was successful at deception despite his increasing fame--newspapers called him the "famous infamous Tom Bell." In 1752, he settled down in Hanover County, Virginia, and proclaimed himself reformed. He advertised himself as a schoolteacher and collected advance subscriptions for his memoir--which he never delivered.

Like Tom Bell, Stephen Burroughs began his illustrious career as an impostor, passing himself off variously as a ship's physician and minister in rural New Hampshire. After a stint in "the Castle," a prison on an island in the Boston Harbor, he fled to lower Canada, where he began a counterfeiting ring that quickly became untouchable. At a time when local banks issued notes that were only partially backed by the gold in their vaults, all currency seemed to be fictions sustained only by faith. To many people, Burroughs was no different than the bankers, and so they were willing to pass and accept "Burroughs' money."

Confidence artistry officially began in May 1849 when a well-dressed young man named Samuel Williams began chatting up a stranger on the streets of Manhattan. The stranger felt that he knew but couldn't place this friendly fellow. Williams then asked the stranger, in a disarmingly direct manner, whether or not he had confidence in him. When the man answered yes, Williams said, "Have you confidence in me to trust me with your watch until to-morrow?" Good naturedly, his mark handed over his gold watch, and Williams sauntered off into the city, promising over his shoulder that he'd return the watch the next day. The crime captured the fancy of the city, and newspapers quickly began referring to Williams as the Confidence Man. Eight years later, he would be the inspiration for Melville's final novel, and the term "confidence man" would be used for anyone who convinced his victim to voluntarily hand over his money.

Almost as soon as the National Banking Act of 1863 created a national currency, the green goods swindle sprang into existence. Swindlers would send letters to people on their sucker lists claiming to have procured stolen or discarded currency engraving plates from the Treasury. They would offer "genuine" counterfeit currency at a fraction of its face value, say, $1500 for $75. The letters would lure marks to the city where they would be shown real currency to persuade them to buy in. At the last minute, their money would be pilfered away and they'd leave with a satchel of newsprint. By 1890, Jimmie McNally, a former bartender, pimp, and pickpocket, was the king of the green-goods men. He ran a crew of 35 men who sent out as many as 15,000 letters a day and profited $3000-8000 daily. McNally claimed to have made $48,000 in one day, and $250,000 in one month.

Three-card monte was popular all over the western frontier, but it was Ben Marks who turned it into big business by moving it indoors. In 1867, he rented a storefront in Cheyenne, Wyoming, which was then the westernmost stop on the Union Pacific. Marks filled his store with merchandise and advertised that everything cost only a dollar. Shoppers were then steered to the back of the store, where crooked card games were underway, and they bought into the game without knowing that the store was actually the "house" and that their new friends were actually shills. The goods on sale grew dusty, but Marks earned so much money that others copied him, and soon "dollar stores" spread across the west like a franchise.

John Mabray joined forces with Ben Marks in Council Bluffs, Iowa, where they expanded on Marks' idea of a stage set as the hidden frame of the con. They ran faked athletic contests in which the mark was enticed to bet a fortune on a fixed horse race or boxing match, only to be chased away at the last moment by the threat of police involvement. Mabray and Marks ran so many suckers through their cons that they also created a giant administrative structure for keeping track of their dupes, their crew, and their profits. When the authorities finally caught up with them in 1909, they found a ledger indexing more than 300 men working under Mabray around the country. They also found 88 envelopes which contained notes on 88 swindles; the receipts in those envelopes added up to more than $5 million.

Bucket shops arose in the 1870s and 80s to provide a market for small-time investors who wanted a piece of the speculating action. A bucket-shop customer could "buy" or "sell" as few as 5 shares and put down a margin as tiny as 3%, much less than the NYSE's 100-share minimum and 10% margin requirement. All orders were "bucketed"; that is, none of them were exercised on a legitimate exchange. Such orders were side bets between a customer and the bucket shop on the fluctuations of prices, a zero-sum game in which the bucket shop took the other side of the customer's "trade" and almost invariably profited by it through trickery. C.C. Christie of Kansas City, Missouri, was known as the Bucket Shop King of the West. He was taken to court, but for a long time, judges could detect no difference between his method of gambling and that of the Chicago Board of Trade, finding them both reprehensible. Finally, in 1905, Justice Oliver Wendell Holmes declared bucket shops illegal and speculation beneficial to society, famously writing, "Speculation of this kind by competent men is the self-adjustment of society to the probable."

Known as the Christian Kid because he abstained from alcohol, cigarettes, and swearing, Mead was, in the words of J. Edgar Hoover, "one of the shrewdest of confidence men." His claim to fame was his invention of the wallet drop, in which he planted a lost wallet for a mark to find that would lead him to an important businessman. The wallet's credentials would testify to its owner's authenticity, and the owner's gratitude at its return would serve as the prelude to the con itself. Mead planted wallets well into the 1930s, and even took one mark for a sum reported to be as high as $200,000, until he was finally arrested by Hoover's men for mutilating his fingertips in an attempt to disguise his identity.

Larry Summerfield is the most likely inventor of the wiretap swindle. Legend says that he was a former telegraph operator, and thus well positioned to splice the wires that led from horse racetracks to poolrooms and saloons. He and his cohort would hold back the results of a race just long enough to place bets on the winning horse, then collect their winnings before anyone realized what had happened. Very quickly, the wiretap went wireless. Swindlers began to sell marks the idea of setting up crooked gambling dens. They'd show marks a cache of telegraphic equipment that, they claimed, allowed them to tap the racetracks' wires and control the transmissions. In reality, the equipment was bogus, a set to persuade marks to front the cash. In a later variation, the swindler claimed to have a crooked Western Union man on the take who would hold up the race results.

The Gondorf brothers trained in Chicago and then moved to New York to run the big con, where they perfected it as a repeatable script with well-honed roles. Steerers or ropers would befriend marks, spielers would "tell them the tale" to get them interested in the money-making scheme, and insidemen would unfold the actual swindle. In 1907, they ensnared a Connecticut banker named Walker in the wiretap swindle. Walker robbed his own bank of $600,000 and gave $100,000 of it to the Gondorfs. Even after he was caught for the robbert, he refused to testify against the Gondorfs. The brothers each served time during the 1910s, but were eventually released to play the con well into the 1920s and 1930s. In "The Sting," Paul Newman's character is named Henry Gondorff as an homage to Fred and Charley Gondorf.

The Yellow Kid was the most famous con man of the early twentieth century. Chicago was his stomping ground, and his every deed was reported by the daily papers, who treasured his elegant clothes almost as much as his racy exploits. He ran the big con, giving solid, self-made businessmen the opportunity to ratchet up their wealth with an inside track to the world of high finance. His cons regularly netted him $25,000-$50,000 at a time. In the late 1920s, he swindled Mussolini out of $2 million. It is rumored that he stole over $8 million in his long life, though he reformed his dastardly ways in the late 1940s and published his tell-all memoir to great acclaim.

For the first two decades of the 20th century, Denver was the most fixed-up town in America, and Lou Blonger was the man at the top of the hierarchy. With ironclad protection, he ran a large ring of confidence man who swindled out-of-town businessmen and tourists during "the season," which ran from June to November. At any given moment, Blonger's men would have half a dozen swindles in progress. Their marks believed they were speculating on a local stock exchange, playing the market with inside tips. They lost tens of thousands of dollars at a time and many of them complained to the authorities, but the police would stall and obfuscate, eventually sending the marks back home without ever allowing them to identify one of their swindlers. Blonger's reign was cut short in 1922 by Philip Van Cise, an enterprising District Attorney who mounted a sting against him, and J. Frank Norfleet, a disgruntled mark who went undercover to bust the ring from the inside.