Five weeks into the 2010 NFL Season, nobody expected the Chicago Bears to be 4-1. And nobody dreamed that they'd be leading our division. But they are. How did they get here? It's a tough question, and one that many sports analysts have opinions about. The general consensus is that the Bears' winning season has more to do with good fortune than it does with good football. Still, it might be more complicated than that. What if the Bears are good because they are lucky?
It's difficult to deny the bubble of fortuitous circumstances surrounding the Chicago Bears this year. From the bizarre "process" call in week one, to the slew of penalties against the Packers in week three, the Bears have gotten more than their share of breaks. During the horrific Sunday Night Football game against the Giants, it seemed their luck had finally run out. Cutler went down with a concussion, and Todd Collins reminded fans just how lucky we are to have Cutler in the first place. The Bears amassed a lousy three points -- equal to the number of quarterbacks they cycled through in the game. Critics wasted no time jumping in to point out that they'd doubted the Bears all along, and it was only a matter of time before their record reflected their lack of skillful play.
But a week later, the Bear bubble of luck bounced back. Despite Todd Collins throwing four interceptions and accumulating a meager 32 passing yards, the Bears beat the Carolina Panthers 23-6. The only reason for the high score was because Matt Forte's running game came out from hiding at an opportune time in the first quarter. The rest of the game they played poorly, but luckily, the Panthers played worse.
According to notable psychologist and author of The Luck Factor, Dr. Richard Wiseman, there are four characteristics that lucky people (or teams) share. First, lucky people create, notice, and act upon the chance opportunities in their lives. The Bears defense is number one in the NFL at creating turnovers, or opportunities. The Bears also noticed and acquired Julius Peppers in the off-season, and his play has been critical to their success this year. Finally, the Bears cannot control the number of penalties their opponents amass in a game, but they can, and do, take the opportunity to score points off those gifted yards.
Another characteristic of lucky people in Dr. Wiseman's research is their ability to transform bad luck into good fortune. In last week's game against the Carolina Panthers, the Bears did just that. It was awfully unlucky that Cutler had to sit out with a concussion, but the Bears took the opportunity to amp up their running game, and success ensued. Instead of conceding a loss, the Bears stepped up to the challenge, finding a creative way to win.
So, the Bears are lucky. Is that all there is to it?
While the luck argument is convincing, it's not complete. It doesn't capture the whole picture of what's really going on with the Chicago Bears this season. Amidst all the luck, there are glimpses of something more -- an elevated level of performance. The Bears are playing better this year. Though we certainly don't see it consistently throughout every game, the Bears have displayed uncanny spurts of talent during the past several weeks. Ironically, the catalyst of their talented play may well be their luck, or their belief that they are lucky.
According to Dr. Wiseman, a third characteristic of lucky people is that their expectations about the future help them fulfill their dreams and ambitions. Believing you are lucky will not automatically produce a win. What luck can produce, however, is high expectations. And high expectations are correlated with higher levels of both effort and success. In other words, a team that believes they are lucky is more likely to win because of the expectations and actions their belief creates. Namely, they are more prone to shrug off their mistakes, persist in the face of adversity, and play better.
Without a doubt, the 2010 Bears are playing like a team that expects to win, in spite of their mistakes. Brian Urlacher, Lance Briggs, and Julius Peppers continue to create turnovers and play strong defense, week after week. It's the traditional Bear defense we always believed could take us to the Super Bowl if only we had an offense to match. We're getting closer. Jay Cutler, our prized franchise Quarterback, has matured dramatically in the offseason. Cutler, aided by a new offensive coordinator, Mike Martz, is learning to shake off his mistakes. Gone is the pouty little boy scowl on the sidelines after an interception. In its place is a cool expression of poise. An interception is no longer a death sentence, because Cutler expects to win. So does Matt Forte. The Bears have always needed a run game, and running back Matt Forte is having a record season. In the midst of adversity during the Panthers game, he took the opportunity to step up and elevate his play.
The Bears may well be the luckiest team in the NFL this season, but I think most of Chicago is okay with that, because it's making us better. Wins beget more wins, and our players continue to improve every week. We can only hope our luck doesn't run out.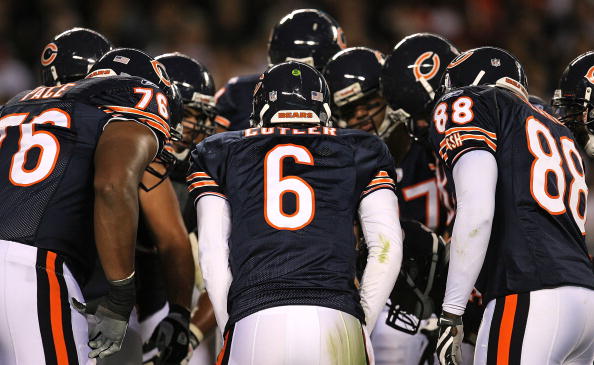 SUBSCRIBE TO & FOLLOW THE MORNING EMAIL
The Morning Email helps you start your workday with everything you need to know: breaking news, entertainment and a dash of fun. Learn more