Secondary Infertility: When One Isn't Enough
As a mom, there are a few questions I hate answering: When are you due? Um, never, that bump is left over from the baby who's now in preschool. When are you going back to work? I don't know! I'm not ready! Are you planning to have another one? Lady, unless you've got Kleenex in your purse and 20 minutes to spare, let's not go there.
The moment my daughter was born, my bonkers first thought was, I want to do that again. I wanted to make another baby, like, immediately. The miracle was so huge, and the joy/love rush so potent, I was hooked and knew I'd need another hit.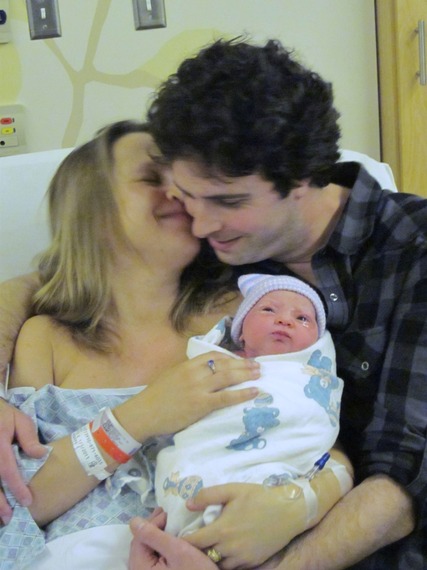 Unfortunately, we'd gotten a late start on our family and I was already 40, so as soon as it was physically possible, we started trying for baby number two. When it didn't happen right away, I panicked (because panic and conception mix oh-so-well) and ran to a fertility doctor. There were tests, drugs, shots, an unsuccessful insemination, three failed in vitro fertilizations and along the way, several early miscarriages.
I tried vitamins, supplements, herbs and acupuncture. I lost weight, did yoga, ate pineapple cores and prayed. I gave up caffeine and booze for a year, and all I learned is that I'm a real bitch without my coffee.

We're still trying -- the free, old-fashioned way -- and I'm struggling.
They call it secondary infertility. You have the first baby, and you think, Wow, my body's so good at this, I could have like 10 more kids. Should we have 10 more kids? And while you're negotiating whether to have one more or 10 more (with a partner who thinks you're nuts, but humors you), your body just up and quits. In my case, the glitch is declining egg quality, but I know other, younger mamas who can't seem to make a second baby either. It's wildly frustrating. And it hurts not to be able to create the family you envisioned.

As a mother, you want to give your child everything. I want my daughter to have a sibling. She may not consider that the same caliber gift as a doll house or tricycle, but I'm taking the long view. I grew up with a younger brother, and even though we fought like criminals for the first 10 years, we're BFFs now, and I treasure him. I realize I can't guarantee a close sibling relationship, but I want to provide my daughter with that person who will know her always -- the one who understands what it was like to grow up in her house. The one who's still there when I'm gone.
This is a morbid obsession of mine. Any discussion with my partner of our fertility woes generally ends with me sobbing, "I don't want to leave her alone!" He is certain she will not be alone -- that she will have good friends and someone to love. We love her so much, surely, others will as well. But I'm a mom and I want insurance.
Call me crazy (or laugh in my face), but I'd also like to experience raising siblings. I imagine it's hard -- much harder than what I'm doing now. But that's my Everest. I want to take on the challenge of the schedules and the sharing and "it's not fair." I want my chance to threaten, "I will turn this car around!" though I'm not sure back seat squabbles exist anymore, what with bucket seats and iPads. I want to see how different or similar my two kids would be. I want the messy and the dirty. I want it all. Are you listening, ovaries?
One of the unique struggles of secondary infertility is that everyone you know is pregnant. I'm not exaggerating. I have a preschooler, and when you socialize with preschool families, most moms are either knocked up or toting a brand new bundle of joy. Conversations at the playground focus on the ideal age spread between siblings and whether to go for a third. These perfectly legitimate questions start to grate on me like humble brags. You know, should we get the Ferrari or the Porsche? But I don't want my friends to feel stifled around me, so I imagine that I am someone who has these same choices, and try to consider them thoughtfully. I've come to the conclusion that it's possible to be genuinely happy for others while still being insanely jealous. At least there are always cute babies available to hold.
Then there's the problem of the gear. Each time my kid outgrows something, I struggle with next steps. Do I save toys, books and clothes for another child who might never come? What about the nursing bras and breast pump rusting in my closet? So much stuff. I wound up sending most of the outfits to our new niece and the bulky swings and bouncers to a neighbor baby, but I don't think I can bring myself to ditch the crib. We're going to be vacuuming around that sucker 'til I hit menopause.
Emotional triggers are everywhere, and I'm nothing if not emotional, but it's not always easy to find comfort. Some friends shy away from the topic, as though infertility might be contagious. If I do share our difficulties, the well-meaning response tends to be, "At least you have one child," which of course makes me feel horribly guilty. I know there are tons of infertile couples who would give anything to have just one child. And I have several single, childless girlfriends who would love to be mothers but didn't quite make their biological clock deadlines. In their company, I am a glutton yearning for extra helpings.
I know that in time I will, if I must, learn to accept the status quo. It helps that the one kid I have is pretty incredible. Sure, she has tantrums and her favorite word is "why" and she exhausts me, but she is the yummiest, funniest, most amazing human I could have ever hoped to bring into the world. I am lucky. I am grateful.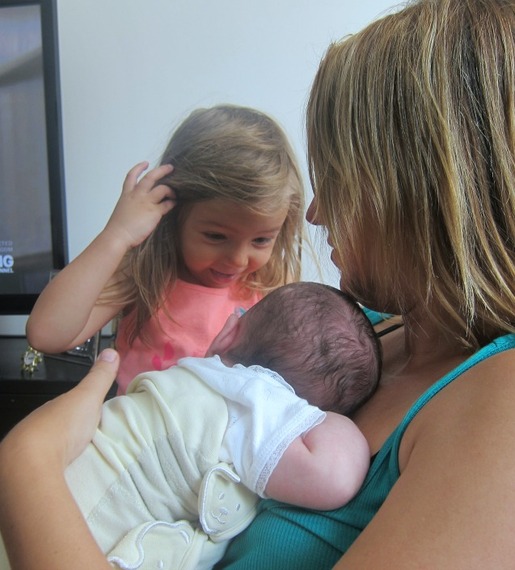 Yet when I see her playing with her newborn cousin or feeding her "little brother" (a stuffed owl) his pretend bottle and rocking him to sleep, it's impossible not to want another baby. I want to experience the miracle again, but in a new way: more assured, less afraid, and with my daughter by my side.
This post first appeared on Scary Mommy.
Also on HuffPost:
10 Fertility Facts You May Not Know
1. Your fertility is mostly determined by genetics, which influences how many eggs you are born with. Doctors believe that the number of eggs you have at birth determines the length of time you will remain fertile. At birth, women have about two million eggs in their ovaries. For every egg ovulated during your reproductive life, about 1,000 eggs undergo programmed cell death. Other things, such as smoking cigarettes and certain types of chemotherapy, can accelerate egg cell death and promote an earlier menopause.

2. Regular menstrual cycles are a sign of regular ovulation. Most women have regular cycles lasting between 24 and 35 days. This is usually a sign of regular, predictable ovulation. Women who do not ovulate regularly have irregular menstrual cycles. Those who do not ovulate at all may have a genetic condition called polycystic ovarian syndrome (PCOS).

3. Basal temperature charting does not predict ovulation. An older method of tracking ovulation involves taking your oral body temperature each morning before getting out of bed. This is called basal body temperature. This method is used to spot a rise in basal temperature, which is a sign that progesterone is being produced. The main problem with using this method is that your temperature rises after ovulation has already occurred. This makes it more difficult to time intercourse at an optimal time for conception. A better method is to use over-the-counter urine ovulation predictor test kits such as Clearblue Easy. These kits test for the hormone that prompts ovulation, which is called luteinizing hormone (LH).

4. Most women with blocked fallopian tubes are completely unaware they may have had a prior pelvic infection. About 10 percent of infertility cases are due to tubal disease, either complete blockage or pelvic scarring causing tubal malfunction. One major cause of tubal disease is a prior pelvic infection from a sexually transmitted disease such as chlamydia. These infections can cause so few symptoms that you may be completely unaware your tubes are affected. This is why fertility physicians will order a dye test of the tubes, called a hysterosalpingogram (HSG), if you have been trying and failing to conceive for 6 months or longer.

5. In most cases, stress does not cause infertility. Except in rare cases of extreme physical or emotional distress, women will keep ovulating regularly. Conceiving while on vacation is likely less about relaxation than about coincidence and good timing of sex.

6. By age 44, most women are infertile, even if they are still ovulating regularly. Even with significant fertility treatment, rates of conception are very low after age 43. Most women who conceive in their mid-40's with fertility treatment are using donated eggs from younger women.

7. Having fathered a pregnancy in the past does not guarantee fertility. Sperm counts can change quite a bit with time, so never assume that a prior pregnancy guarantees fertile sperm. Obtaining a semen analysis is the only way to be sure the sperm are still healthy!

8. For the most part, diet has little or nothing to do with fertility. Despite popular press, there is little scientific data showing that a particular diet or food promotes fertility. One limited study did suggest a Mediterranean diet with olive oil, fish and legumes may help promote fertility.

9. Vitamin D may improve results of fertility treatments. A recent study from the University of Southern California suggested that women who were undergoing fertility treatments, but had low vitamin D levels, might have lower rates of conception. This vitamin is also essential during pregnancy. At Pacific Fertility Center, we recommend our patients take 2,000-4,000 IU per day.

10. Being either underweight or overweight is clearly linked with lowered levels of fertility. The evidence in recent years is that obesity is clearly linked with a longer time to conception. Having a body mass index less than 18 or over 32 is associated with problems ovulating and conceiving, as well as problems during pregnancy.
Follow Amy Wruble on Twitter: www.twitter.com/cb4m