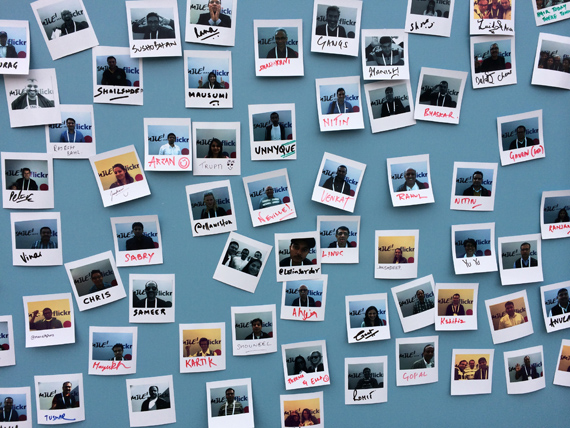 You could have divided the delegates at WPP Stream in Jaipur into two distinct groups. The first pronounced the word m-o-b-i-l-e as mo-bill and the second pronounced it as mo-bile.
The mo-bill guys were giants in the digital ecosystem, the tech start ups and the digital analytics, listening and measurement companies. The mo-bile guys were from the brick-and-mortar creative agencies, the Indian digital agencies, the media agencies and the odd client who found the time and the inclination to be at Jaipur.
Why did I find the time to go to Jaipur when I was neither in the mo-bill set nor in the mo-bile set, spending a precious Wednesday, Thursday, Friday and a large part of Saturday away from work?
In one word: networking.
When I saw the list of delegates on the stream site, it was clear that I would have to spend many more hours to meet these delegates individually rather than make the trek to Jaipur.
Anything else that I got would be a bonus; learning something new would be a bonus, an unusual or refreshing point of view would be a bonus, a provocation would be a bonus, meeting someone I hadn't met before would be a bonus.
I came back much richer than I was when I arrived at Jaipur. I had hopes, but not expectations, of getting more than just networking thanks to what I read about Stream. "Stream brings WPP clients together with industry leaders to think about our digital future and what that means for communications, what it means for creativity and last, but not least, what it means for business," is what the 'about' page says on the WPP Stream site.
The five key words that I took out were: our, digital, future, creativity and business; these were the five elements that I would look for in every session I attended and every conversation that I had.
And, as I went about the venue networking, pumping hands and clinking glasses and sharing cigarettes, I discovered that there were many other homogenous aspects to those who said mo-bill and those who said mo-bile.
The mo-bill camp was selfish and parsimonious, while the mo-bile camp was so generous that they were almost philanthropists. The mo-billers largely spoke about themselves, their companies and their products.
The mo-bilers spoke about the industry at large, about things that they've seen and learnt, including their competition and their rivals in the conversations. It was almost as if the mo-bills were looking for the maximum bang for the buck that they had to spend in getting to Jaipur (or in supporting Stream as a sponsor). In short, the mo-bills used Stream to, er, sell.
I went back to the five key words and tried to tick them: For mo-bills, digital, business and (a bit of) creativity were ticked. 'Our' was nowhere to be seen. It was I, we, myself.
For the mo-bile speakers, 'our' was predominant, digital, creativity and business were in abundance.
What of 'future', you ask? That's the one that shocked me.
The mo-bills spoke of the present and the immediate past. They shared with us case studies which demonstrated what brands could do with them, they shared capabilities that few know of, and so on. Nothing about what the future held for us, nothing about changes in the marketplace, changes in the consumer, trends that revealed insights into what would happen to 'our' business in the future.
My 'future' fix came from mo-bilers from creative, media and Indian digital agencies. One session, for example, frightened me with the thought that, in a digital world, knowledge would increasingly be reduced to a commodity. Another session taught me that the supremacy of the newspaper editor would completely vanish. Not some decades in the future, but becoming less supreme each passing day after today.
I would have thought that, being infinitely closer to the legacy industry business than to digital (I'm 53 and my mo-bile device is a BlackBerry) that I would learn a lot more from the mo-bill sessions.
I didn't.
I attended three sessions by mo-bills before one figured that these sessions were, largely, "for dummies" or "how to" sessions or just unabashed and undisguised sales pitches.
It wasn't tough to see the pattern; so, by day two, the mo-bill speakers saw thinning audiences with the mo-bile speakers gaining popularity.
That's when one understands the cleverness of the Stream format - which I haven't shared with you yet.
Stream is an unconference. Stream begins with no defined content.
The content is created by the delegates who have been invited - and there are no dos and don'ts. Speak on whatever you feel like talking about; it's all allowed.
On day zero, we're directed to a white board with a blank schedule drawn on it. Delegates can fill in details of whatever it is that they want to discuss or present: the topic, the time, the date and the venue.
That's where the cruelty of Stream comes in - and the magic of Stream. There are multiple talks going on simultaneously. Stream challenges prospective speakers to find a topic or subject that captures the imagination of the delegates and gets them to attend.
How could one ensure that you have an audience next year? You decode what happened this year.
This year, there was a lot to learn - and almost all of the lessons came from the mo-biles. If you're invited next year, here's what one should do:
· Talk about the future
· Talk about the consumer
· Talk about 'us'
· Do not sell
· Provoke, challenge the status quo
· Do not make extended presentations.
· Make short presentation, followed by discussions
· Include the audience in the content
· Give, don't take
· Share
· Be generous
And, funnily, do not focus on digital and on business.
They're both incidental and implicit.
It's time for a wrap; it's back to mo-bills and mo-biles.
It's only when I returned from Stream that I realized what Stream had achieved: Stream got the mo-bills and mo-biles into the same room; made them talk to each other; got them to know each other, got them to understand each other's concerns.
In the two weeks prior to stream, I had attended the Content Marketing Summit and the Internet And Mobile Association of India Summit. All I heard at these two events was mo-bill. In the many Advertising Association of India and Ad Club, Mumbai events that one attends, all one hears is mo-bile.
It was almost like the twain never meet.
Stream got them to meet.
That's big.