As the light dimmed last weekend at the Atlanta Athletic Club, and rookie Keegan Bradley sealed a playoff PGA Championship in a dusky light, it reminded me of a note I received a few months ago which raised the important connection between food and healthy eyesight. Let's face it -- that's a connection most people don't make.
The e-mail began: "Chef Andre, I need your help..."
It came from Transitions, the sponsor of the PGA TOUR event held at Innisbrook each March on our Copperhead Course. I was asked to create menu items that could be served to the thousands of visitors who stream through the event's Healthy Sight Pavilion.
My first thought, of course: carrots. For years, moms have been telling us to eat carrots and we'll be able to "see in the dark." They even cite the examples of rabbits, which "love" carrots and have "amazing eyesight." Tall tales; however, there's no doubt that there's a clear association with healthy vision and consumption of Beta Carotene.
So, I sat down to create something that utilized this information and combined it with the fresh produce we use from a local farmer.
The result: an Organic Mache and Field Green Salad with Organic Carrot Vinaigrette. It proved such a hit at the tournament that we added to the menu at Innisbrook's Market Salamander Grille's restaurant. Now, I'm sharing it, virtually, with you.
Here's the recipe -- simple, and flavor packed. Enjoy!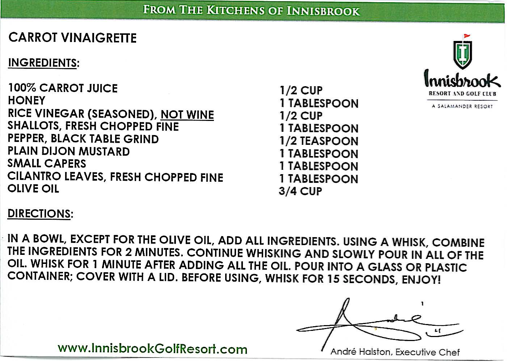 FOLLOW HUFFPOST