One of my favorite museums in the world is the Frick Collection in New York -- and I am a museum junkie. A lavish early 20th-century mansion built by industrialist Henry Clay Frick to house his priceless art collection, the Frick is also one of the most beautiful. My mother, a former art teacher who honed her craft growing up in the immigrant tenements of the Lower East Side, and I pay an almost annual pilgrimage. Strolling through the ornate rooms, we're treated to El Greco, Ingres, Rembrandt, Renoir, Monet, and Goya. For an $18 entrance fee, I tell everyone I know who visits New York that the gilded tranquility of the Frick is one of the most soothing experiences one can have in this city.
So it was to much excitement that on February 25, I attended the annual Young Fellows Ball, an evening to support the Frick's many free art education initiatives, targeting schools and art enthusiasts of any age. This year's the Diamond Deco Ball theme honored the 75th anniversary of the opening of the Frick Collection to the public. In 1935, the luminaries of the day -- Charles Lindbergh and his wife, Astors, Carnegies, Mellons, Rockefellers, Strauses, Sulzbergers, Vanderbilts -- feted around the same indoor fountain and garden as Thursday's vibrant, bedazzled crowd. The sparkling, flowing gowns made one's head spin as did the great show from the men who sported sharply cut tuxes. There was the occasional top hat, from men and women. I especially adored the sparkling turban of Elisabeth Saint-Amand, one of the evening's organizers.
I cannot tell you the sensation of looking all fancy in front of breathtaking works of art. It's such a nice change from the usual jeans or whatever uniform of museum-going. It's as though you can actually hold a candle, almost, to the priceless works on display.
The highlights of my evening included indulging in the incredible food, which varied from American sturgeon caviar to classic pigs in a blanket; spotting Blackstone founder Steve Schwarzman; getting "adopted" by a gorgeous group of gentleman; and dancing to the Ting Tings -- spun by Lit regulars Harley Viera Newton and Cassie Coane -- in front of a David.
The evening raised $235,000 for the Education Program of the Frick Collection. For a look at the gowns, paintings, and the hot turban, check out photographer Stephen Kosloff's new website, LaunchStalker.com.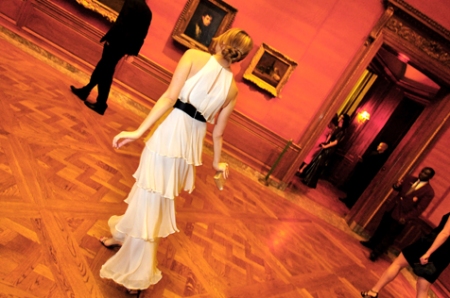 C'est moi! (Photo by Stephen Kosloff)