As the Presidential campaign heads into its last 26 days, the Obama camp continues to concentrate energy in hotbed Michigan. Today they dispatched Academy Award winning actor Forest Whitaker to the state, starting in Lansing. The soft-spoken actor spoke to a group of African American labor, religious, business and grass roots community leaders on the importance of moving from working on voter registration to getting out the vote. Whitaker will also be heading to Grand Rapids, Kalamazoo and Benton Harbor over the next two days.
Whitaker told the crowd he'd been involved in the Obama campaign since before the primaries and that he went to Iowa to drum up support during the caucuses.
The 47-year-old father of four said that this is the first time he has been moved to work in a campaign. "I can feel a tide of change in the country," Whitaker said. "It comes not just from this financial crisis but from concern over problems that have been building up over a number of years."
"In our lives we have a number of moments where we must stand up for ourselves -- like when we need to stand up to our boss. Now we need to stand up for our country," Whitaker said. He talked about the changes that have happened in his lifetime, including desegregation and moving up from the back of the bus.
"There is no more important state than Michigan in this election," Whitaker said. He cited the 35 percent poverty rate in Detroit and the 11 percent unemployment rate across the state as reason for residents and leaders to move for change. "There are 10,000 homeless people in Detroit alone," he said. "And the mortgage foreclosures are the worst in the nation." During Obama's last campaign visit to Michigan, the John McCain camp announced that it was shuttering its offices and ending media buys in the state.
Whitaker said that the Obama campaign was focusing energy in the waning days of the campaign in the cities like Detroit. "Barack wants to implement programs that will help cities move forward," he said. "Where the bailout offered trickle-down solutions, Barack is working to get bottom-up solutions in place, too." Obama has said he would appoint the first White House Director of Urban Policy to address the needs of major cities.
Whitaker also addressed the urgency of getting people to actually cast their votes. "In Florida, just 500 votes decided the 2000 election. And in Ohio, 2.5 percent of voters decided the 2004 election," he said. "Eleven percent of registered African Americans actually voted in the last election," Whitaker said. "If we can just move that percentage up we can make a difference."
Whitaker is just one of a number of celebrities and high-profile African Americans who have come to Michigan to support the Obama campaign. Others include Magic Johnson, Jay-Z, Earl Graves, founder of Black Enterprise, and Will-I-Am. Both Barack and Michelle Obama have made several appearances in the state in the last weeks of the campaign.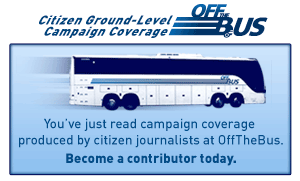 SUBSCRIBE AND FOLLOW
Get top stories and blog posts emailed to me each day. Newsletters may offer personalized content or advertisements.
Learn more