I've always liked road trips. Add a camera and an interesting companion and a highway ramble often turns into a film that's part diary, part travel documentary. When I lived in Woodstock in my 20s, a boyfriend and I made a film of every bridge over the Hudson River. Or tried to. Unfortunately, the relationship only made it as far as Bear Mountain, where the bridge dates back to 1924.
My 87-year old mother, Madaleine (or Mado as we call her) came out to LA from NY to visit last November 30 and had a stroke on Dec. 1. It wasn't a big stroke -- in fact, the doctors said if it hadn't been smack in her speech center we may never had known she had one. But it was in her speech center and, though it had no lasting physical effects, her speech was reduced to gibberish.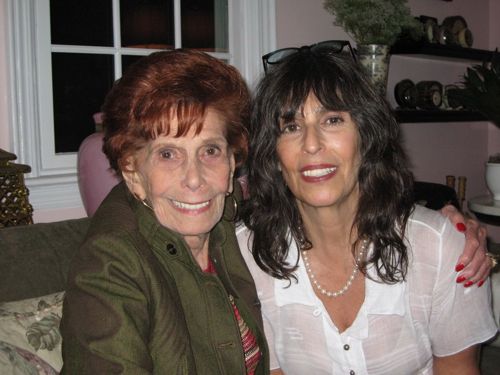 Though no one could link the stroke to her flight out here, she remains afraid to fly, so I began to romanticize a trip across country to take her home to visit. We'd stop in Marfa, New Orleans and mosey up the east coast.
The distance was daunting and the trip quite possibly a pipe dream. Could I actually spend a week with my mother -- who has now regained about 60% of her speech -- in a car?
For a trial run, we recently took a shorter drive to the Bay Area. We stayed in some cool hotels. Ate some good food. And we had a lot of fun.
Day One
From LA to Palo Alto
We took I-5 and didn't stop until we got to Harris Ranch around lunchtime. The place was a madhouse, as usual, as it is the only decent roadside place to stop halfway between LA and SF. We managed to find a handicapped parking place right in front, but the walk to the dining room was long for a fragile old gal who refuses to use a walker, and it's equally long in the opposite direction to the ladies room. After putting up with a short wait, a rude hostess and a harried server, I had a terrific bowl of gazpacho (really!) and we shared a decent turkey wrap.
The scenery changed from depressing feedlots to verdant hills as we left the highway heading toward the ocean. The Four Seasons Silicon Valley was really easy to find as it literally overlooks the freeway in East Palo Alto! Thank goodness for double pane windows.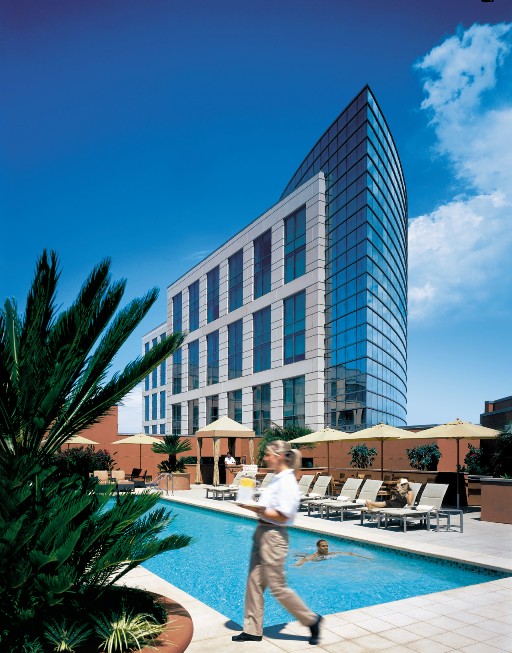 The hotel is very corporate, situated in a business park, but it has a terrific little spa, great beds and - best of all - top notch Four Seasons service. (What a training program that company has!) Room service for Mom was a delicious antipasto that arrived in 15 minutes flat from Quattro, the hotel's terrific Italian restaurant. Mom dined in front of the floor-to-ceiling windows, which had, in addition to the freeway view, a vista of the bay.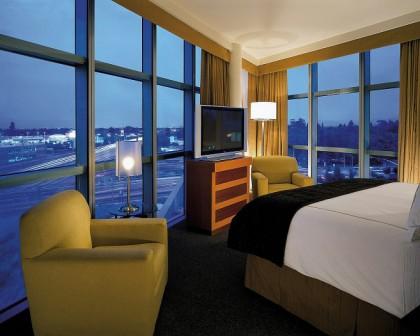 Meanwhile I headed to the spa and had a steam and a massage. Everyone connected to the hotel was super friendly and upbeat, and each time I retrieved my car from the valet, there was an ice-cold bottle of water in it.
Day Two
Palo Alto to Menlo Park
I dropped Mado off at her sister, Sonja, and brother-in-law, Ivan's home in Mountainview and then checked us into the brand new Rosewood Sand Hill in Menlo Park.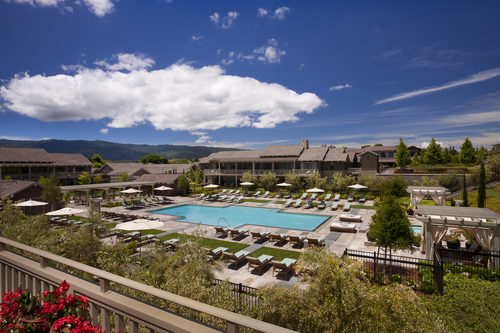 More resort than hotel, the Sand Hill is spread over the hillside, which might have been very inconvenient for someone elderly had the staff not been at our service with a golf cart every time we made a move. We stayed in a one-bedroom villa with a garden view, which had one and a half baths and a dressing room the size of a NYC apartment.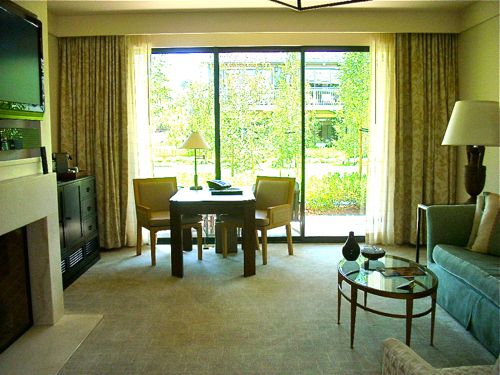 That afternoon, Mado sat by the pool and watched the kids cavort and splash, while I -- surprise! -- headed for the spa. I asked one of the pool men to keep an eye on Mom and when she was ready to return to her room, he escorted her.
That evening Sonja and Ivan came to dinner at Madera, the hotel's lively -- and lovely -- restaurant. (Apparently the lounge is the place for young valley movers and shakers to wheel and deal.)
With an emphasis on sustainably harvested seafood and meat, and seasonal produce from local farms, the food was amazing. Standouts included the oysters, stuffed quail, a perfectly cooked rib eye, rack of local lamb, the risotto and a to-die-for polenta with gran padrana cheese. All I remember about desert was that we had several.
Day Three
Menlo Park to Mill Valley
Drove to Mill Valley to visit Bea, one of my mother friends who is in exactly the same position she is, i.e., she has moved from her home in New York to a senior residence on the West Coast to be near her kids.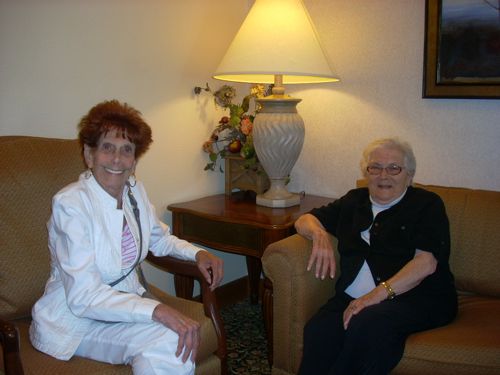 Mado (L) and Bea (R)
It was great seeing the two old gals together -- I can still remember them both in bikinis on our boats on Long Island when I was a child!
We stayed at the Mill Valley Inn, which is right in the heart of the most picturesque town in Marin. Though we were slightly spoiled at this point -- after the Four Seasons and the Sand Hill -- the place had its own charm and was ideally located for walking around town.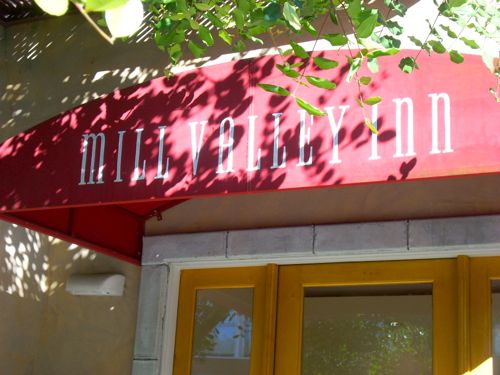 Our room had a balcony, overlooking the main street and the hills. The hotel offers wine and cheese in the late afternoon and a hearty buffet breakfast with complimentary cappuccino and make-your-own waffles.
We had dinner that evening at Bungalow 44, which a friend had raved about and which is allegedly Geroge Lucas's home away from home. We were disappointed. The beef vegetable soup was watery and light on the vegetables, and the crab cakes and goat cheese ravioli were unremarkable.
Day Four
Mill Valley to San Luis Obispo
It's kind of strange that a city like San Francisco does not have a ring road or a freeway that allows you to bypass the city going north or south. So, once again, we traversed the Golden Gate Bridge and the city and encountered the only traffic we had in four days.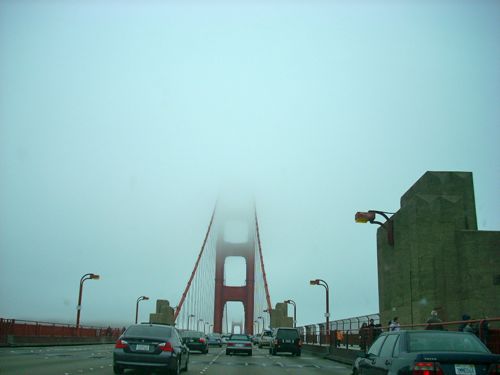 The endless drive south was fortunately broken up by a tasty lunch in Paso Robles at Thomas Hill Organics , a bistro and wine bar with food served fresh from the garden. But my mother's patience was wearing thin and now that we were on our way home she couldn't wait to be there. So much for my cross-country plans!
The Apple Farm Inn in San Luis Obispo was as filled with knick-knacks as the Four Seasons was streamlined and modern. No wifi here, though there was free plug-in cable for accessing the internet. But the place is spotless, the beds are comfortable and it's right off the highway. Mom was happy to sit by the pool in the sun until it was time for dinner.
We dined in town at Koberl at Blue, a bistro featuring local wine and country cuisine; each dish here has its suggested Central Coast wine pairing. The place is owned by the chef and his amiable, East Coast wife; they have created a dining spot that is definitely worth a detour. We had an eclectic lite-dining selection that included oysters (we were on a roll!), flatbreads with seasonal toppings and potstickers -- everything was excellent.
Road trips with elderly parents must provide a high comfort quotient, starting with a well-appointed sedan and, if possible, luxury hotels. No matter how tired my mother was, when we checked into a gorgeous place, she beamed from ear to ear. She appreciated the good service, the smiles from the staff, being called Madam and having someone open doors for her.
At 87, this is what she deserves and I'm glad I was able to provide it during this short trip.
Now, a trip across country is another story entirely and one I'm not sure either of us is up for!

SUBSCRIBE TO & FOLLOW LIFESTYLE
HuffPost Lifestyle is a daily newsletter that will make you happier and healthier — one email at a time. Learn more