Puerto Vallarta, that once quaint fishing village -- the Mexican St. Tropez in its day -- fell out of grace as a jet set destination about the time they built a highway connecting the town to the airport in the late seventies. Then they built Nuevo Vallarta - a Miami Beach wannabe, complete with all-inclusive resorts catering to bargain hunting families - and its fate as a has-been port-of-call was sealed.
I've just returned from a long weekend there and -- surprise! -- I had a great time, and I am ready to put Vallarta back on my map of easy-to-get-to-from-LA travel destinations. This is mostly due to a gem of a boutique hotel -- Hacienda San Angel -- the work-in-progress of an elegant ex-pat from San Francisco, Janice Chatterton, who came to PV 14 years ago. Eventually, she moved there and bought a house in the Gringo Gulch, a charming section of town in the hills above the Cuale River. This is the part of town where, in the 1960s, Liz Taylor and Richard Burton had separate houses connected by a private pink bridge over a little cobblestone street.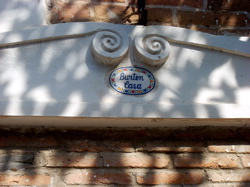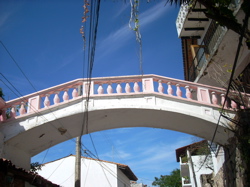 Now, Chatterton has acquired those houses, too, and a couple of others and has transformed what was originally a bed and breakfast in her original casa into one of the most original and charming hotels I have ever been to.
The Hacienda San Angel is a warren of lush, tropical gardens; thick-walled rooms with breathtaking sea views; candlelit brick and stone stairways and courtyards and cobalt blue-tiled swimming pools.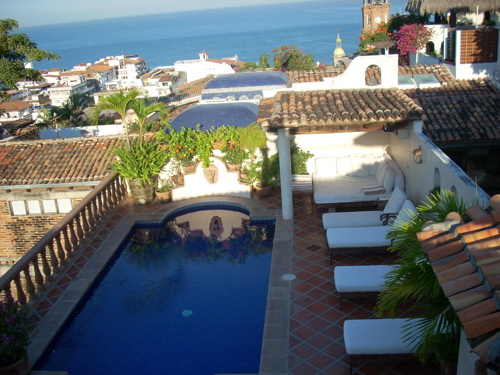 And every room, every space, every nook and cranny is a backdrop for Chatterton's ever-expanding collection of art and antiques from Mexico and around the world. The crystal chandeliers in the restaurant, which has become popular with locals as well as guests, are from Europe, the statue of John the Apostle in the salon is from the early 1700s.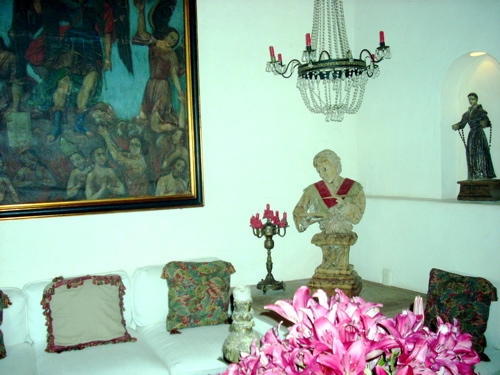 The niche in the San Gabriel suite is from Vietnam and the carved stone arches at the end of one of the pools, which mirror the arches on the town's sea girt promenade that have come to signify Puerto Vallarta, well, they just look old. Chatterton had them made in Guadalajara.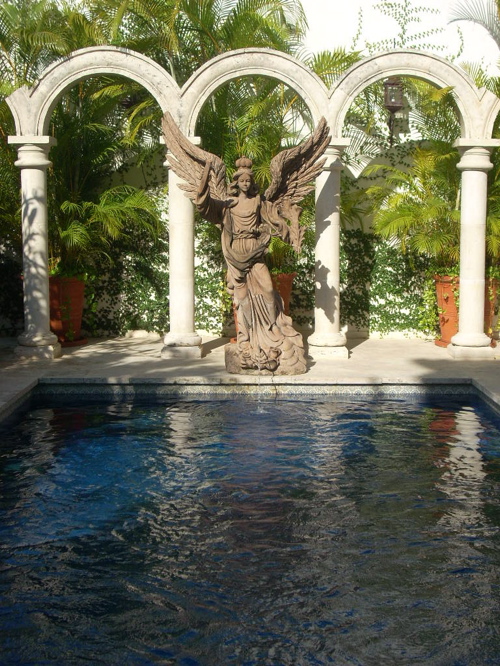 It almost boggles the mind to contemplate the attention Chatterton has paid to details. It's the kind of attention you usually find only at five star palaces like the Plaza Athenee in Paris or Cipriani in Venice. The 600-thread count cotton sateen sheets, with their embroidered embellishments are from Paper White, Ltd. In Larkspur, California and are changed twice a day. The pillows are the plushest down. The antique silverware and china sparkle; the linen napkins are so soft and pristine you hate to wipe your fingers on them.
The room key hangs from hand-made silver chain. The housekeepers have been trained to keep one hand behind their back as they bend to light the hundreds of candles that are placed on every surface to create a dazzling nighttime ambiance.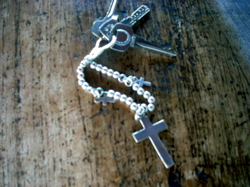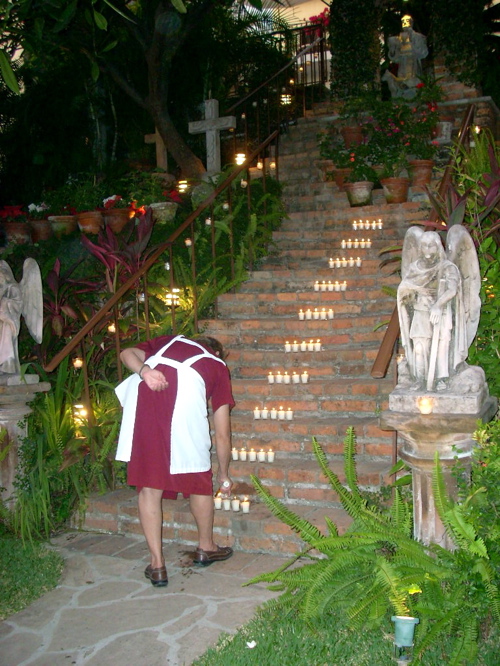 When serving lunch or dinner, the room service waiter brings each course individually so that nothing gets cold. The list is endless.
Our room, the San Miguel Suite, had a terrace larger than the room, with an outdoor bath and a view of the Cathedral of Our Lady of Guadalupe and the sun setting over Banderas Bay.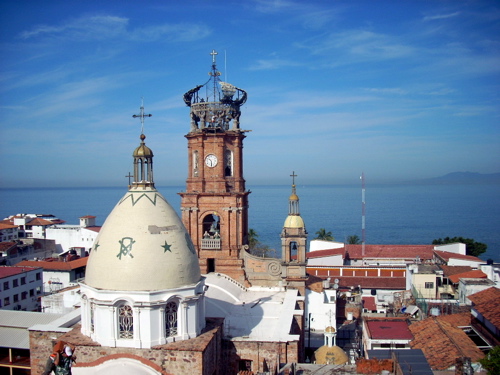 Every room is unique, furnished with priceless paintings and antiques.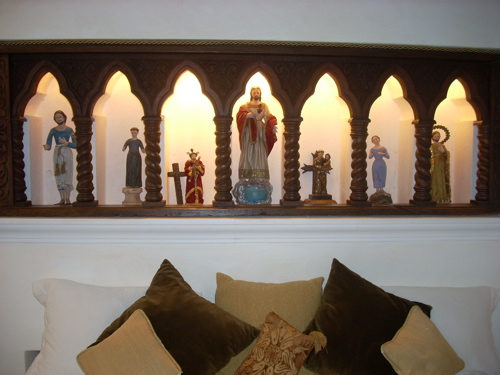 Though it is difficult to leave the Hacienda's luxurious cocoon, Vallarta has a buzz these days and it's fun to hit the streets. It's a walking town; stroll up and down the malecon, through steep cobblestone streets lined with shops, or jog along the beach past cafes that serve everything from classic Mexican cuisine to lobster. There's even a "slow food" Mexican restaurant, El Arryan, which offers duck flown in from Connecticut and cricket tacos. And there's a jazz bistro, Chez Sabor, started by an ex-pat with ties to New Orleans that serves gumbo and blackened shrimp.
If you want a gorgeous beach, you can rent a car or hail a cab and head north to Nayarit and Punta Mita, where the Four Seasons is located. And, Conchas Chinas beach, which is sort-of-gorgeous, is just a hike out of town along the coast.
If you live in LA, Puerto Vallarta is a short and relatively inexpensive plane ride away. It's exotic, as only a foreign country can be, and the Mexicans can't be beat for hospitality. So, if St. Barts and Maui are out of the question this year - thank you, George Bush! - head down to PV. It's low-key and chill, and, with an exchange rate of 13 pesos to the dollar, you get a lot of bang for the buck!

This Blogger's Books and Other Items from...
SUBSCRIBE AND FOLLOW
Get top stories and blog posts emailed to me each day. Newsletters may offer personalized content or advertisements.
Learn more