I've been going to Two Bunch Palms Resort & Spa for years -- decades, really. It was just plain old Two Bunch Palms back then, Two Bunch for short, and it was small and hard to get a room and felt like a best-kept secret, a private club. Now it's bigger and offers more amenities, but despite its "resort & spa" aspirations, I'm still a fan and convinced it remains the best desert escape in Southern California.
It has to do with the water.
Two Bunch is located in Desert Hot Springs, which is across the highway, but many miles psychologically, from Palm Springs. Desert Hot Springs is the anti-Palm Springs, there's not a milligram of glamour here, not a trendy boutique or bistro in sight. It's down-and-out funky. No reason to come here.
Under this dive-y desert town flows one of the world's finest natural hot mineral springs. One of the minerals in the water is the mood-stabilizer, lithium, which is a natural salt that is absorbed through your skin. This means when you soak, you chill. Relaxing is an understatement. Bliss is closer.
There are countless resorts that have capitalized on "taking the waters" but I can't think of another one in the U.S. that has done it with the panache of Two Bunch. Surrounded by snow-capped mountains and positioned on a rise in the landscape, the resort was once Al Capone's desert hideout; his sentries could see headlights approaching from miles away. The spot truly is an oasis; hence, the two bunches of palms.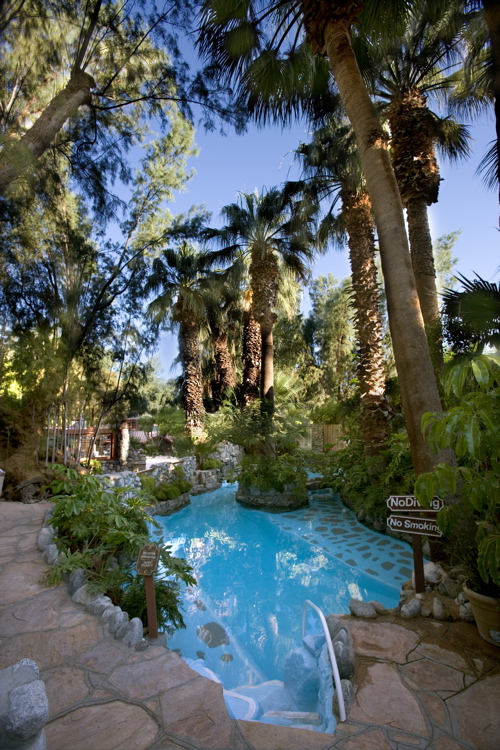 In the midst of one of the palm bunches is the grotto, the heart of the resort. This meandering man-made pool, created out of rocks and stone, is constantly fed by the mineral springs. There are two sections, kept at different temperatures. Guests spend all day in and out of the pool, floating on sponge tubes, gazing at the palms or their navels, reading books. A gorgeous, young woman with dreadlocks and a nose ring stood under the waterfall. An elegant gentleman, tan with great, longish gray hair, floated serenely, his toenails painted a vibrant scarlet. No one talked above a whisper. When you emerge from the water your skin is silky, and you are barely able to amble to a chaise, where you collapse and lose yourself to the bird songs and vistas.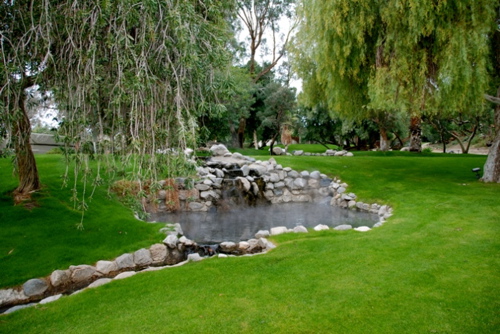 The grotto is the essence of the resort, which emphasizes healing, relaxing and rejuvenation; "out of the silence emerges the sound of your life," is one of the resort taglines. Two Bunch is a getaway from the stresses of the city, the technology bombardment, the rat race of everyday life. What a pleasure to see people without cell phones in their hands.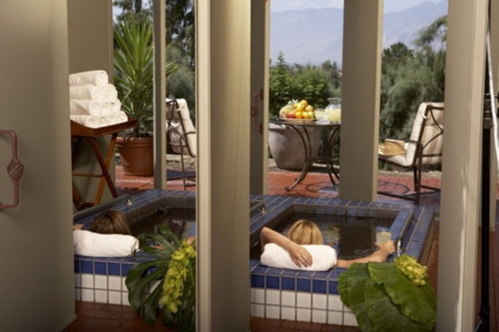 The spa has all the treatments you would expect - massages, facials, scrubs -- plus mud baths and watsu, a one-on-one water stretch/ballet done in a private pool. A blind man would be able to find the spa by following the amazing aromatics that emanate from within. A trip to the spa and a day in the grotto guarantees a sensory shift.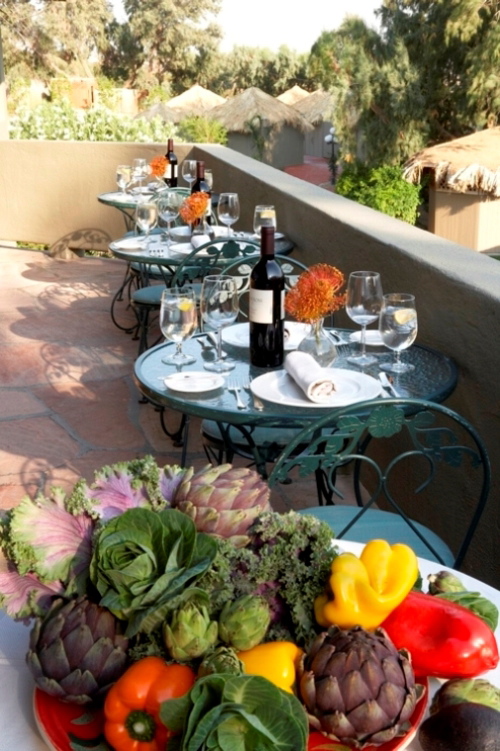 Thank goodness there's a restaurant on site, because after a day of soaking, all plans to drive to Palm Springs for dinner must be shelved. The menu appeals to all palates and seeks to satisfy the quirky dietary restrictions of health conscious Californians. There's everything from quinoa to pasta to beef, plus an extensive wine list (just what you need after all that lithium!) Despite the fact that I did nothing more than float in the grotto and get massaged, I woke up ravenous each morning; the copious breakfast buffet was definitely a high point of my day.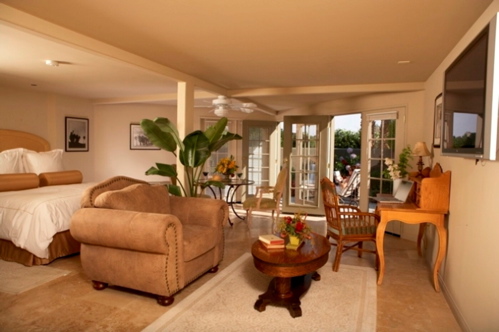 The rooms are spread out across the resort. Call it nostalgia, but I prefer the original accommodations, which, of course, have been renovated. They are located around the grotto and just steps from the water, which makes it more conducive to taking a dip upon awakening or before bed. The other rooms and villas, located down a lushly landscaped hill behind the resort, offer more privacy, however, and some have private outdoor hot tubs. Plus, staying down the hills means you'll walk a lot more, which possibly could be the only exercise you'll get during your stay.
This Blogger's Books and Other Items from...
SUBSCRIBE AND FOLLOW
Get top stories and blog posts emailed to me each day. Newsletters may offer personalized content or advertisements.
Learn more