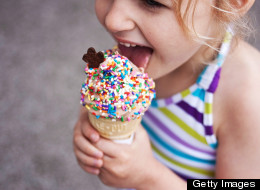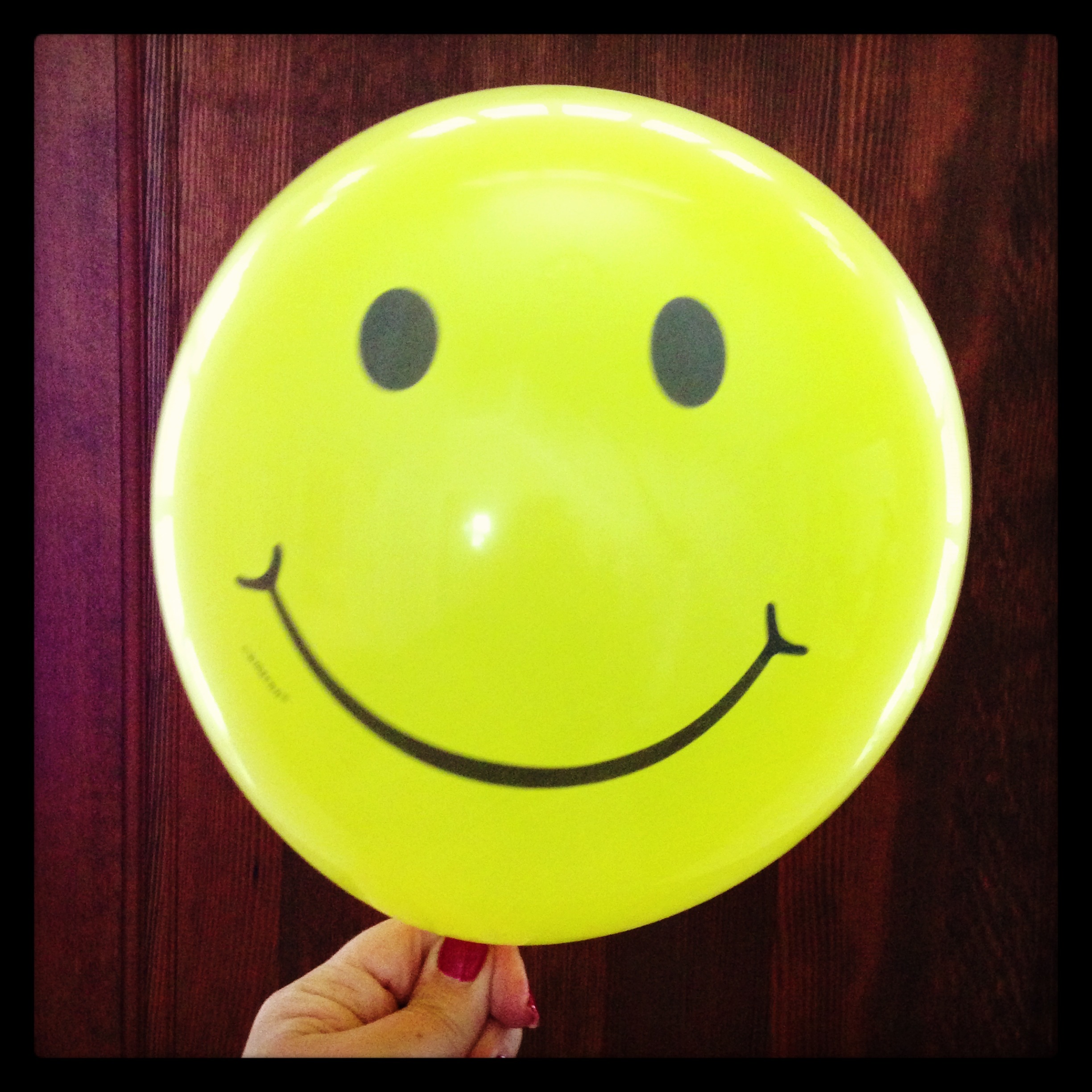 A couple of weeks ago, I got a lovely handwritten note in the mail from a sweet elderly acquaintance in our community. She had read in the local paper that my oldest son was named the Connecticut Student Journalist of the Year, and she had clipped the piece which she sent along with her kind congratulatory message. Also tucked into the notecard was a little yellow balloon with a smileyface. The beautiful note was truly so touching and the balloon made me smile. I immediately dropped a note in the mail back to her, thanking her for her thoughtfulness and for making my day.
I was so tickled that I decided to post about it on Facebook, and I blew up the yellow smiley balloon to take a picture for the post. Well, it's two weeks later, and believe it or not, that silly party store balloon has become everyone's favorite object in the whole house! My teenage boys volley it back and forth to see how long they can keep it in the air. They try to spike it at each other. They do head-butts with it. I caught one guy repeatedly bouncing it off his nose like a dolphin. They play with it in my office. In the hallway. In the family room. One night I was watching TV in bed when one of them came in to kiss me goodnight carrying the balloon. He he tossed it to me and we went back and forth a few times. Such a simple pleasure, yet without fail, it makes everybody smile.
So can simple pleasures actually make us happier? Indeed they can, according to Gretchen Rubin, author of The Happiness Project and Happier at Home. "It's not life changes like a new house or a fancy car that make the most impact, but sometimes little things like the smell of an orange, that give the biggest happiness boost," says Rubin. She adds, "Over and over, people tell me something like cleaning out a medicine cabinet gives them a huge jolt of good cheer and energy."
The smiley yellow balloon inspired me to come up with a list of 101 simple pleasures that might make you smile or will perhaps spark other ideas of your own. Of course, simple pleasures aren't universal, so one person's pleasures won't necessarily bring the same boost of happiness to others. But the possibilities are limitless and it's fun and interesting to see what others consider to be simple pleasures, so please share your ideas in the comments below!
Feeling warm sand between your toes at the beach
Seeing a baby light up with a giant grin
Getting a handwritten note in the mail
Listening to your favorite music
Warm, fresh-baked chocolate chip cookies
A magnificent sunrise or sunset
Cuddling
Good chocolate
Holding hands
Laughing until you nearly wet your pants
Inside jokes
Spending time with people you adore
A cloudless sky
Your favorite flower
Getting a call or email from someone you love out of the blue
Watching your favorite childhood TV show
Singing loudly in the car
Hugging your babies, no matter how old they are
Stargazing at night
Lying in bed listening to the rain
Finding money you didn't know was in your pocket
An icy glass of lemonade (or beer) on a hot summer day
Getting a great parking space
Sleeping in
Fresh bed sheets
Putting on clothes straight from the dryer
A breathtaking view -- water, mountain, cityscape, forest, whatever
A picnic
Plump summer tomatoes
Bodysurfing
A fireworks display
Making someone smile
Kissing
The farmers market
Helping someone in need
The smell of a baby's head
Building a sandcastle
Watching clouds float by
A peanut butter and jelly sandwich
Checking something off your to-do list
The cool side of the pillow
The smell of a thunderstorm ("petrichor")
Waking up and finding the alarm isn't going off for another three hours
Swinging on a lazy porch swing
Snuggling under the covers on a stormy day
A perfectly-timed, cozy snowstorm
Relaxing in front of a roaring fire
A great book
A long walk on a cool day
Cherry blossom trees
A clean closet
Unexpected good news
The smell of a barbecue
Bubble wrap
An afternoon nap
Finding an old personal treasure at the bottom of a drawer or in the back of a closet
Hitting a bunch of green lights in a row
A brand-new 64 box of Crayolas
Cookie dough
Your favorite movie
Fresh-picked berries, still warm from the sun
Not having to be anywhere
Getting a giant hug just when you need it
Minty breath
Putting on a snuggly sweatshirt after a chilly afternoon at the beach
A long conversation with a favorite friend
The rare perfect errand day
The smell of fresh-cut grass
Tears of joy
A fabulous bottle of wine
Collecting sea shells
Bubble juice and a bubble wand
A newly-fallen blanket of snow
Making s'mores
The smell of fresh-baked cookies or bread
Vibrant autumn foliage
A foot massage
Licking the batter
Seeing a rainbow
Candlelight
Spring flowers blooming
Hot chocolate on a cold day
Finding something you made when you were a kid
Puppy kisses
Randomly bumping into someone you haven't seen in a while
A good hair day
When something you were going to buy anyway is on sale
Getting a caring customer service person on the phone
A balloon
Coming across an old photo that makes you smile
The season premiere of your favorite show
Riding with the top down
A chocolate ice cream cone
Taking a shower after a day at the beach
When someone lets you know they're thinking of you
The smell of a sea breeze
Hearing an old song you used to love
A bright full moon over the water
When a baby falls asleep in your arms
Rereading a favorite childhood book
City lights at night
Were your favorites on the list? What else can you add?
For more by Andrea Reiser, click here.
For more on happiness, click here.
Also On HuffPost: Expert Happiness Tips
Happiness Tips From Experts
"Choose love over being right." -- Deepak Chopra, author of Spiritual Solutions: Answers to Life's Greatest Challenges

"Happiness is a choice you make. Every thought you have is a decision and in any given moment you can decide to be fearful or you can decide to be happy. Through gratitude, forgiveness and a commitment to peace you can choose to be happy." -- Gabrielle Bernstein, author of May Cause Miracles

"Accept yourself, and expect more from yourself." -- Gretchen Rubin, author of The Happiness Project

"Count your blessings ... pray every day ... honor God by taking care of your body and mind ... remove all negative people from your life ... learn to forgive yourself and others ... watch as many sun rises and sunsets as you can." -- Richard Simmons, American fitness personality and motivator

"The constant pursuit of happiness will lead to disappointment because happiness is not sustainable. BUT gratitude, acceptance, peace and loving are. Pursue those qualities and you will discover that you are happy a lot more often!!" -- Christine Hassler, author of 20-Something, 20-Everything: A Quarter-life Woman's Guide to Balance and Direction

"Trust yourself. If you don't learn to trust yourself, you will never be happy. You'll always be deferring your authority to someone or something outside of you." --Paul Selig, author of I Am the Word: A Guide to the Consciousness of Man's Self in a Transitioning Time

"Nothing has meaning besides the meaning we give it! It's not about 'positive thinking,' it's about 'powerful thinking' -- realize that in any given moment, you can choose to find an empowering meaning in every situation -- one that puts you in a space of love, hope and happiness." -- Marie Forleo, marketing and lifestyle expert, founder of Rich, Happy & Hot

"My one piece of advice to anyone who is on the pursuit of happiness is to know that you have a choice -- we can always choose to be happy. No, I am not talking about some saccharine, superficial ignoring of what is hurting attitude. In every situation we can decide how we regard the circumstances and our perspective then determines how we move forward or not." -- Marilyn Tam, author of The Happiness Choice: The Five Decisions That Will Take You From Where You Are to Where You Want to Be

"Happiness, or fulfillment, comes when we step outside ourselves and serve. Short term happiness comes from chasing "stuff" -- food, drugs, material items, realtionships, etc. But we all know that doesn't last. Contribution, service, connection and love -- when we learn how to cultivate these things within ourselves and then give them away to others in whatever form inspires us most, we have stepped into a larger world. If you are seeking joy, realize that joy is service. No matter what the economy, government or other people are doing, there is always an opportunity to serve others. When we realize this and act on it, happiness is sure to follow." -- Mastin Kipp, CEO/Founder of @TheDailyLove.

"If we want happiness, I think we should follow classic Greek wisdom and live with areté. The word directly translates as 'excellence' or 'virtue,' but has a deeper meaning -- something closer to 'expressing the highest version of ourselves.' When we're showing up fully moment to moment, there's no room for regret/anxiety/disillusionment, just a whole lot of happiness. Here's to getting our areté on!" -- Brian Johnson, CEO of en*theos

"Let's see: When it comes to seeking happiness, the kiss of death is feeling entitled to happiness or believing that some other person is essential for you to be happy. People need to lower the bar in terms of what brings them happiness in life. Never tell yourself that you are an extraordinary person, as that will ensure your unhappiness. Rather, discover how liberating being ordinary is and begin your journey to happiness with your feet firmly planted on the ground." - Caroline Myss, author of Anatomy of the Spirit: The Seven Stages of Power and Healing

"Happiness comes through finding peace and freedom within ourselves and bringing happiness to others." -- Matthieu Ricard, author of Happiness: A Guide to Developing Life's Most Important Skill

"Realize that we are in charge of our inner emotions. We control how we feel from the inside out and we can decide how we respond to what goes on around us. Once we realize we are at the control desk of our inner world, then the responsibility is with us to steer our emotions. We can choose happiness -- wherever we are on the journey of life. Positive emotions breed increased health, wellbeing and success. The happier we allow ourselves to feel, the more we create positive outcomes. Happiness is a choice. That's the secret." -- Susie Pearl, author of Instructions for Happiness and Success

Arianna Huffington: How To De-Stress with the GPS for the Soul App Download the App: http://www.huffingtonpost.com/2013/02...
Follow Andrea Reiser on Twitter: www.twitter.com/AndreaReiser
FOLLOW HUFFPOST
HuffPost

GPS for the Soul

HuffPost
GPS for the Soul