In 1975 the knees of the formerly world's greatest male dancer would no longer straighten completely. He was nearing the end of a spectacular career that changed the world for male dancers. He put the sexy into ballet with his combination of pantherlike power and elegance that had never been seen by western audiences before 1961 when he defected from the USSR. Fifteen years later, he could still fill theaters wherever he performed and was still in great demand as a guest artist so he kept accepting any offers to perform with any company, anywhere, anytime. It wasn't cheap being Rudolf Nureyev. He kept an apartment at The Dakota in New York and another in Paris. He enjoyed caviar and champagne, fur coats and elegant shoes. He also had a passion for collecting art and oriental carpets.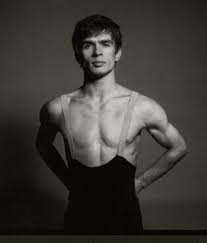 Touring ballet companies needed the allure of his star power to be able to book the top venues like L'Opera de Paris, Covent Garden or The Met. The Kennedy Center in D.C. is where I first saw Rudy. I was working as a supernumerary whenever one of the great ballet companies came to town so I could see all these great dancers up close for free. We were backstage waiting to start the performance and Rudy was nowhere to be found. Beryl Grey, the company director, was standing elegantly but nervously in the wings while the rest of the London Festival Ballet crew went through their various pre-performance rituals. Eva Evdokimova was going through her rituals getting ready to perform the role of Juliet and was beginning to look nervous. There were some dancers holding onto pieces of scenery while stretching and doing tendus and pliés. Others practiced their variations in small snippets, trying out that complicated jump, the pirouettes and figuring out the spacing for yet another new theater on an exhausting tour. But Romeo Rudy was missing. This was becoming more the norm during this tour, I learned. His once legendary discipline was dissipating. Pre-show drinks and post show drinks; rock stars and movie stars; Rudy was officially a part of the jet set.

When Rudy finally appeared it was with a silent fanfare and a retinue of Eurotrash hangers on. When Rudy performed there were always extra people hanging around backstage. Trailing behind him and to his left was his manservant, a sculptural Roman named Pietro or maybe Angelo. He was wearing a fur coat. He shrugged it from his shoulders and Pietro (or Angelo) caught it deftly with his right hand and kept Rudy's tray balanced in his left. Ignoring everyone, Rudy walked to the curtain and grabbed hold of it, using it for a barre, and began to warm up his aging bones and muscles. His flexibility was going rapidly and the knees wouldn't quite straighten. Beryl stood by anxiously. She was one of the leading ballerinas of her day and understood that this was necessary but she was still highly agitated. It was 8:20 pm and curtain time was late, even by Latin American standards. Rudy continued to do his warm up, oblivious to everyone and ignoring Beryl's pleas to start the performance.
Finally ready to go, Rudy nodded his head and announced tersely, "we start." He strode to the wings where Angelo (or Pietro) stood waiting with the fur over one arm holding the tray ready. Rudy picked up his mirror and hairbrush and fixed his hair while the overture started. He wore almost no makeup. On the tray there was powder and an eyebrow pencil. His face was so sculptural he didn't really need it. I think he wore it when he wanted to be more outrageous. He penciled his brows carelessly and gave a cursory pass of powder over his face and reached for his thermos. It was an Elvis thermos and it had hot tea in it. Whenever I think about Rudy I always picture his humble servant waiting in the wings with the Elvis thermos. Every time he came off stage, his manservant was there waiting with the tray. Sometimes Rudy fixed his hair, sometimes not. Sometimes he took a sip of tea, sometimes not. But he switched on and off like a light bulb when he entered or left the stage. No one spoke to him during the performances. He was already a legend. When he hit the stage he switched on and was a riveting performer.

Offstage he was behaving badly. I saw him kick his manservant in the bottom over some perceived flaw in service. He routinely cursed at people in vile language. The stage crew had it in for him as well. I learned that up in New York at the Metropolitan Opera House, Rudy had gotten into a tiff with a stagehand and had slapped him. True or not, Rudy's name was mud with the stagehands union. IATSE is the union that represents stagehands all across America and there is no more powerful union in the country than IATSE Local #1 in New York City. Make friends with them and you have a friend for life. Cross them at your peril.

When they told their union brothers down in D.C. about Rudy's abuse of one of their own, Rudy was in for it. He was supposed to have a follow spot whenever he was on stage. It's one of those things that you might not be completely aware of when you're watching a show, but the star usually has his own spotlight, called a follow spot, that follows him wherever he goes on the stage. Stars really do shine a little brighter. It's not your imagination.

Time and again, Rudy would hit the stage and there was no follow spot or it would go on and off at random intervals. From the wings I heard him hissing on stage, -follow spot! Follow spot!- and then it would go on for a few seconds and back off again. He was enraged but powerless to do anything about it. This went on for the entire engagement of the London Festival Ballet at the Kennedy Center. One night, when he came out to take his bows to tumultuous applause after a particularly affecting performance, the curtain operators, loyal members of IATSE, dropped the curtain on Rudy's head and narrowly missed him. Theatrical curtains are heavily weighted at the bottom to make them drop quickly and keep them from moving during performances. If he had been hit, it would have been a serious injury.
I don't know if the rift between Rudy and IATSE was ever repaired but I learned a lesson from that experience. Forever after I was always deeply appreciative and respectful of the people who work behind the scenes. Those people can really hurt you if you disrespect them.