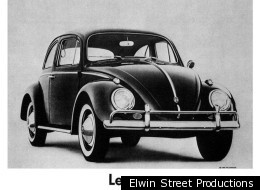 While my new book covers the period of TV's Mad Men and is respectful of the show -- it's a great show and what it covers, it covers brilliantly -- I follow a very different trajectory. The big story, perhaps the biggest story of all time in advertising, was that of the Creative Revolution of the 1960s.
This was when advertising suddenly realized that perhaps the best route wasn't a mindless didactic head-butting from hectoring voice overs and screaming dishonest print ads but a gentler, more demotic style, treating the public as more discerning, more intelligent and capable of seeing straight through the hype.
A 1955 remark from a patrician English New York agency owner, David Ogilvy, "the consumer is not a moron, she's your wife", though today sounding a tad gender insensitive was nevertheless a timely rebuke for the moronic way the business went about creating its product. But the real game changer was a middle aged man of average appearance and average background who by the intelligent and radical application of a completely different philosophy turned the business on its head, and should probably be thanked indirectly for every piece of entertaining, charming and humane advertising you'll ever see.
He was Bill Bernbach, a Jewish copywriter who set up his own agency in 1949 with the creative people at the centre and the belief that, "all of us who professionally use the mass media are the shapers of society. We can vulgarize that society. We can brutalize it. Or we can help lift it onto a higher level."
But he didn't soften his approach at the expense of his clients, producing a stream of extraordinarily successful campaigns for VW, Avis, Chivas Regal, Polaroid, Levys Bread. Others followed, and gradually throughout the Sixties radicalized a part of Madison Avenue that would grow over the next few decades so the revolution became, in some respects, the new staus quo.

The book explores the cultural, economic and sociological origins, including the extraordinary influence of second and third generation immigrants, and the what, when, where and how of the story -- including the laughs. In writing it I interviewed more than fifty veterans of the era and spent two years in research. It uncovers some unexpected stories and examines some of the wider themes displayed in Mad Men, the situation for women and African Americans in 60s agencies -- and, for sports fans, the eating, drinking and sex. Did you know that in 1959 the average life expectancy for senior agency executives was 57.9, a full ten years less than colleagues in other businesses? There's a reason.
It's the story of the real men and women who walked the same pavements as Don Draper - but in a completely different fashion.
Andrew Cracknell is the author of The Real Mad Men [Running Press, $28.00]
Although it ran in 1952 long before the famed VW "Think Small" campaign, this is the ad that is generally assumed to mark the start of the Creative Revolution. While objectionable to today's gender sensibilities, it was a sensation. Nathan Orbach was Bill Bernbach's first client at Doyle Dane Bernbach, a far seeing benefactor who had worked with Bernbach at his previous agency, Grey, and urged him to start his own place. Department stores didn't talk like this, their ads either a riot of offers or breathlessly reverential. But for this DDB borrowed from the language of another genre of heavy handed advertising, auto dealerships, and parodied their style to the huge enjoyment of the public. Maybe you had to be there but believe me, they loved it.

For me, one of the hallmarks of Doyle Dane Bernbach's advertising was playfulness. They recognised that the reader knew this was all part of the process of selling and there was no point in pretending anything else. So without undermining the overall purpose - persuasion - they made their ads as entertaining as possible. Written in 1959 for the cut price store by Judy Protas, one of the many women writers at DDB, the copy is a wittily knowing stream of catty gossip about Joan who behind her expensive high fashion exterior hides a terrible secret; as we learn in the last line of copy "I just happened to be going her way and I saw Joan come out of Ohrbach's!"

The most famous ad in history, partly because it was so breathtakingly different. Car ads were usually illustrated rather than photographed, so the picture could and frequently did, lie. Aspiration was almost always the only hook; naked, blatant, social superiority. And cars were big, blowsy, objects of desire, almost sexual. And what was DDB's response to the task, characterised at the time by one of their staff as "selling a Nazi car in a Jewish town"? Show the car small, unadorned with status signifying props and describe it as the one thing that American didn't want to hear - small! Detroit was aghast but within weeks the public were actually quoting the wittily crafted copy by Julian Koenig.

Mad Men's Don Draper says of this ad "I don't know what I hate about it most - the ad or the car". He was not alone. Most of Madison Avenue couldn't believe what they were seeing. But here you see all the principles of Bernbach's advertising; intelligence, respect for the reader, candour, wit, charm and originality. There was also a high degree of self deprecatory irreverence, as DDB recognised that the view clients' held of the overblown importance of their products was unrealised in the real world. "Lemon" indicates a problem with the car, an utter heresy in the litany of Detroit advertising. There was - a blemish on the glove compartment, which is why "This VW missed the boat."

Much alcohol advertising is conducted with social aspiration at its core; because it's essentially a gregarious product, you need to be suggesting "good times", whether on an oligarch's yacht or in a convivial barroom (to my view both so tiresome and yet both still so prevalent). The beauty of the Papert Koenig Lois campaign for Wolfschmidt's was an understanding that slavish "monkey see, monkey do" advertising was not the only way to go. Style can be evoked as much by how you think, what you find funny and what speaks to you possibly more than simply shoving aspirational images in front of people and expecting them to respond. "Wolfschmidt's in a Bloody Mary is a tomato in triumph". Perfect.

PKL was a belligerent agency with plenty of internal strife, and dubbed Stillman's East after a famous westside boxing gym, Stillman's West. When this ad ran into trouble with various newspapers who refused to run it - too risqué, can you believe it? - the agency loved it. Controversy with the press was all good grist for the publicity mill and helped establish Wolfschmidt's as an alternative choice. This frivolous but congenial approach was like a douche of iced vodka after years of ads featuring tuxedoed stiffs and overdressed dames in Connecticut country clubs or upper East side apartments. Jewish writer, Greek art director - like so much of the Creative Revolution work, the irreverent approach of the second and third generation immigrants.