Around this time of the year, I try to keep in mind the ways my family can give back to our community. This past Saturday, 48 families -- over 160 volunteers in total -- including myself and my two children gathered at Grand View Elementary School in West Los Angeles, where we picked up paintbrushes and got to work helping to transform the campus as part of City Year Los Angeles' 2nd Annual Family Service Day.
City Year Los Angeles is a non-profit organization that brings together a diverse group of young people between the ages of 17 and 24 for a year of full-time service as tutors, mentors, and role models to children. While the majority of City Year's work takes place in elementary and middle schools to combat the dropout crisis, they also work to inspire others to give back through service days that improve the physical climate in schools, making them more engaging places for students to learn and play.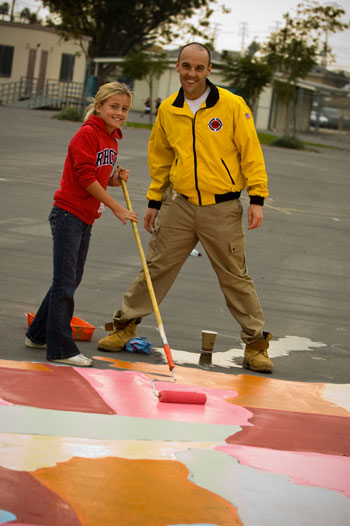 Eighty-two percent of students who attend Grand View qualify for free-or-reduced lunch, meaning they live below the poverty line. Service days like this show the students there that members of the community are invested in their success. And for my kids, it shows them that even at a young age they can do something to make someone else's life better.
Together we painted numbers and the alphabet on blank school walls, a U.S. map on the blacktop where students will play "geography tag," and the school mascots in the auditorium.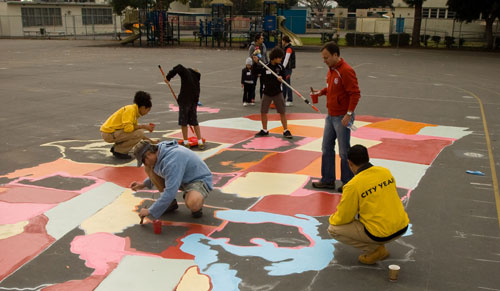 The goals of the day were both to beautify the school and to give parents like me the opportunity to teach their children about the importance of giving back. Corps members -- the young adults doing a full year of service with City Year -- worked side-by-side with the parents and kids and shared their experiences working in some of LA's highest needs schools. Parents were then able to point to corps members as role models for their kids. At the end of the day, we saw the dramatic transformation of once plain, boring spaces into vibrant, educational places, driving home the message for kids and parents alike that by working together, a community can accomplish great things.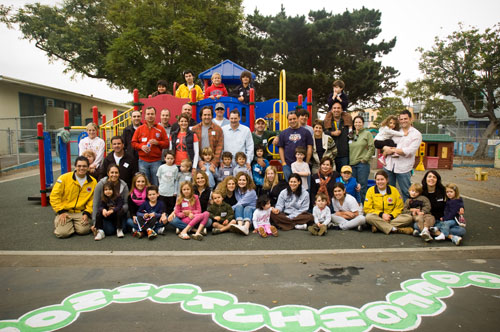 If you're wondering how to get more involved with our community, there are opportunities to serve with City Year throughout the year. One opportunity is to join City Year for their annual Martin Luther King Jr. Day of Service on January 18th. At City Year, MLK Day is a day on, not a day off. They're looking to engage over 1,000 Angelenos in service by transforming the campus of Belvedere Middle School in East LA. For more information on how you can volunteer, visit www.cityyear.org/losangeles or e-mail Jeremy Bleier (jbleier@cityyear.org) to sign-up.
SUBSCRIBE TO & FOLLOW THE MORNING EMAIL
Get top stories and blog posts emailed to me each day. Newsletters may offer personalized content or advertisements. Learn more