The San Antonio Stock Show and Rodeo is a special time of year for the Alamo City. This event is such an integral part of the San Antonio culture that the Spurs, San Antonio's beloved basketball team, are kicked out of their home court for nearly a month, and endure their annual "Rodeo Road Trip."
The massive cowboy fest lasts from February 6-23, 2014, and features vendors, livestock shows, petting zoos, and one of the most competitive rodeos on the PRCA circuit. With a payout of $1 million, this rodeo is a must-attend event for any professional rodeo competitor.
Another main attraction at the rodeo is the concert that acts as the closing ceremony for each day of the event. Each day is closed with a concert from a musician, and I'm not talking about the local high school band. Past performers at the event include Toby Keith, Band Perry, Kid Rock, Willie Nelson, Brooks and Dunn, Jason Aldean, Taylor Swift, Train, Styx and many more.
According to Best Tickets proprietary data, San Antonio rodeo tickets are an average of $61 cheaper than tickets to the same concert at a different venue. The performers whose average ticket prices drop the most for the rodeo are:
1. Martina McBride: Usually $217.2 average ticket price. $61.4 at San Antonio Rodeo.
2. Dustin Lynch: Usually $160.3 average ticket price. $72.8 at San Antonio Rodeo.
3. Kacey Musgraves: Usually $154.3 average ticket price. $67.7 at San Antonio Rodeo.
4. Brett Eldredge: Usually $150.2 average ticket price. $68.7 at San Antonio Rodeo.
5. Pit Bull: Usually $210.3 average ticket price. $134.3 at San Antonio Rodeo.
At $88.4, the Alan Jackson rodeo tickets actually drop the most in price from his average ($622.4). However, the only other show at which he plans to perform is the George Strait farewell tour's final show, which features a huge group of country western superstars. Technically, he should hold the number one spot, but due to the nature of the George Strait show, it's understandably premium price point, and the fact that Alan Jackson is only one of the many performers that will be performing at the show, I chose to exclude him from this list.
As a matter of fact, all but two of the artists (Billy Currington and Dierks Bentley) at the rodeo this year sport a cheaper rodeo ticket price than their average price at other venues. The full chart of performers and their average ticket prices is shown below.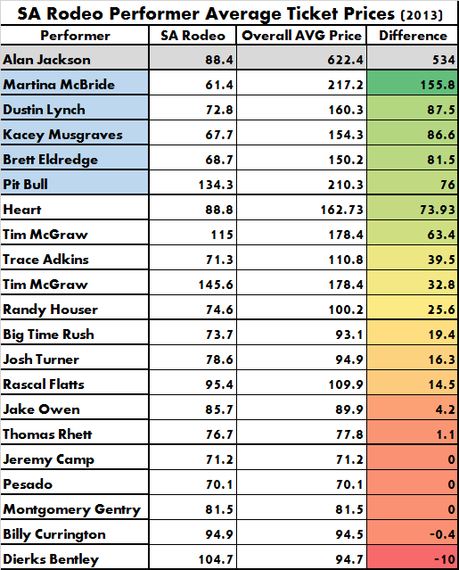 These tickets are good for more than just admission to the concert. Ticket-holders can visit every corner of the fairgrounds. This allows them to watch rodeo events and livestock shows, ride carnival rides and enjoy delicious food. With all of this in mind, SA rodeo tickets are a truly impressive value.
The value of tickets is not all that's impressive about the Rodeo. For more than 60 years, the San Antonio Livestock Exposition has provided scholarships and opportunities for Texas agricultural students. To date, the rodeo has committed more than $134 million towards education, including more than $11 million in scholarships. In 2013, contributions exceeded $10 million, and it would come as no surprise if that number increased in 2014.
The PRCA Large Indoor Rodeo of the year eight-years running shows no sign of slowing down. Last year's iteration boasts nine days of broken attendance records, which added up to a total attendance of 1,665,747. Should you have the chance to attend, this is a great event for those in the San Antonio area.