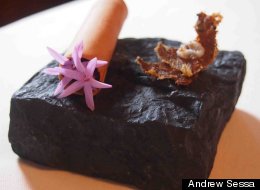 Of the many multi-Michelin-starred meccas of molecular gastronomy that call San Sebastian home, Mugaritz is the playful one, the kind of place where a waiter describes a plate of "stones" -- petite potatoes covered in a gray edible-clay crust -- as rocks he picked up while playing football and where a waitress asks if you'd like some bread before telling you that you actually can't have any, not just yet, anyway. It's not quite on par with the level of abuse patrons seem to love at Chicago's The Wiener's Circle (now the subject of a fairly ridiculous reality TV show), but it is a gentle sort of whimsy that brings the high-concept, high-flying food of chef Andoni Luis Aduriz down to ground level, or at least closer to it.
A recent lunch at this third best restaurant in the world (according to Restaurant magazine) saw the kitchen's 35 chefs turn out a total of 20 two- and three-bite wonders, each crisply presented on pristine white plates or a piece of slate, nearly every one a mind-bending spin on flavor and culinary tradition and more than a few of them entirely, deliciously successful.
Here, everything -- or nearly everything -- from soup to nuts is on our plates. Or, more aptly, from olive spread with edible paper to "Forgotten memory from childhood," a small bite of milky wafer with lemon ice cream.
(Oh, and if all this piques your interest, appetite and culinary prowess, you can try your hand at some of the recipes. Mugaritz has a new cookbook available in stores right now.)
<
One of the World's Best Restaurants? Lunch at San Sebastian's Mugaritz
1. Satiation eludes bread and olives: A sheet of edible paper, printed with the dish's title and contained inside an (inedible) paper envelope closed with a red-wax seal. Served with a creamy olive spread.

2. Edible stones: Small ratte potatoes, boiled to al dente and encased in edible clay, served with a garlic cream.

3. Grilled toast of bone marrow with herbs and horseradish ash: One of the meal's best dishes. A more-than-ample slice of ultra-rich bone marrow—how big were those bones?—placed on a crispy crostini atop a sepia ink-like sauce of horseradish ash.

4 & 5. Marine chords of a crispy woodwind and "Fishbones" with nuances of lemon, garlic and cayenne pepper: The fishbones arrived first, dry and crispy and fried like chips, all stuck together with a spicy puree of lemon, garlic and cayenne. The Marine chords—spring-roll-like tubes of flaky pastry surrounding a filling of sea anemone—arrived next, presented in a gift box as a quartet, one for each member of our party.

6. A sequence of wild and cultivated herbs with pickled vegetables and creamy dressing: Here, we diverged from the printed menu. The greens—mint, basil and the like, each leaf more flavorful than the one before—floated above a soft-boiled egg yolk encased in dried milk skins, a perfectly white substance with the flavor and consistency of a particularly creamy and mild goat cheese or of strained Greek yoghurt.

7. Blood sausage macaron: One of our servers walked us into the kitchen, where the chef showed off his gleaming stainless-steel laboratory and then presented each of us with what appeared to be a chocolate macaron. He explained that blood sausage was originally a sweet preparation and that here his team has recaptured this historic recipe in this slightly savory but mostly sweet bite, the macaroon cookies made only of sugar, spices and pig's blood, the filling a pungent paste of blue cheese.

8. "Bonding…" Toasted seeds and spices served in a Mortar and vegetable broth: "Do you like to work?" our server asked. "Because we've got some work for you to do on the next dish." And with that, she presented us with four heavy stone mortars filled with a mix of sesame and other seeds. We also got a pestle with which to grind the mix up. And grind we did. When we'd finished this task to the server's satisfaction, we received a white porcelain pitcher of broth (a mix of pork and chicken stock, not the vegetable one described on the menu) and a piece of gently cooked cod, with which to make a soup. Not the kitchen's best outing, we all agreed.

9. Tagliatelle of concentrated milk lightly soaked in a silky juice of roasted squash and tomato: A ghost-like pasta, the "dough" and filling of which had been made from dried milk skins, with a sauce that tasted like the distilled essence of tomato and squash. The flavors melded surprisingly well.

10. Ravioli of aromatic vegetables: The rich chicken demi-glace sauce made this dish, whose filling of aromatics had a distinctly pine-tree taste to them.

11. Stew of lemon rinds and grilled squid: Less a stew than a perfectly kitchen-tweezer-arranged composition of fresh squid and what seemed to be tempura-fried lemon rind.

12. Daily catch with acidic sprouts of amaranth and vanilla: We seeminly diverged from the written menu once more, with this plate of sea bass topped with picked red onion and puffs of fried Kashi-style rice grains.

13. Roasted loin of hake with clashing grains of aged mascarpone, cauliflower and fresh almonds: Clashing indeed, but in just the ride way. The all-white topping of mild cheese, raw veg and blanched nuts made an ideal compliment to the tender hake. Another favorite.

14. Crispy sweetbreads with house-made capers, bitter leaves and artisan praline: Sweetbreads made more palatable—let's face it, they can be a hard sell, even for the foodiest among us—with a toothsome, spiced crust and a nutty praline spread.

15. Crunchy terrine of Iberian pig tails with a bunch of bitter leaves and Txakoli sediments: Crisp texture and subtle pork flavor complimented by a sauce based on Txakoli, a Basque dry white wine frequently sipped with pintxos, the Basque equivalent of tapas.

16. Mint: Simple of name but complex of flavor. Fresh mint leaves served atop a pile of crushed ice.

17. A taste of subtlety. Folden linen with toasted crème fraiche and crème caramel: A sweet complimentary bookend to the savory edible paper and olive spread with which the meal started.

18. "Forgotten memory from childhood." Small bite of milk wafer with lemon ice cream: As its name suggests, a light wafer, almost like a Dutch stroopwafel, topped with a quenelle of flavor-rich lemon ice cream.
>
Follow Andrew Sessa on Twitter: www.twitter.com/@SessaSaysWhat