Justin Cronin, author of this summer's New York Times bestselling vampire novel, The Passage, says that his book is just the latest in a line of vampire stories that can be traced back to the Old Testament. I asked him to elaborate on this during his recent book tour stop in Iowa City, Iowa: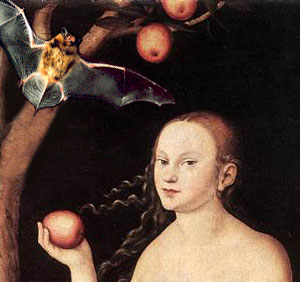 "Adam and Eve's banishment from the Garden of Eden could be seen as one of our original vampire stories -- it has all the pieces of the vampire myth, just with some parts inverted. If Satan were a bat and not a serpent, this fact would be obvious. A young maiden is tempted by a fanged creature. Instead of biting her, though, he asks her to take the bite and for her trouble, she gets to be human. Instead of becoming immortal, she becomes finite. Like all vampire stories, the Garden of Eden is a story meant to reassure us that it's okay to be human."
Cronin gives a shout-out to the Old Testament in his own vampire story, The Passage, where the top secret government program that accidentally unleashes a weaponized virus upon the world is named "Project NOAH."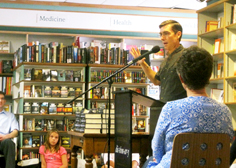 Noah, as you'll recall, was the last of the long-lived antediluvian Patriarchs and lived to be 950 years old. The NOAH virus causes immortality, but at a steep price: it robs its victims of their humanity and turns them into hairless, glow-in-the-dark, superhuman monstrosities.
These aren't your teenage daughter's vampires. "My vampires are scary," Cronin told the packed house at Prairie Lights bookstore in Iowa City. "They're not sparkly."