The Best Southern Food In The U.S.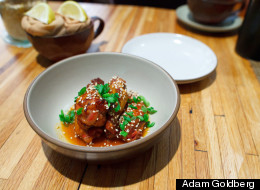 Best Southern Food In The U.S.
For home-style soul food, head to Martha Lou's, located in an unmistakable pink building north of downtown Charleston. You can't go wrong with her Southern classics, such as fried chicken, pork chops, butter beans, stewed okra and sweet tea. This is the throwback restaurant of your dreams, a comfort food Valhalla. Plus: America's Best Bacon Burgers

Chef Craig Deihl (two-time James Beard best-chef award-nominee) melds Southern-style cooking with flavors from his childhood growing up on a Pennsylvania farm. Start with the traditional Caesar salad prepared tableside, move on to the flawless house-cured charcuterie and the pan-roasted Charleston swordfish, and end the meal with sweet peach biscuits: refined Southern classics. Plus: Best Sandwiches in the U.S.

Served in a Victorian house in downtown Charleston, chef Sean Brock's ingredient-driven cuisine is composed entirely of products harvested or raised in the South—some from a farm he established right outside the city. The open kitchen produces incredible dishes such as crispy pig's ear lettuce wraps and sassafras pork ribs with pickled peaches. Every ingredient has a story, in what may deservedly be the most talked-about restaurant in all the South. Plus: Best Burgers in the U.S.

Southern ingredients also take center stage at Sean Brock's low-country fine-dining establishment, located in an 18th-century historic building that once was one of the city's more famous bordellos. Order à la carte or from a multicourse tasting menu—both celebrate regional farms, local purveyors and heirloom produce, while the bar specializes in pre-Prohibition cocktails. Plus: America's Best Doughnuts

The place to go in Charleston for pimiento cheese sandwiches, sausage muffins and a pretty decent barbecue sandwich. It's a classic. Plus: Best Pie Spots in the U.S.

Chef Mike Lata was on the forefront of the city's booming farm-to-table food scene, connecting diners with local farms for nearly a decade. His restaurant FIG (an acronym for Food is Good) is a modern space with a convivial atmosphere, and more often than not, packed with eager customers. The James Beard award-winner adds French flare to his low-country cuisine with dishes like John's Island tomato tarte Tatin, Prosecco-steamed inlet clams and a ballotine of chicken and sausage with roasted cherries. I cooked with Mike Lata once at a food fest in Florida and the guy is an amazing chef, immensely talented and a great guy to boot. Plus: America's Best Bars

Hand-pulled pork from whole hogs, topped with crispy skins and the family's secret sauce has locals and BBQ pilgrims alike flocking to this authentic roadside barbecue joint in Hemingway. Pit master Rodney Scott slow-smokes whole hogs overnight with hardwood coals made from wood he hand selects each day. He bastes the meat vigorously with a vinegary-peppery mop till it's ready to pull apart for the hungry crowds come morning. My favorite BBQ place in America. Click Here for More of the Best Southern Food in the U.S.