The boisterous concert of Amnesty International took place with 15,000 people and Madonna at New York's Barclays Center where Nadia Tolokonnikova and Masha Alyohkina delivered a magnificent speech in support of the Bolotnaya prisoners [editor's note: the Bolotnaya prisoners are the protesters arrested at the May 6, 2012, demonstration against the alleged rigging of President Vladimir Putin's reelection]. They also visited the legendary, horrible prison on New York's Rikers Island and met with the city's mayor.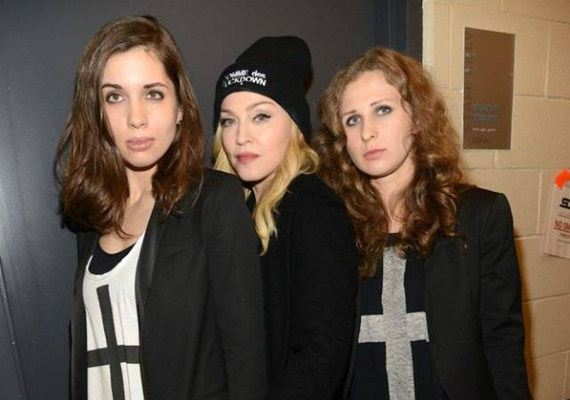 Nadia and Masha backstage with Madonna at Amnesty International's "Bringing Human Rights Home" concert at Barclays Center in Brooklyn.
Nadia asked, "What if the United States passed a law dedicated to Bolotnaya Square prisoners, just as they enacted the Magnitsky Act?" Sergey Magnitsky is a lawyer who exposed a multi-million dollar money-laundering scheme at the national level in Russia and died four years ago in a Russian prison under mysterious circumstances. The verdict on the Bolotnaya prisoners will be submitted on February 21, 2014. There is almost no time left. These innocent people are at risk of being imprisoned for five to six years.
Marat Gelman, a well-known Russian art figure, wrote that he would like to see, as president of Russia, not Russian opposition leader Alexei Navalny, but Nadia Tolokonnikova. Nadia and Masha said at a press conference in Germany that they plan to run for the Russian parliament, the Duma. As you know, Nadia and Masha spent almost two years in prison for the lyrics in their song, "Virgin Mary, Take Putin Away." Prison was important in solidifying their determination, but their main goal was always a political fight.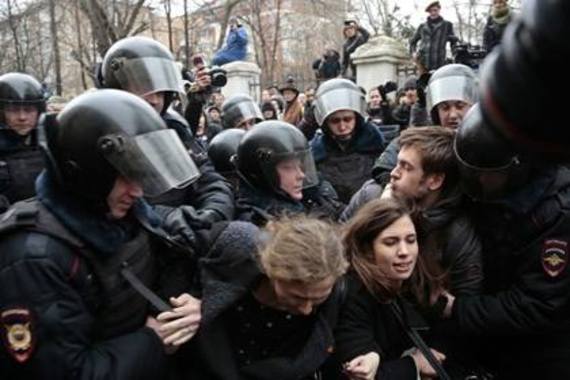 Nadia and Masha are detained by Russian police at the protest for the Bolotnaya Square prisoners.
The departure of Putin and his team from power is critical for Russia to have any kind of future. But there is a problem. This is Putin's system. The system is made of the people who support him. Official propaganda exploits the fact that Russian citizens naturally have an imperial complex.
Recall the stunning pictures of the opening of the Sochi Olympics. The stadium is beautiful and impressive, but it is irrelevant to the present life of Russians. Their reality is terrible. There is a dearth of spirituality and a lack of ideas. People cannot be without an idea or a future, a "Russian dream" like the "American dream." Russians wear t-shirts with "Russia" written on them, and they make a heavy, menacing face. With such a face, they go to drink beer. And then, with the same face, they fall under the table and sleep. And the next morning, with the same face, they go to build tanks or other things that no one needs, it is like Ural Wagon Factory [editor's note: this is a major manufacturer of Russian military equipment], it is a smithy of spiritual buckles.
Some ask why Nadia and Masha went to the West. The answer? To be heard by as many people as possible. To many Russian liberals, this gesture seemed like a betrayal, a choice in favor of glamor and commercialization. "We want to get wide media attention for our project, 'The Justice Zone,'" Nadia says. And only publicity -- only if the West is made aware of the sinister crimes of Putin's regime and its revival of the tradition of Stalin's gulag with 16 hours a day of slave labor -- then they will see the real Russia, not just the picture-perfect image of the Olympics in Sochi. It is only then that Justice Zone will be able to make a different and start to help protect the rights of prisoners in Russia. Alas, publicity is only to be found in the West, because the Russian media is forced into silence about the activities of the women.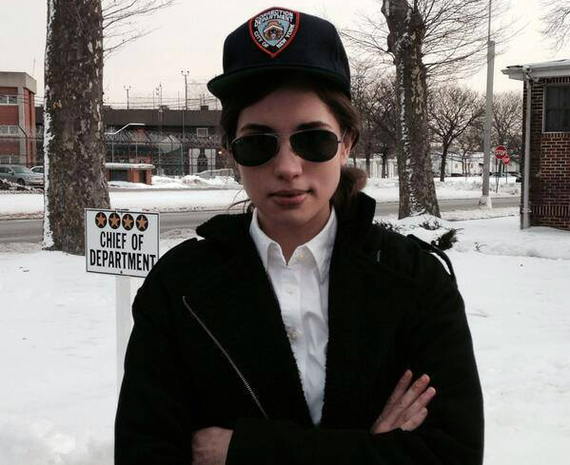 Nadia poses outside a U.S. prison during her visit to New York.
When they return from abroad, Nadia and Masha will continue to inspect Russian penal colonies, starting with Mordovia, where Nadia was once incarcerated. All this time in prison could have been lost, but it was not in vain. A few minutes after her release from prison, Nadia, speaking to dozens of journalists, said that this is just the beginning, "so buckle up!"
On Feb. 24, 2014, in Moscow, after the conviction of the eight Bolotnaya Square protestors [editor's note: sentences handed down ranged from two to four years in labor camps], a lot of protestors came to object to the convictions and the harsh sentences. Around 700 people were detained. It was the largest detention since the protest on May 6, 2012. The first wave of arrests was in the morning, by the courthouse. Later on, several thousand people came to Tverskaya Street in the evening, and the detentions continued. It is becoming a Russian national joke, like fisticuffs or Russian roulette. Protestors are snatched because they supposedly are "blocking the street." Two people were arrested simply for holding the Russian flag. Passing cars welcome protesters with honks. Among those detained, many are simply pedestrians who did not even know about the protest.
When activist Michael Udimov refused to perform the illegal demands of the police during the protest, he lay on the ground and allowed himself to be detained. Nadia said, "If I get detained a second time today, then I certainly will be very angry." Masha and Nadia call themselves "angry birds."
People stood in the hitch. Riot police used batons to beat people up. Masha and Nadia were some of the first people detained. Nadia was harshly dragged along the pavement while she calmly asked the police to explain the reason for her detention. This is some kind of masochism. One of the photos, you can see the satisfaction on Nadia's face, with a touch of hidden glee. It seems like she likes these adventures.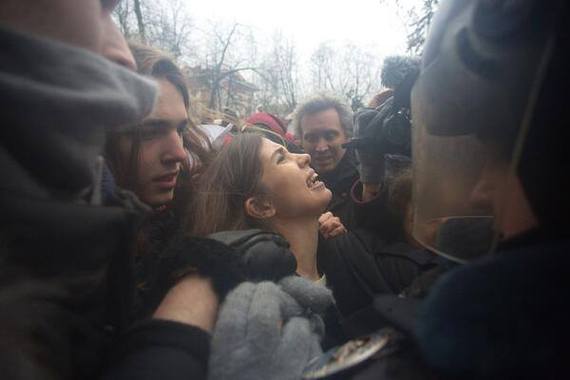 Nadia's hair was pulled by police during the clash that led to her most recent detainment.
Alexei Navalny, Boris Nemtsov and Olga Romanova were detained. Vladimir Akimenkov, an amnestied Bolotnoe Square prisoner, was detained for the second time that day, simply because he clapped his hands in support of the other prisoners. As professors from Moscow's universities were planted in a paddy wagon, they started singing in Latin the ancient student anthem "Gaudeamus," which is also the anthem of Russia's Moscow State University, MGU. [Editor's note: Moscow State University is one of the most prestigious universities in Russia. Nadia was studying philosophy there before she was sent to prison in Mordovia.]
From the paddy wagon, Nadia commented on Twitter, "I am giving instructions to a foreigner, a German woman, a tourist, on how to behave at a police station. She is not a journlaist; she did not know about the protest in support of the prisoners in Manezhnaya Square. She was just taking a stroll around Moscow."
We have a fun life here in Russia, but in Ukraine, it is even more fun.
Andrey Tolokonnikova, M.D., father of released Pussy Riot prisoner, Nadia Tolokonnikova, shares with The Huffington Post his journal following his daughter's return from prison. Nadia, serving two years, was freed two months early under an amnesty bill. Translated by Natasha Fissiak, director and producer of the documentary, Pussy Riot - The Movie. For additional information, please visit the Free Pussy Riot - The Movie website here.
Free Pussy Riot - The Movie Official Trailer (2014) from GWF on Vimeo.