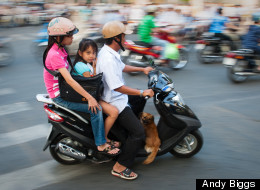 Summer is typically when most families travel on vacation, and more likely than not, you'll be traveling with a camera. Any photographer -- professional or amateur -- can use simple tips to help them take better vacation photos.
During the past decade, I've made a living teaching others how to take better photos at some of the most beautiful, exotic locations on earth. While the breathtaking landscapes of Antarctica or the fascinating creatures of Botswana help make for a pretty great photograph, you can make the best of any location or experience by following a few simple tips and techniques.
Here are my 10 tips for taking better vacation photos:
10 Tips for Better Photos
It's difficult to take a photograph without a camera, right? Don't forget that most smartphones have cameras, even if they aren't the best quality. Sometimes a quick-grab-shot to post on Facebook is enough to show family and friends what you're up to.

Let's face it, most of the people who view our photographs are friends and family, and they'll be much more interested in the places you visit if you include people they know in your photos. You don't have to do this for all of your images, but people will have a closer connection with your images if they include familiar faces.

The best light comes at the beginning and end of each day, and the first and last sunlight of the day is what we call the "magical hours." The warm light at this time is much more flattering than mid-day light, which tends to be blue.

Have you ever been stuck on a camera mode and had no idea how to undo something that you never intended to be there in the first place? You'll most likely need the camera manual to get you back to a standard setting, as modern cameras can be quite challenging with all of the various features and functionality. Most camera manuals are small books, so they don't take up too much space. Many camera manufacturers also have Adobe Acrobat PDF versions of the manuals, and you can view these on your digital eBook reader or smartphone.

Try zooming in, zooming out and shooting vertical, as well as horizontal. This will help you take different types of images. For example, photograph detail shots of flowers or anything small and portraits of people you both know and don't know. Try shooting wide open landscape images, as well as zooming in on smaller parts of the landscape for a more intimate feel.

Our brains are hard wired to look for simple shapes with our eyes. Try to do whatever you can to remove visually distracting elements in your scene. This is done by changing your shooting position and using your focal length (zooming in and out).

If you know more about what your subject is, you're more likely to take images that somehow illustrate something you have learned about it.

Always have enough battery power to get you through the day.

If you don't pay attention, all of your photographs will be taken from your eye level. If you squat down, lie down or perhaps gain a perspective from above, you might end up with images that have a better sense of space.

Elements that are on the edges of the frame will tend to act as magnets for your viewers' eyes. If you want your viewers to look to the edges, that's okay. If you don't, you should examine what's on the edges of the frame and recompose.