L.A. Keeps MLK's (Green) Dream Alive and Growing
The largest living memorial to Dr. Martin Luther King is still alive and going strong in Los Angeles. Eighteen years ago a multi-racial cadre of hundreds of volunteers joined together and in a single day to plant 400 Canary Island Pines along seven miles of Martin Luther King, Jr. Blvd. in South Los Angeles.
Led by L.A.'s environmental nonprofit, TreePeople, these volunteers committed to keeping Dr. King's dream alive, and for more than ten years they have mulched, watered and cared for the trees. Today, the results on what was formerly a treeless corridor are now visible from space.
Last week TreePeople Founder and President Andy Lipkis paid homage to Dr. King's trees - now stately, beautiful and still growing - in honor of the fortieth anniversary of Dr. King's assassination. Says Lipkis, "The trees are living, and the dream is living, because people went beyond simply planting. Month after month, year after year, neighbors cared for these trees. That's the profound impact of one committed individual to heal a community and the earth."

Martin Luther King Blvd, in LA January 14 , 1990 (BEFORE THE TREE PLANTING)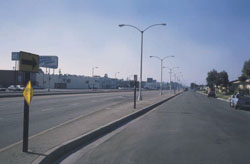 Andy Lipkis, TreePeople President, visiting the same location (note yellow arrow) March 31, 2008