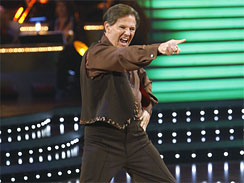 I used to think former House Majority Leader Tom DeLay was batshit crazy. Now, cha-cha-cha'ing around the "Dancing with the Stars" stage as he maniacally lip-synchs "Wild Thing," I'm utterly convinced. The Hammer is certifiably insane. As his Republican colleague Ileana Ros-Lehtinen (Fl) said, "Doing the cha-cha, it was like a bad car accident. You want to look away but you can't."
But DeLay's smart enough to realize he has zero chance of winning this season's competition, and has taken control of the situation by gerrymandering the judges' table and removing the colorful Roberto Benigni sound-alike Bruno Tonioli, who labeled DeLay's performance "half magic, half tragic," telling Texas's dancing fool, "You're crazier than Sarah Palin!"
He's had Tonioli replaced with ex-American Idol judge Paula Abdul, who can find something to love about anyone, even angry, arrogant, corrupt, polarizing, hate-mongering partisan dictators like DeLay. The Hammer's also maneuvering to oust Len Goodman and have Palin installed in the judges seat instead. Palin is no stranger to dance. She's been side-stepping reality since she entered politics.
Follow Andy Ostroy on Twitter: www.twitter.com/AndyOstroy