Denver Does CBGB's: Accordion Crimes on Blondie
This October 29th, Denver bands are bringing the Hi-Dive back to CBGB's in the mid-seventies, as they're covering iconic bands that played the legendary venue. The lineup includes Wire Faces as Television, Accordion Crimes as Blondie, Kissing Party as The Ramones, SAUNA as Richard Hell and the Voidoids, and Hindershot as Talking Heads, plus a DJ set by Tyler Jacobson.
Donnybrook spoke with Accordion Crimes about covering Blondie, being blond, Playboy Bunny Camp, and other blond-related topics.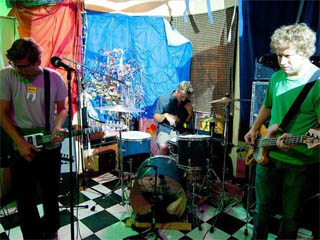 So, what's your band normally like?
... um, that's Donnybrook's job to find out... probably like, the best band ever.
What do you think made the CBGB's scene of the mid 70's so special?
...refer to your last question.
What made you choose to cover Blondie?
We're all blonde.
What is your definition of punk?
Energetic, naive, lil basterd kids... playing fast-paced music.
What's the funnest thing about covering Blondie? I know, funnest is not a proper word.
... how bad their songs are... how much we hate disco... and how awesome we are going to make it sound.
What is the toughest thing about covering their music?
Making it un-disco....taking the coke outta it.
What do Accordion Crimes and Blondie have in common?
Nothing.
How are you preparing to become the band you are covering?
Goodwill shopping spree.  Leather pants, nude modeling on the side, Bryon is going to Playboy Bunny Camp.
What are your top songs from the bands that are being covered for the Denver Does CBGB's show?
Elevation by Television
Pyscho Killer by Talking Heads
Will you be doing speed and/or heroin all night?
Refer to 2nd answer.
Follow Erin Barnes on Twitter: www.twitter.com/TeamDonnybrook