This October 29th, Denver bands are bringing the Hi-Dive back to CBGB's in the mid-seventies, as they're covering iconic bands that played the legendary venue. The lineup includes local bands Wire Faces as Television, Accordion Crimes as Blondie, Kissing Party as The Ramones, SAUNA as Richard Hell and the Voidoids, and Hindershot as Talking Heads, plus a DJ set by Tyler Jacobson.
Donnybrook caught up with Hindershot to talk about the process of covering the Heads.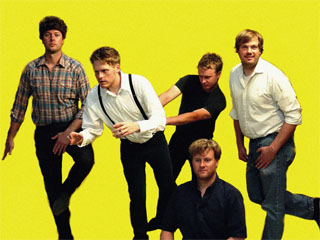 So, what's your band normally like?
Hindershot relies on riffs and crescendos and the songs usually go into a different direction mid-song. A lot of the Talking Heads songs we are covering are verse/chorus and it makes them really fun to play.
What do you think made the CBGB's scene of the mid '70s so special?
Punk rock was new and stripped down all the flashy gimmickry of rock and roll in the early '70s. Bands soon took the angst of that punk rock and expanded on it, which created music I believe no one had really heard before.
What made you choose to cover Talking Heads?
Process of elimination? Also, Hindershot has somehow became known as a "party band," I guess Talking Heads falls into this category? I assume we get this title because of our ability to consume massive quantities of beer.
What is your definition of Punk?
Subjective. In my opinion, it is characterized by guitar style, lyrical content, attitude.
What's the funnest thing about covering the Talking Heads? I know, funnest is not a proper word.
These songs are embedded in our brains, we pick them up quickly and immediately begin the pantomime.
What is the toughest thing about covering their music?
For me, lyrics, getting them straight. That's why the other guys in the band are helping share some of that duty. Jesse is singing "Don't Worry About The Government" which has the most extensive lyrics. Here is a video of the Talking Heads performing "Don't Worry About The Government" on the Old Grey Whistle Test:
What does Hindershot and Talking Heads have in common?
Both bands are based in tradition and expand on it. Spencer kind of reminds me of David Byrne.
How are you preparing to become Talking Heads?
Vocal inflection and costumes.
What are your top five songs from the bands that are being covered for the Denver Does CBGB's show?
Not sure what others are covering, actually. I hope I hear Ramones "Beat on the Brat."
Will you be doing speed and/or heroin all night?
Have you seen that scary dead ceiling baby in Trainspotting?
SUBSCRIBE TO & FOLLOW THE MORNING EMAIL
Start your workday the right way with the news that matters most. Learn more