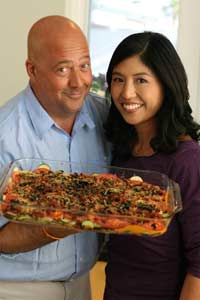 Please watch me on the Travel Channel this Tuesday eve!
Here's some info:
ECO CHEF AND RAW FOODS AUTHOR ANI PHYO
TO APPEAR ON TRAVEL CHANNEL'S HIT SHOW
BIZARRE FOODS WITH ANDREW ZIMMERN
Air Date: October 14th at 10pm & 11pm ET, Oct 15th 2am ET
Ani Phyo (p-yo), EcoChef, Smartmonkey Foods founder, and best selling author of
Ani's Raw Food Kitchen will appear in the LA episode of The Travel Channels hit show
Bizarre Foods with Andrew Zimmern.
Introducing Andrew to her famous uncooked cuisine at her Hollywood Hills home, Ani
prepares a dinner party for the episode "LA" which airs October 14th at 10pm & 11pm
ET, Oct 15th 2am ET. The show also features other LA starchefs from Nobu, Wolfgang
Puck and Ford Fueling Station. "My yummy dishes were a fresh break for Andrew" says
Ani.
On the show, Ani surprises Andrew who finds he likes raw foods.
Known to a growing legion of foodies and loyal raw/vegan foodists,
Ani Phyo fans include celebrities such as Carrie Anne Moss, Daryl
Hannah, and Maroon 5.
Ani's dinner party menu for Andrew and Guests include:
Chocolate Shake
Hemp Sunburger on Flax Flatbread
Italian Rawzagnia
Chocolate Raspberry Ganache Cake
Strawberry Parfait
Blackberry Cobbler
Ani Phyo is a green lifestylist, author, wellness advisor and founder of Smartmonkey
Foods. Her best selling book Ani's Raw Food Kitchen is in it's 8th printing with a second
book due for release in May 2009. She has been featured in Food & Wine Magazine, and is currently developing her own TV series based on her renowned webisodes Anis's Raw Food Kitchen Show seen on YouTube. Her previous books include Return on Design: Smarter Web Design that Works.
Ani Phyo: www.aniphyo.com
Travel Channel: www.travelchannel.com/TV_Shows/Bizarre_Foods
Follow Ani Phyo on Twitter: www.twitter.com/aniphyo