First Lady Michelle Obama came to Panama City Beach, Fl on Monday afternoon to speak with community representatives and business owners in front of the cameras.
Her message: come to the beaches, they're clean and open for business.
Speaking to a crowd of about 100, the First Lady remarked on the magnitude of the oil spill. "This is the worst natural disaster that our nation has seen" she said, later adding that, "from an environmental standpoint, this oil will affect wildlife for years to come." She briefly touched on the issues that continue to mark the response to the spill - ensuring BP takes responsibility and making whole those who have been hurt - and reiterated that the administration is focused on finding solutions.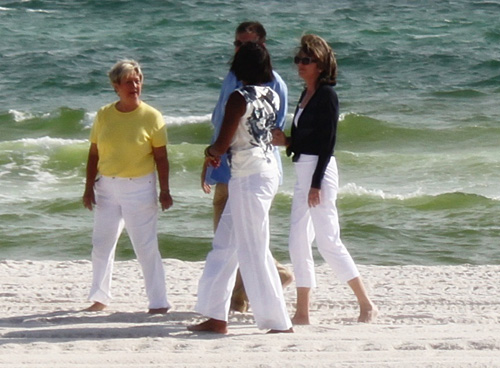 While some on the Gulf Coast might have been disappointed that the First Lady didn't go into the specifics of the spill response, her visit wasn't about the details of the new cap or BP's accountability (or lack thereof). As Mrs. Obama said, she wanted to tell a different story, highlighting instead that there are thousands of miles of beaches untouched by the spill and open for business.
Mrs. Obama did not linger on the anger felt by residents and the public at large regarding the spill and how it has been handled. With white beaches at her back, she drove home the point that tourism is a critical part of disaster relief. "One of the best ways that fellow Americans can help is to come down here and spend some money," the First Lady said.
Mrs. Obama did what she's always done best, during the campaign and since - she connected with the audience on a personal level, showing real empathy toward those whose livelihood has been affected and who are struggling to make ends meet.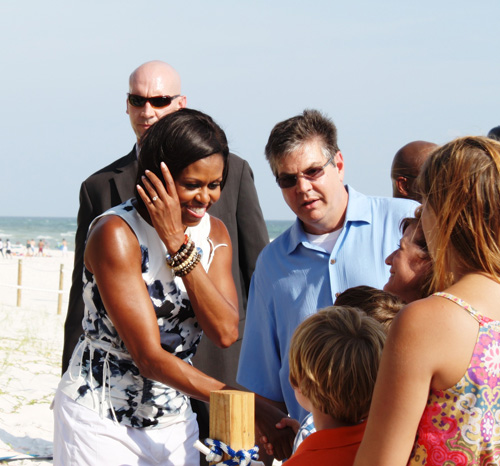 Most attendees seemed pleased with the First Lady's visit, whether they agreed with administration policies or not. "I think it will help with tourism and will put us back on the map," said Nora Jones, a Bay County resident. Paula Johnson, a local mother of two, echoed similar thoughts. "I think it's great she showed that our beaches are still doing well."
But not everyone was satisfied. A lone protester held a sign demanding a criminal investigation into BP and Halliburton. Authorities arrested him when he trespassed into an area designated for security, though he was later released.
Unfortunately, even Mrs. Obama's charisma and charm are not enough to put a smile on the faces of the many residents of Alabama, Mississippi, Louisiana and Florida whose livelihoods are in jeopardy. And truthfully, it's tough to convince people to come down to the Gulf and spend their money in a tough economy, regardless how clear the beaches.
There are still many doubts in people's minds after so many steps forward have been matched with steps back. No, the First Lady didn't bring answers to the myriad of questions many of us have been asking about the spill, but that isn't really her job. Instead, she focused on connecting with people and focusing on the human toll of the disaster.
In this respect, the First Lady's visit was right on the money.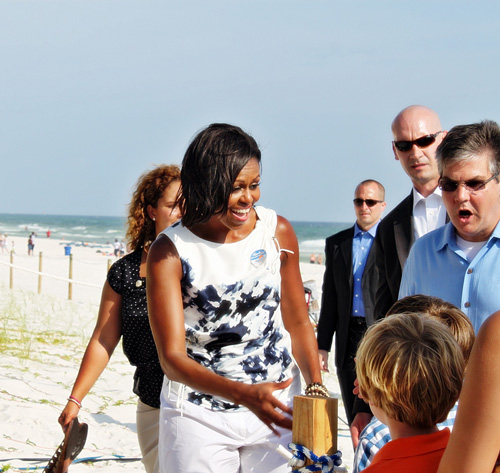 SUBSCRIBE TO & FOLLOW TRUMP'S FIRST 100 DAYS
How will Donald Trump's first 100 days impact YOU? Subscribe, choose the community that you most identify with or want to learn more about and we'll send you the news that matters most once a week throughout Trump's first 100 days in office. Learn more