This past week I returned from a three day trip to Mali, a landlocked country in West Africa and one of the poorest in the world, with over half the population living under the poverty line. While there, I met with President Amadou Toumani Toure and other officials to discuss the cooperative efforts of the government and UNICEF to improve children's health and rights.
Devastatingly, nearly one in five children in Mali do not survive to see their fifth birthday. Most of these children are dying from preventable causes like pneumonia, diarrhea and malaria, often exacerbated by malnutrition. In Mali, 32% of children under five years old are under weight.
The situation for mothers is also dire. Women in Mali have a one in 15 lifetime risk of dying of maternal related causes. This compares to one in 8,000 in the industrialized world. Lack of basic health services, malnutrition, and inadequate access to clean water and basic sanitation contribute to high rates of child and maternal mortality.
UNICEF and other partners are working closely with the government of Mali to help improve conditions so that children have a healthier start in life.
We have seen significant progress in some areas, particularly with programs to combat malaria, which is one of the biggest killers of children in Mali. Today, the country has one of the highest rates of insecticide-treated bed-net coverage in Africa, with 78% of children under age five currently sleeping under a bed-net.
In other areas, such as addressing harmful practices, there is still a great deal of work to be done. Child labor, early marriage and female-genital cutting are all common practices in Mali. In fact, approximately 85% of all women and girls undergo genital cutting, which can lead to fatal hemorrhaging and other serious health issues.
What's more, approximately 71% of girls are married before age of 18 with an estimated 30% of those being under the age of fifteen. Poverty and ignorance, combined with deep rooted cultural beliefs, make addressing early marriage and female-genital cutting difficult, but more progress must be made. Government recognition, along with increased education and more awareness, are keys to helping break these traditions that rob girls of their youth, their innocence and often their lives.
But the devastation the region suffers doesn't end there. We also saw first-hand the impact of climate change on children and the region as a whole. In the ancient town of Timbuktu branches of the Niger River have dried up due to drought and the much of the land is now arid and unable to yield crops.
We toured a food for work program, supported by the World Food Program, where women grow vegetables and rice on land that has been reclaimed from the advancing desert. These women are also planting trees as part of a reforestation effort. They are empowered to produce needed food while adapting to the impact of climate change.
As we approach the Copenhagen Climate Change summit, it is critically important to recognize that climate change is adversely affecting the lives of the world's poorest and most vulnerable people. Additionally, with the anniversary commemorating the 20th anniversary of the Convention on the Rights of the Child, the plight of Mali is a clear reminder that we must continue to focus our collective efforts on helping the poorest and most vulnerable regions of the world and bring renewed hope and relief to the millions of children in need.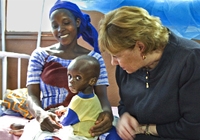 Ann Veneman is the Executive Director of UNICEF. To learn more about UNICEF's efforts in Mali and mission around the world, including the Convention on the Rights of the Child, visit www.unicef.org.