What We Tried: SkyRobics, an aerobics and bootcamp-style class on a floor made entirely of trampolines.
Where: Sky Zone Indoor Trampoline Park, 1625 West 190th St. in Gardena, Cali. 90248
For How Long: The class was about one hour long, more if you stayed to stretch afterward.
How'd It Feel: I felt like Tigger, the bounce-loving tiger from "Winnie the Pooh."
The SkyRobics class takes place in a basketball court-sized enclosure, just one of several at the Sky Zone park. The enclosure's floor was made out of squares of connected trampolines, while the walls were also huge swaths of trampoline fabric. Just one step onto the trampoline floor (in the free, padded socks that come with the class) and you're instantly working out.
Instructor Robert (Robbie) Nunez led us through some jumping exercises, which involved galloping like a horse (hands on hips, no less!) and bounce-sprinting across the trampoline (called "rouncing," a combination of running and bouncing). We also did a move I like to call tramp-twerking, which involves getting into a squat position and jiggling our hips up and down to intensify the squat. My classmates got a nice view of my twerk form from behind.
Robbie himself was like a gazelle unleashed. He was able to leap across multiple squares, bounce himself off the trampoline walls and do somersaults and other tricks while getting mad air. It helped to have a teacher that seemed to be having a ton of fun. It also helped that there were no mirrors in the trampoline thunderdome. Because, you know, you feel ridiculous and you probably look ridiculous, too. But none of that matters, because you're flying.
Robbie, Liz and me bouncing at Sky Zone.
What It Helps With: More than anything else, SkyRobics' biggest appeal is the low impact it has on your knees and other joints, thanks to the trampoline padding every movement. My friend Liz accompanied me to SkyRobics, and she said that bouncing on the trampolines and being suspended in the air felt really good on all of her joints, which ache a lot because she has an autoimmune disease.
During the class, Robbie led us through normal bootcamp-style exercises like triceps dips, bench hops, pushups, sit ups and sprints -- things that probably would have been very painful for people like Liz and at least twinge-inducing for people with runner's knees (like me). After the class though, there was no joint soreness, just aches in muscles that got a different kind of workout.
Because we were all on trampolines, we also used our core muscles a lot to stabilize ourselves. It's a constant test of balance and coordination with almost no stakes -- if you fall, you can just bounce back up and start building height all over again.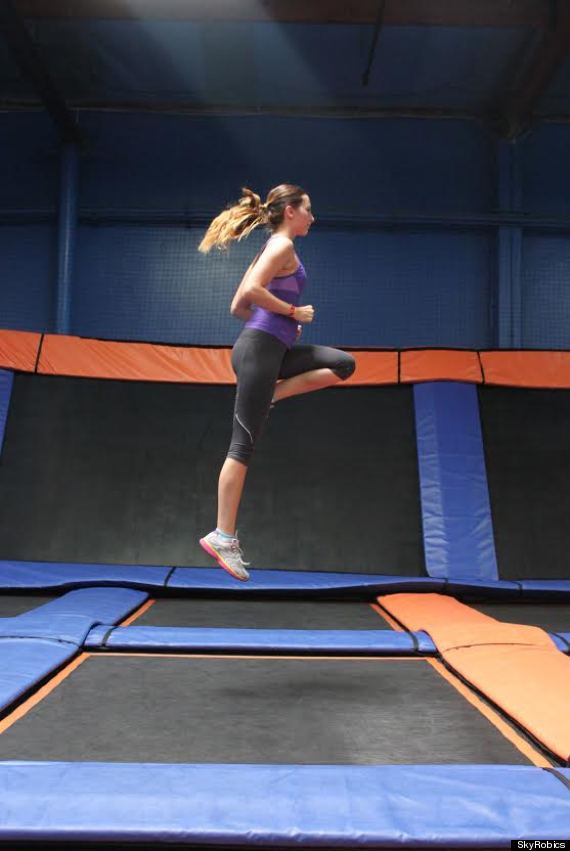 A deceptively glamorous shot of a SkyRobics participant, courtesy of Sky Zone.
What Fitness Level Is Required: Only a sense of humor and sense of adventure seems to be required. If the exercise ever gets too intense for you (which it won't), just return to gently bouncing up and down on your own square, with feet alternating forward and back and hands on your hips. You'll feel like the horse prancing lady, but it's okay because did I mention that there are no mirrors anywhere?
Like other fitness classes, SkyRobics' site annoyingly boasts that exercisers can burn up to 1,000 calories per hour-long class depending on your intensity. But anyone who regularly wears a heart rate monitor during exercise knows that it takes balls-to-the-wall commitment (and probably a second hour) to achieve 1,000 calories burned. Still, I reached 500 calories by the end of 60 minutes, which for me is typical of a treadmill bootcamp class or a really intense spinning class.
More strikingly, I reached highs of 175 beats per minute several times during the class, just by jumping really high in between toe-touches (which in this context is like a mid-air crunch). When I'm running on the treadmill, 175 bpm means I'm clinging to the handlebars and vomiting into my towel. But at SkyRobics, I was just jumping as high as I could, while laughing. Was it fear/adrenaline that made my heart beat faster? Maybe. But I'll take those calories burned any way I can get them.
What It Costs: Individual classes start at $15, and a monthly unlimited pass costs $125.
Would We Go Back: The class is a low-impact aerobics and bootcamp session, and one that I would gladly bring my friends and out-of-town guests to for some silly fun. I can't see myself incorporating it into my normal routine, but perhaps it's because Sky Zone is located 21 miles away from my West Hollywood apartment.
At 5'2", I'd love to know what it feels like to dunk a basketball or spike a volleyball from really high up, and the sports equipment at Sky Zone offers just that to height-challenged exercisers like me. We didn't use any of that equipment, but the chance to play a team sport in a trampoline arena is an additional draw.
Bottom line: If a child I know is ever invited to a birthday party at Sky Zone, I'm going to be their plus one.
For more from our We Tried It series, click here.
For more reasons to get fit, check out the slideshow below:
Unexpected Side Benefits Of Exercise
SUBSCRIBE TO & FOLLOW LIFESTYLE
We're basically your best friend… with better taste. Learn more