Every Divorce Has A Silver Lining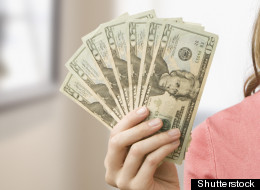 There are few things in life less fun than divorce. When I started Neverlikeditanyway.com, a place to sell the things you're left with when love goes awry, I hoped to inspire people to get their life back on track after a split. After all, selling something that was part of your past, like a wedding ring or a dress, sends a strong message that you are ready to move on. Divorcees selling items on the site often tell a story along with their listings. These tales range from funny to heart-breaking, but the most uplifting tales are those that detail the divorcees' spending-spree plans. Here are some of the best ones to date:
After uncovering ten years of infidelity, this wised-up lady decided to sell her engagement ring. With the cash she made she bought a horse, despite having never learned how to ride one. Her plan was to be "ready to ride off into the sunset when the next Prince Charming calls." Hats off to that!

One of our sellers married her high school sweetheart in a fairytale wedding held at her grandparent's farm when she was just 19. Over the next ten years, they grew apart and while they managed to remain friends, they decided to sell her wedding dress and use the money to go on one last road trip together. This is the first divorce-moon we've heard of and we have to say, we quite like it!

One brave soul decided to sell this gift from his ex-fiancée and use the profits to go skydiving. Despite a life-long fear of heights and no previous interest in death-defying hobbies, he took the plunge, insisting "the fear of jumping will make me forget about my fear of being alone."

One seller decided to sell the bike his wife had given him and bought six fishing rods. He then set off on a solo fishing expedition and is currently using the quiet time to create his very own comic book.

This sassy lady had been showered with enough handbags, jewelry and sunglasses to open a small boutique. Once she discovered the gifts from her husband were what she called "sorry gifts" -- meant to atone for his numerous infidelities -- she filed for divorce and sold the lot. She ignored his pleas for reconciliation and took off to start a new life and -- thanks to the wad of cash she made by selling the handbags -- she did it with a new nose.
Follow Annabel Acton on Twitter: www.twitter.com/neverlikedit