A fleshy tongue licks a supernatural, waxy pink flower in slow motion. Upon second notice, teenage girls clustered together invoke Caravaggio's penetrated Christ; but rather than bathed in the drama of chiaroscuro, they shine glossily in superficial flat studio light. An innocent girl pauses with a yellow canary in her mouth; will she bite off its head? What are we witnessing in this hyper-real world of photographer Petrina Hicks?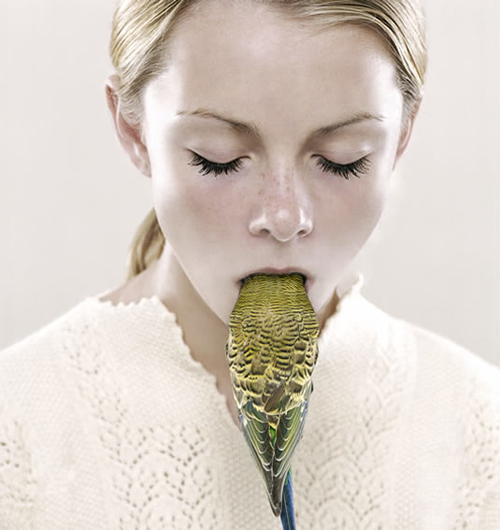 Shenae and Jade, 2005 ©Petrina Hicks. Courtesy of the artist.
"I have always been fascinated with duality," explains the photographer. "I search for ways to explore that within one image. So on the surface the image has one appearance- usually a perfect, polished hyperreal commercial look- yet through manipulation of various elements and an unclear message punctuated by dark or disturbing suggestions, a tension arises between the surface and the content that creates a kind of push-pull effect."
In other words: "I seek to attract and repulse" at the same time.
It is through this cleverly manufactured suspense that we, as viewers, push the limits of our beliefs, and allow ourselves to be coaxed by the seduction of the slick and commercial. But, as Hicks says, the "image doesn't deliver the feeling it promises...like a beautifully gift-wrapped parcel but inside is something disturbing."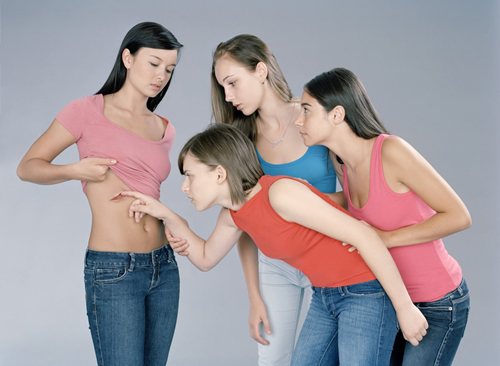 Untitled #1, 2011 ©Petrina Hicks. Courtesy of the artist.
Curiosity pushed to its extreme is also a theme of the historically graphic work of Italian Baroque master Caravaggio, whom she references in "The Performance" series. Says Hicks: "His work was considered quite grotesque and horrifying at the time. I was thinking about the popular horror/vampire/slash genre of today and how we are so desensitized to images like this...these teenage girls could be in an ad for a clothing label. I like the subtle horror within a scenario that looks very pristine and presents the teenagers in a ideal commercial way."

The Chrysalis, 2011 ©Petrina Hicks. Courtesy of the artist.
In "The Chrysalis," Hicks makes use of a Phantom high-speed video camera, filming at 800 frames per second, in order to achieve the stretched out slow-motion effect that heightens both an idealized female sexuality as well as a revulsion to the almost pornographic dripping excess of saliva. This is done intentionally to "make people feel embarrassed...So yes, I'm drawing on ideas of how the advertising industry uses images of women in a sexual way: to sell. Yet I'm not selling anything. Instead I'm presenting a very contradictory image- [one] that doesn't deliver the usual satisfaction one would expect."
In the tradition of more sinister fairy tales, her photographs conjure up new modern stories. She admits being influenced by the creepy-sexual fantasy literature of V.C. Andrews (Flowers in the Attic), as well as B-grade stock photography libraries. The stoic-faced fair children and glassy-eyed animals add yet another pale layer to her Gothic style.

Jackson and Tiger, 2005 ©Petrina Hicks. Courtesy of the artist.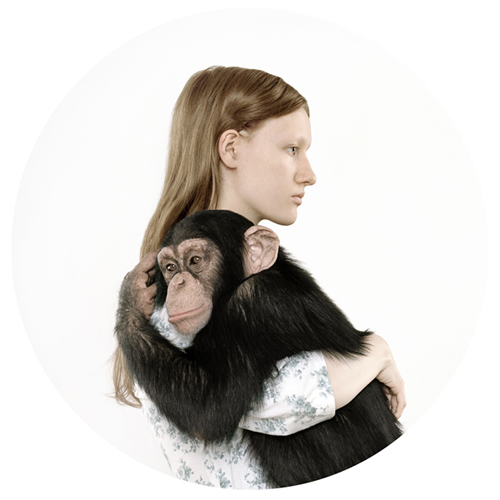 Rosemary's Baby, 2008 ©Petrina Hicks. Courtesy of the artist.
The photographs are shot using a medium format camera on film and printed large-scale, thus allowing the images to exist in the world of billboard iconography. When asked about the modern use of Photoshop as a tool, Hicks responds: "Without [it] I would be unable to create this tension... and the more disturbing layers within. I use [it] lightly though, with as minimal manipulation as possible. There is a fine line between an image that has integrity...and an image that looks 'Photoshopped.' I don't want the 'tool' to become the 'idea.'"
The seemingly unrelated still life images and odd characters, now strung together, suddenly find narrative in their disquiet, like a set of gleaming cultured pearls: imperfectly, unnaturally perfect.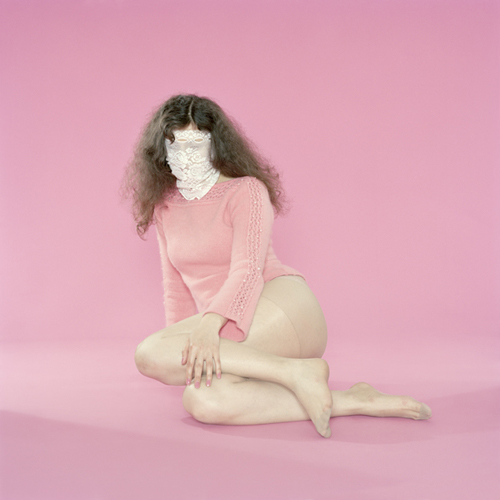 Every Rose Has Its Thorn, 2010 ©Petrina Hicks. Courtesy of the artist.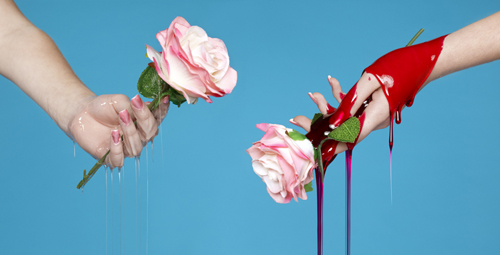 Blood is Thicker than Water, 2011 ©Petrina Hicks. Courtesy of the artist.
SUBSCRIBE TO & FOLLOW CULTURE SHIFT
Every Friday, HuffPost's Culture Shift newsletter helps you figure out which books you should read, art you should check out, movies you should watch and music should listen to. Learn more