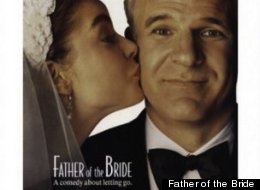 Hollywood loves a wedding, and we're not talking about the ones that end up on Page Six. Studios have been rolling out romantic as well as hilarious flicks for decades on the crazy situations that take place during the planning process and on the day of the wedding. Think of Martin Short's wedding planner in "Father of the Bride" insulting Steve Martin's character during their first meeting about the wedding cake, or Julia Roberts in "Steel Magnolias," describing her wedding colors as blush and bashful.
With the opening of "The Big Wedding" on Friday April 26, I got to thinking of other reel wedding classics that I think brides, grooms, and people who just love weddings will enjoy watching or re-watching again and again.
Make sure to add these flicks to your Netflix queue:
The Best of Reel Weddings
While the Spencer Tracy and Elizabeth Taylor original is fun to watch, today's brides can relate to Kimberly Williams' Annie Banks and her dad, George, played by Steve Martin, in the 1991 remake. Brides and grooms can get a glimpse of the stress wedding planning may put on their parents, and everyone will laugh out loud as Frank the wedding planner teases George about his lack of understanding of what goes into planning a wedding, specifically the costs. And even though the wedding takes place over 20 years ago, couples may still find inspiration in Annie and Bryan's wedding details, including her decorated sneakers, floral décor and the swans walking among the tulips.

One of the early scenes at the beginning of this classic British romantic comedy is a beautiful wedding ceremony, and a not so fab reception. The bride, played Kiera Knightly, and her groom are serenaded with The Beatles' All You Need is Love during the recessional by musicians seated in various areas of the church who jump out of their seats to surprise the newlyweds. And while the ceremony music is inspiring, the reception is a lesson in what songs to add to your do not play list.

Anyone with parents who have strong cultural or religious beliefs like the Portokalos can relate to Toula's stress as she plans her wedding to Ian, who is not Greek. And while the hilarious members of Toula's family plan her wedding without the couple's input -- Greek flag-inspired wedding invitations and extremely fitted bridesmaid dresses -- the lesson in the end is that a wedding is all about two families coming together, and that's what's most important.

No, this movie is not a lesson for single guys on how to crash weddings. "Wedding Crashers," if you haven't seen it, is a must for date night. Owen Wilson and Vince Vaughn play BFFs who follow a specific set of rules in order to crash weddings each weekend as a way to meet women. There are plenty of wedding ceremony and reception scenes with creative ideas for brides to jot down in their wedding planners, but this flick is really just a fun way to spend a night in.

Hitting theatres on April 26, 2013, "The Big Wedding" is the story of one family's attempt to avoid wedding-day drama when the divorced parents (Robert DeNiro and Diane Keaton) of the groom have to play nice for the weekend. Robin Williams plays the officiant, so there are sure to be some laughs during this wedding ceremony.
Follow Anne Chertoff on Twitter: www.twitter.com/annechertoff