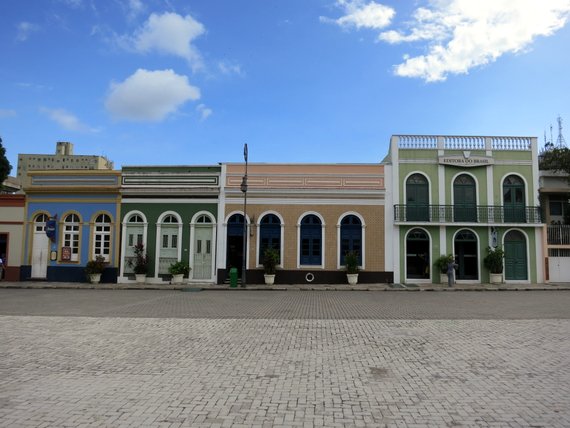 Our first month of our around-the-world journey has landed us in Manaus, Brazil, the heart of the Amazon. It's a 2 million person city in the depths of the jungle that can only be accessed by plane or the only highway in town, the Amazon River. Native Brazilians have obviously been living in the rainforest for centuries but the Europeans that came flooding in during the late 1800s for its endless resources, namely the rubber trees, have given this town a very distinct character. The dream was to create "The Paris of the Amazon" with grand plazas, opera houses, and palaces, they succeeded... in their own quirky Amazonian way.
Here's a look at Manaus nearly 90 years after the Rubber Boom, in new renaissance of sorts as they race to revitalize the town before their debut as host of World Cup 2014.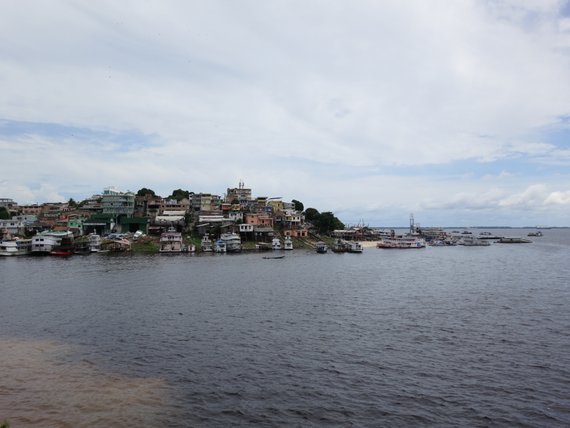 Houses crowd around the Amazon river; the lifeblood of town.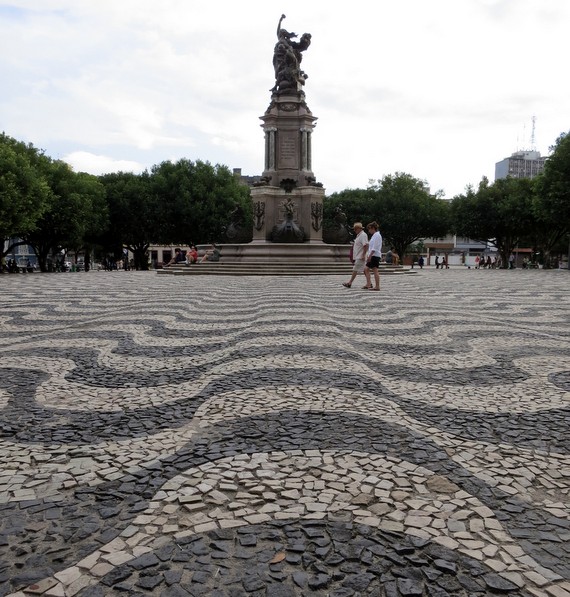 The black and white waves of tiles in São Sabastiao Square symbolize the meeting of the Rio Negro and the milky waters of the Solimoes rivers that form the Amazon river, just north of Manaus. This is the original example of the design but the motif appears all over town.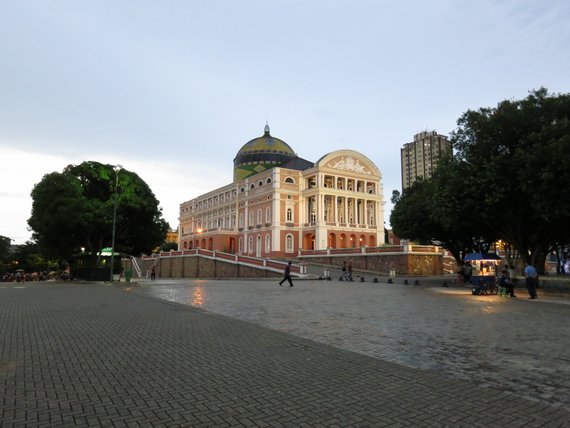 The pride and joy of Manaus, the Amazonas Opera House was built in 1882 at the height of the Rubber Boom.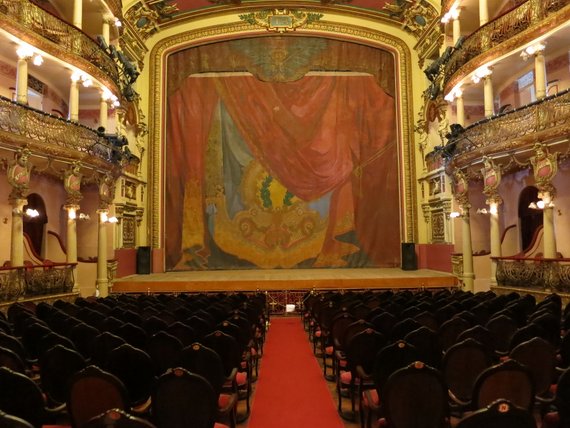 Sparing no expense, Italian designer Crispim do Amaral was commissioned to take on the 701-seat theater. Beyond the Venetian glass blown chandeliers and Rococo furniture shipped from France, he sent the local Brazilian wood across the ocean to be carved by the finest craftsman in Europe to ensure the theater had the best of the best.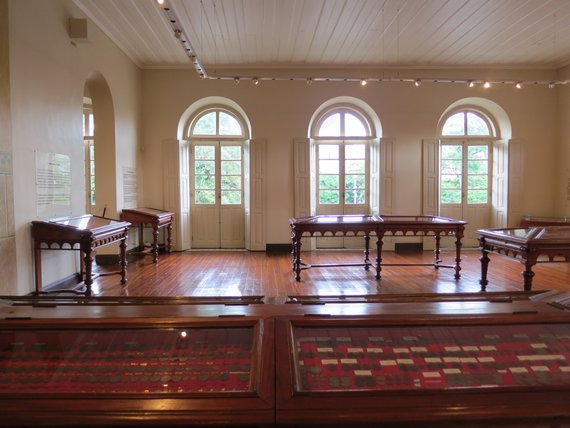 The Provincial Palace is made of a bunch of different smaller museums like this rare coin museum. The loose change didn't interest me much but I loved the antique display tables and loads of light flooding the arched windows.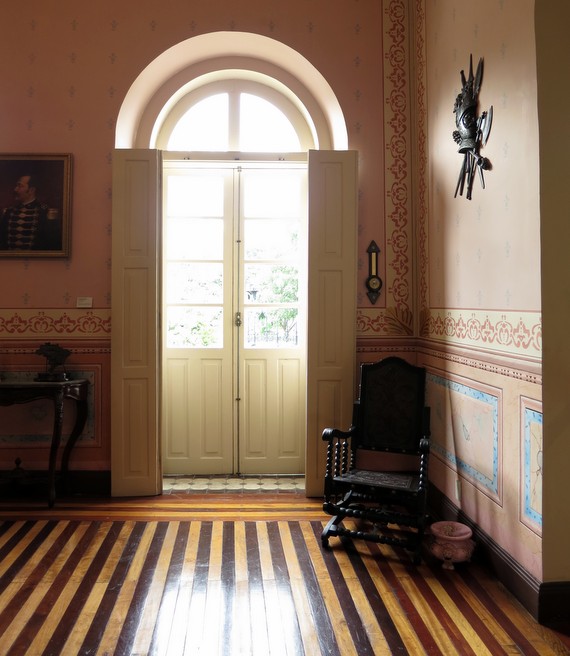 Loved this little corner of the Palace's private quarters for the trompe l'oeil walls and light and dark planks of wood... another nod to the meeting of the waters.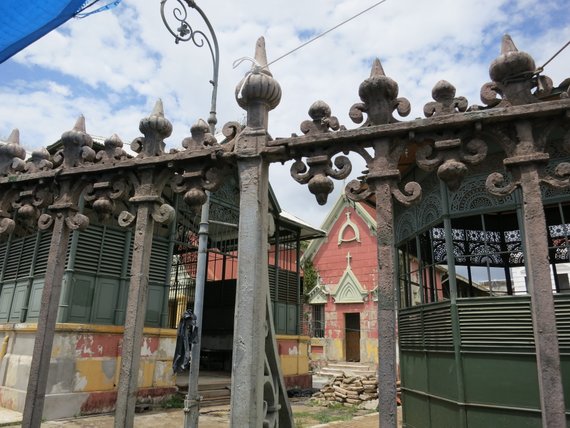 Beyond the museums and landmarks, Manaus' beauty is in a dilapidated state but that's half its charm.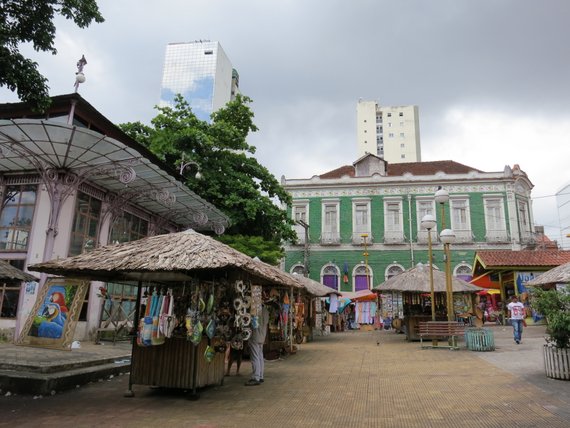 Grand Art Nouveau atriums and regal neoclassical buildings mix with thatch roof for a city full of contrasts.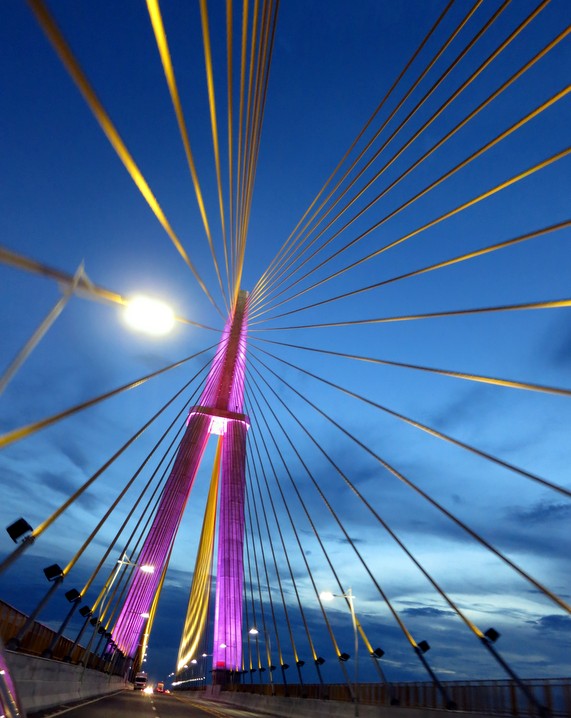 With Manaus hosting the World Cup in 2014 they are trying to spiff things up with 21st century designs and achievements like the Manaus-Irandubua Bridge -- the second longest river bridge in the world and quite the steel stunner at that.
Follow Anne on Facebook.com/SeeingDesign and HoneyTrek.com/Subscribe