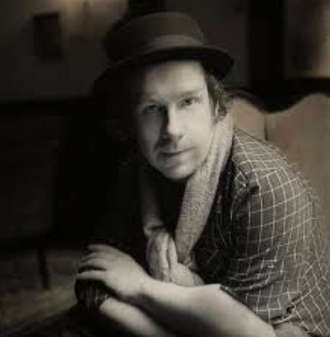 Kevin Barry, photo © Hugh O'Conor
Two books positively straining at their bindings are in your local bookstore right now; pick them up, and you'll be glad you did. One is a novel, and the other is a collection of stories newly published in America by Graywolf Press. The collection, Dark Lies the Island, is remarkable, but for today I'd like to introduce you to the novel. The author of all is Kevin Barry, and the novel is City of Bohane.
Barry's first novel, City of Bohane was published in Europe to resounding cries of joy in 2011. It won, most recently, the International IMPAC Dublin Literary Award for 2013. A Limerick-born fiction writer who lives in Boyle -- though he's spending part of this year in Canada -- Barry had already found success with a first collection of stories, There Are Little Kingdoms (2007). City of Bohane has compounded that success, and Dark Lies the Island will now surely expand it further, and internationally.
What is the city of Bohane? Well, for starters, the e is silent -- the only thing about Bohane that is. Think Bohan, for it's an Irish town's name. Bohan, to rhyme - almost -- with flim-flam and kablam and damn, violent and comic-strippy words far too familiar to the people trying to live in Barry's illuminated, inglorious imaginary city in the west of Ireland. The vernacular prose, the language so strong and intense it almost operated on its own as a character, and the pyrotechnics and gymnastics of Barry's words, were what dazzled critics like Pete Hamill the most when it appeared.
What's the story in Bohane? To put it simply, which, truly, one can't, City of Bohane is the story of a man coming home to a crime-run horrorshow of a once-great Irish city on the banks of the Bohane River, just inland from the "Black Atlantic," in a time about forty years from now. The man is "the Gant" Broderick, with his "old-time style," and he has been -- as we'd say in New York -- up the river for nearly twenty-five years. He's come home to take on his old enemy, Logan Hartnett, another local boy who runs the powerful gang across town, the Hartnett Fancy -- when his mother, feral and regal and bedbound, permits him to. Other tribes, and other fierce loners like "Miss Jenni Ching of the Hartnett Fancy and the Ho Pee Ching Oh-Kay Koffee Shoppe," maraud through Bohane. Jenni is one of many teenagers loosed in the city of Bohane: children fighting the vicious civil wars in the streets for the men.
Underneath this rotten, riotous city, reminiscent of so many other rotten cities in literature and reality, is another landscape that Barry makes incontrovertibly Irish. Here, for example, is daybreak on an important day, over the bogs with a name that is, like all Barry's wickedly clever names, perfect:
"Solstice broke and sent its pale light across the Big Nothin' bogs. A half-woken stoat peeped sacredly from its lair in a drystone wall and a skinny old doe stood alert and watchful on a limestone outcrop. Sourly lit, a cruel winter scene -- a raven clan soared and watched for scavenge, and there was a slushy melt to the hillside as the distant sun burned and a puck goat chewed morosely on a high mound there. Bohane river ran as it ever did and fed off the bog ice that quaked into it as the shortest day's sun came still higher."
The nature of the city of Bohane, and of all its locals, is bred in the bone from the place itself: this bog, this limestone, this river fed by bog ice. Barry writes like an angel, or like a fallen angel, depending upon the mood of the tale. His descriptions are keen and unforgettable, like this one, and his dialogues in a language that is Bohane's own, but all too understandable. Words like scudhole and shkelp and lackeen and the name of their great spirit of preservation. "Sweet Baba Jay," fill the mouths of Barry's characters, spilling out in alliterations and rhyming slangs that make hideous ideas and curses and suggestions sound like poetry.
City of Bohane is a rush of words that dazzle you and cosh you and leave you amazed, a mad marvel, and a triumph. To read it is a joy. And to hear Barry read from his work, in all its different voices, is a pleasure not to be missed. He recently read in New York at the Irish Arts Center, and at Greenlight Books; catch him later this year at the Miami Book Fair and at other events announced here.
© Anne Margaret Daniel 2012/2013
SUBSCRIBE AND FOLLOW
Get top stories and blog posts emailed to me each day. Newsletters may offer personalized content or advertisements.
Learn more