Been thinking of flaying someone -- or flaying yourself? Well, now you don't have to!
And say you wanted to create tasty vegetarian Halloween snacks that looked exactly like chopped-up human fingers: Well, voilà: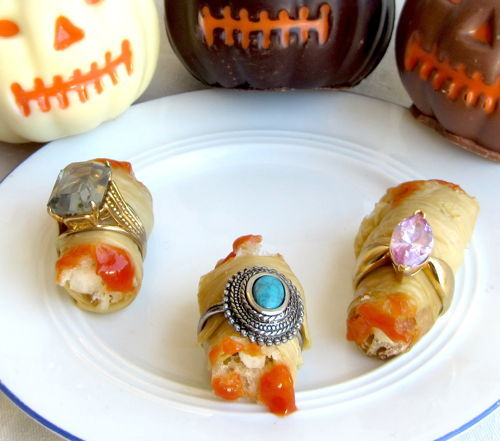 That's yuba "skin" and sourdough-bread "flesh" around jicama "bones." (And that's handcrafted Woodhouse Chocolate in the background.)
I got this idea while touring the Hodo Soy Beanery in Oakland, California last week. Hodo made headlines recently after being chosen, out of all this nation's beaneries, to provide the fresh, organic, non-GMO tofu that -- braised with peppers and spices -- is used in Chipotle's new Sofritas, the vegan option that can help us all sidestep some of the sorrows sparked by the sad-scarecrow Chipotle commercial that everyone's talking about.
Hodo honcho Minh Tsai left a career in investment banking to launch this business "because I was really surprised at the generally poor quality of tofu in the San Francisco Bay Area, which most people think of as the nexus of Asian food in America." Apprenticing himself to distant relatives who ran a tiny tofu shop in San Jose, he learned the ancient, natural way to make tofu -- a product which many Americans still avoid, just as they avoided sushi twenty years ago, Tsai said.
"Now I need to convert people," he said.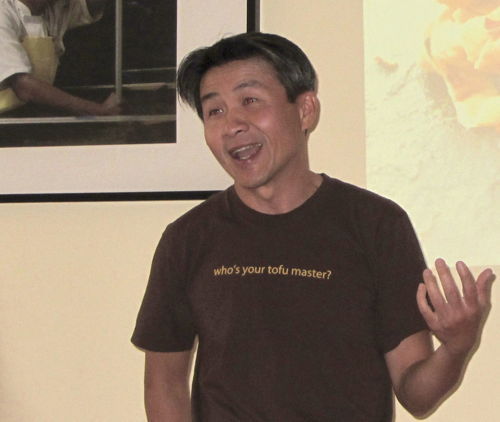 A staple in China for two thousand years and Japan for a thousand-plus, tofu is created by soaking and grinding soybeans to produce soy milk, to which is added a coagulant that transforms its texture from liquid to sliceable curd.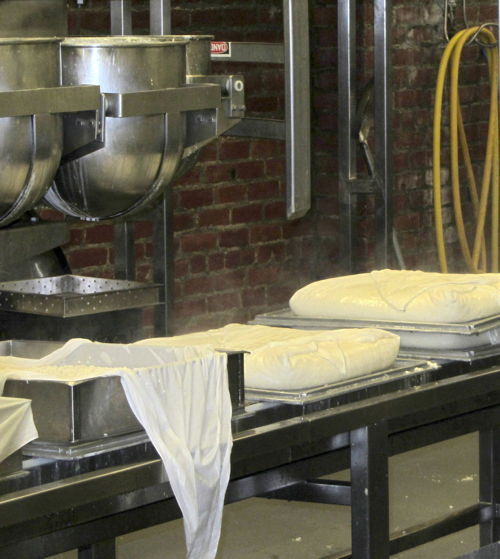 The tour revealed tofu at various stages of curdification, but also revealed the making of a related product: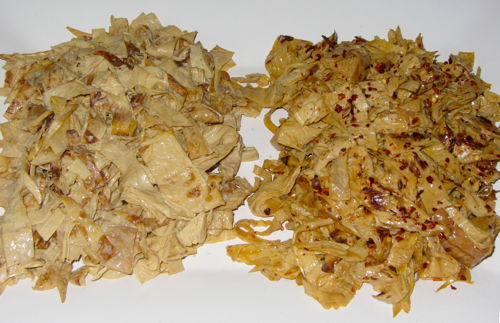 Yuba, aka "tofu skin," is a pale veil that forms on the surface of heated, coagulant-free soy milk -- just as skin sometimes forms atop hot dairy milk. Sheet after sheet of delicately wrinkly yuba is gently lifted from Hodo's soy-milk pans and laid over bars to drain.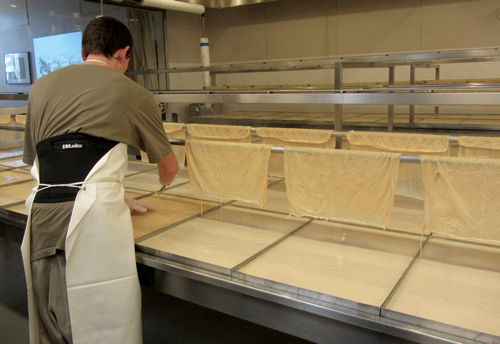 Who knew beans could do this?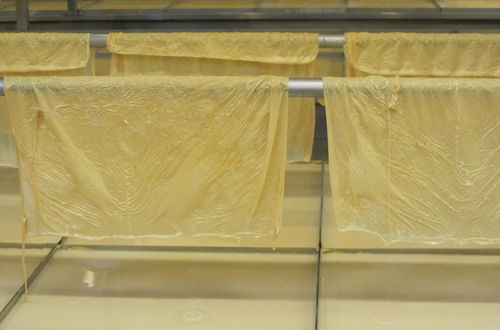 "Yuba is essentially the sashimi of tofu, the cream of soy milk," Tsai explained. "It's the Holy Grail."
Gimme some skin!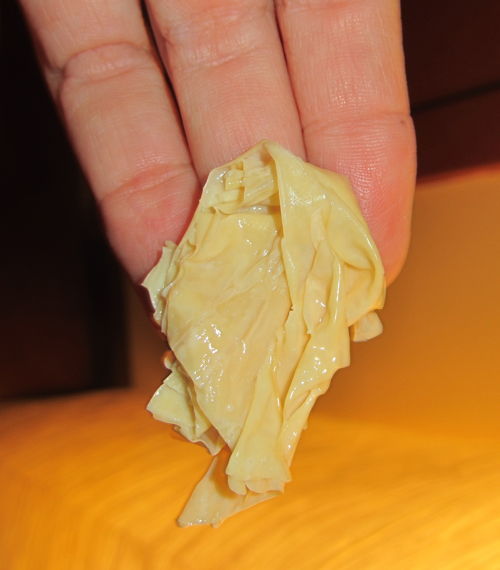 Hodo Soy Beanery's yuba is served at some of the Bay Area's most famous restaurants, including State Bird Provisions, Slanted Door, Coi, Ippuku and Gather. (Gather's award-winning chef Sean Baker once created an entire multi-course gourmet dinner around yuba.) Granted, you might find Hodo's handcrafted products pricey. But yes, you can taste the difference. And if you're only in it for the Halloween hijinx, and/or you're short on cash, some Asian stores stock surprisingly inexpensive yuba: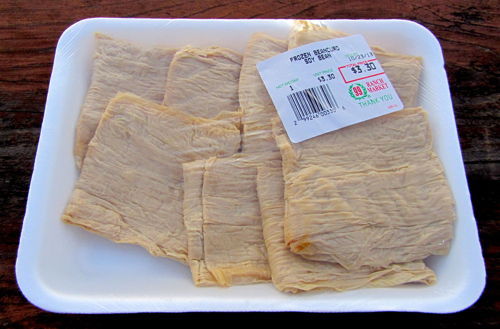 Yuba is a subtly delicious, tooth-tender, versatile, high-protein product that can be wrapped around fillings, sliced into long strips and used as pasta, tossed with sauces for stir-fries and sandwiches, and served in countless other ways. But given its uncanny resemblance to human skin, who could resist it?
We .. want .. braaaaiiiinnnnnssss....
It's not only perfect for Halloween, but for all other holidays and occasions. The little brain-bite above is entirely Northern California-local: The freshly harvested walnut is from family-owned Alpine Pacific Nut Company in Hughson. The scooped-out pineapple guava is from a backyard tree in Berkeley. (The chocolate skull, along with all the other chocolates depicted in this article, is from family-owned Woodhouse Chocolate in St. Helena.)
The possibilities are endless.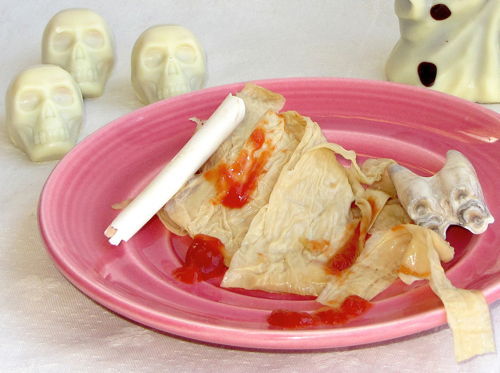 So hey: The next time you're thinking of making something out of human skin -- try this ancient Asian foodstuff instead!
Burrito image courtesy of Chipotle. Hodo Soy Beanery photographs by Anneli Rufus. All other photographs by Kristan Lawson. All images used with permission.