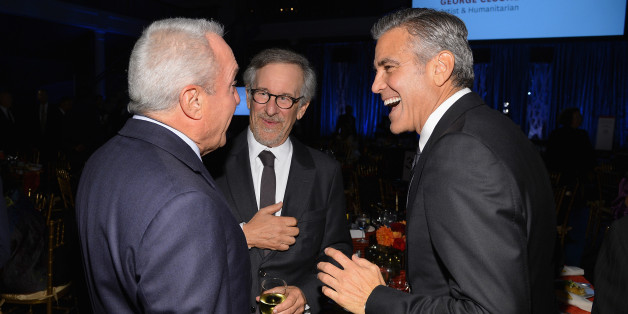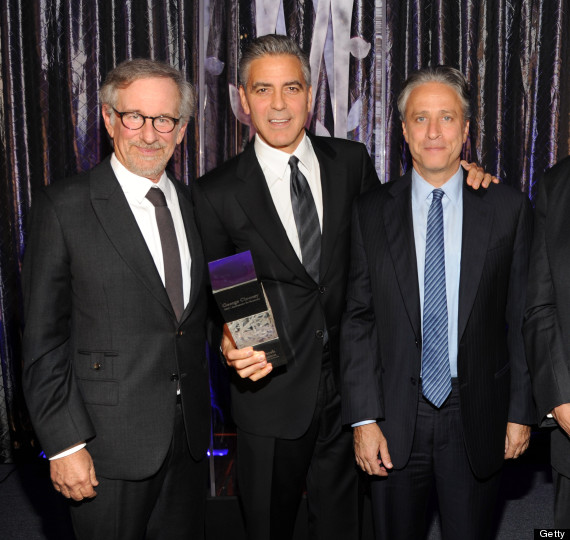 Celebrity and citizenship proved inseparable when Steven Spielberg presented the "Ambassador for Humanity" award to George Clooney at a gala hosted by Jon Stewart on Thursday night in New York. Each of these men thrives in the precarious intersection of social engagement and entertainment. In honoring Clooney, Spielberg made a point to "not taint him as a 'Hollywood humanitarian,' as many of us have been mislabeled." Rather, he later praised the actor, director and producer as a "humble humanitarian."
The dinner at the American Museum of Natural History raised approximately 3.7 million dollars for the USC Shoah Foundation, which Spielberg created in 1994 to document Holocaust survivor testimonies.
This educational mission was an extension of his creative work. At the time, he was already one of the most successful directors in movie history. Instead of simply continuing to make populist fare like Jaws or Jurassic Park, he also directed Schindler's List, the Oscar-winning Holocaust drama that, in turn, led to this survivor documentation enterprise.
After collecting over 51,000 testimonies from primarily Jewish survivors in 57 countries and 33 languages, the Shoah Foundation -- housed at USC since 2005 -- expanded its work to confront other genocides, including Armenia, Cambodia, Darfur and Rwanda.
Similarly, Clooney has used his celebrity as an actor to bring attention to the Sudanese, even establishing a surveillance network to shine a light -- literally and figuratively -- on oppression. Spielberg hailed him as the founder of "Not on Our Watch", as well as "an actual UN messenger for Peace, a voice of reason," adding, "he's been shot at, literally."
And Jon Stewart, who is arguably the smartest host/commentator on television today, did a 180-degree turn into the territory of Spielberg and Clooney by directing a dramatic feature this past summer. He follows in their footsteps by basing Rosewater on a true story of political courage, namely Maziar Bahari's book, Then They Came for Me: A Family's Story of Love, Captivity, and Survival.
If Clooney illuminated the past when he directed Good Night and Good Luck -- about TV host Edward R. Murrow menaced by Senator Joe McCarthy's anti-Communist witch-hunt in the 1950s -- Stewart's almost-completed film is about the present. Bahari (played by Gael Garcia Bernal) is an Iranian writer who was arrested after appearing as a guest on his program.

Among the celebrities at the head table on October 3rd were Saturday Night Live creator Lorne Michaels, comedian Jerry Seinfeld, producer Kathleen Kennedy, and the star of Gravity, Sandra Bullock. She took the stage as the dinner began, pinch-hitting for Stewart, who was still taping that evening's "Daily Show."

About her Gravity co-star, she teased, "George, you are a child," but turned serious in saying, "You have used your gifts ... to give those who have no voice -- whose freedom was taken away -- a voice that everyone can hear."
Stewart took over the MC duties later in the evening with a bit of shtick: "I'm a comedian, so obviously this is an interesting booking. I don't really know what's appropriate. I'm a little nervous. As a Jew, there is almost nothing more sacred than ...," Pause. "The Upper West Side.
A huge laugh from the Manhattan crowd led him to continue in the comic vein, "I told my mother, who's 80 years old, 'I'm going to the Shoah Foundation benefit at the Museum of Natural History.' She said, 'Mein Gott, you're almost four blocks from Zabar's!' She too has a list," he added, invoking that of Oskar Schindler, "mostly Babka, whitefish ..." But he seemed quite earnest in introducing Spielberg as "good people ... not that prevalent in our business, show business."
Spielberg quipped to Stewart, "My mother loves you more than she loves me," before the more sober admission that he doesn't like the expression, 'time heals all wounds': "As we near our twentieth year, time can be our enemy," he warned. "Time can skew our compassion and foster apathy instead of action."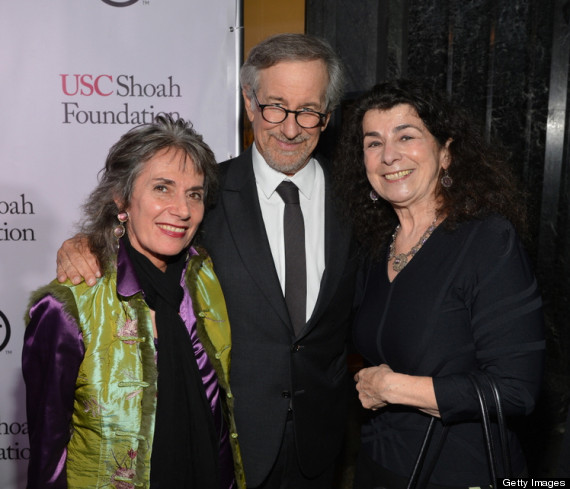 Annette Insdorf (left), Steven Spielberg, filmmaker Aviva Kempner (right)
It was surprising that nobody mentioned Clooney's latest film as a director, The Monuments Men, scheduled for December 18 release. He co-stars with Cate Blanchett and Matt Damon in this true story set during World War II about a group of art historians who try to recover art stolen by the Nazis.

In terms of Clooney's camera installation in Darfur, the means by which he makes a living is helping others keep on living. Although he was the one to say, "There has to be a record of what the powerful can do to the powerless," the efforts of Spielberg, and of Stewart (especially on behalf of First Responders after 9/11) suggest the same commendable agenda.
With the Shoah Foundation, Spielberg heightened the camera as a weapon of testimony and memory. For Stewart, the TV camera is a conspiratorial ally, the lens he uses to skewer hypocrisy or stupidity. As a film director, he turned it onto faces other than his own, shooting -- in Jordan -- far from his midtown studio, in a language he does not speak.
These popular artists, each in his own way, have become true citizens of the world by wielding a camera as a weapon for peace.
Columbia University Film Professor Annette Insdorf is the author of Indelible Shadows: Film and the Holocaust. Her book Double Lives, Second Chances: The Cinema of Krzysztof Kieslowski will be reissued this month by Northwestern University Press.