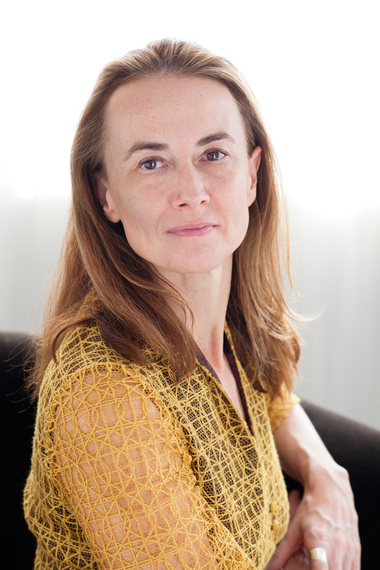 Photo by Nina Subin
Brief Interviews is a series in which writers discuss language, literature, and a handful of Proustian personality questions.

Stacey D'Erasmo, 53, an associate professor of writing at Columbia University, is the author of four books, including her 2014 novel Wonderland, which was released last month in paperback by Mariner Books.


What is it like for you when your books come out?
I think it was (author) Francine Prose who said publication is like the calm before the calm--that you think so much will happen and it doesn't. But when my first book came out (Tea, Algonquin Books, 2000), what I wasn't prepared for was the magnitude of what it felt like internally. You've been walking around for years with this really private story and all of a sudden everyone can see it. Even if statistically not that many people are looking, they could and you feel that. One of the first times that I went into a book store and saw a bunch of my books my impulse was to put them all under my coat and run away so that no one else could see them, even though, of course, I wanted everyone to see them.
Your books got noticed from the start. Tea was a New York Times Notable Book and A Seahorse Year was a San Francisco Chronicle Best Book of the Year and a Lambda Literary Award winner. What do you attribute that to?
Luck, partly. You know, I was coming just after the crest of the wave that had seen a lot of LGBTQ stuff really finally getting big recognition. That definitely helps the degree of seriousness with which review publications take you. There was a community there that was really supportive of me and bought my books and reviewed me. It was a wonderful conjunction of whatever I brought to the table and the conversation that the culture had become willing to have. That was delightful. Also, looking back now to 2000, there were a lot of places writing at length, and seriously, about books. I didn't know it then, but I was making my debut at a time that was a really healthy time for literary fiction and a pretty damn good time for queer literary fiction.
Wonderland has also received high praise: NPR Best Book of 2014; a Time Top Ten Fiction Book of 2014; a New York Times Book Review Editors' Choice; and a BBC Top Ten Book of 2014. O Magazine called it 'briskly addictive.' Refinery 29 listed you with the likes of J.D. Salinger. What do you say about all of that?
I say 'thank you' and 'wonderful!' You do your best to get the book out there, to get it into the right hands but there's an enormous amount that you simply do not control. A lot of times really wonderful things that have come my way have come basically out of the blue.
Reader reviews for Wonderland are all over the map. It seems like people either get you or they don't. Is that accurate?
Yeah, and with Wonderland that was particularly true, which really surprised me. It felt as if the reviews fell into kind of two camps: One side that really embraced the formal unconventionality of the book and who were really interested in the heroine and what she does and the decisions that she makes. And then there was this other camp that hated the formal unconventionality and also basically felt that she was like slutty and druggy. I had written three books in which queer characters did all sorts of stuff, but all of a sudden, you get one stray lady in her 40s, going on the road and picking up a couple people and not being narratively punished for it.... All of a sudden there was a level of judgmentalism and anger that I had never received before. I thought that was actually quite fascinating.
But it says something that they read the book to the end - and that they connected enough with it to be angry, right?
Absolutely. I'll be honest: I did not love what Lionel Shriver said about the book in the Times Sunday Book Review, but she said it at length and it was taken seriously enough to ruffle feathers. If I'm making some people upset, like really upset, then I must be doing something right. I'll take it.
You have said about Wonderland that you wanted to explore the question of how do you find your voice in the shadow of someone who not only had a big voice, but spoke a different artistic language altogether? I wondered how you found your own voice.
That's a very interesting question. I don't come from an artistic family, so that particular struggle that (the book's narrator) Anna has is not mine. I was influenced by big, strong voices--writers like Elizabeth Bowen, Virginia Woolf, Jane Bowles; gay writers like Ed White, Michael Cunningham, Allen Hollinghurst; and contemporary lesbian writers, like Dorothy Allison. They got me thinking about, 'What can you write about? What can you say?' If you're attracted to those kinds of big voices, then you are definitely going to work hard to forge your own voice. That's the part of Anna's struggle I certainly identify with.
Do you believe you have a big voice?
I guess I would say that throughout my career, I've been willing to take pretty big risks in terms of both form and content that, honestly, it didn't occur to me not to take. There's something in me that didn't get the memo not to go as far as you want to go. I think that I was very fortunate in that I was chasing some very large figures, so I wasn't paying a huge amount of attention to the forces that would say, 'you shouldn't do that' or 'don't write about that.'
When is writing difficult for you?
When I get overwhelmed with too many things to do. I teach. I do lots of things and those things take up time and that's really, really hard. On a deeper level, there's a level of privacy that I need in order to work, and if there's been a time when there's been a lot of publicness in my life, it can be a little bit difficult to sort of rebuild that private space. That's when it's hard.
You wrote a Modern Love piece in the New York Times last year about falling in love with your boyfriend, who is a Zen Buddhist priest.
My dear monk from Iowa.
Yes, what does your dear monk from Iowa think about your writing?
He's wonderful. He's a smart reader. One of the great things about living with a Buddhist priest is that he's very good with impermanence and ambiguity and, in a writer's life, it's all impermanence and ambiguity. So his capacity for that is really wonderful.
So what books haven't you written yet that you still want to write?
I have lots of writing about literature that I would still like to do, and there are definitely more novels in here. I mean, there's tons. I can't say a specific one. But, yeah. Lots.
SUBSCRIBE TO & FOLLOW CULTURE SHIFT
Every Friday, HuffPost's Culture Shift newsletter helps you figure out which books you should read, art you should check out, movies you should watch and music should listen to. Learn more