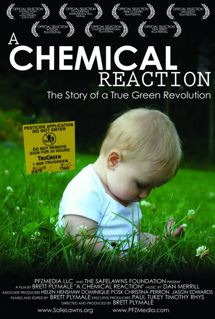 I'll admit it. I'm not a fan of the lawn. Here in sunny California, I'm often heard lawn bashing (in my native New York tongue). So awhile back, I ripped out my cranky, rusty front lawn and planted native, drought tolerant ground-covers and flowers instead. Yes, I am eco-amazing. I know. Not really though. My soil scientist pal, Professor Stephen Andrews, at UC Berkeley says, "If you're growing a lawn in California, God help you!"
So, I'm actually not so amazing.
Just smart.
In my anti-grass quest, I found it's the male spousal unit who's having a hard time letting go of his huge, useless, drug addicted turf . . . Maybe it's time he watched the new documentary entitled A Chemical Reaction by filmmaker Brett Plymale and lawn care expert, Paul Tukey. This poignant film tells the story of Dr. June Irwin, a brilliant and eccentric Canadian dermatologist who noticed a connection between her patients' health conditions and their exposure to chemical pesticides in the 1980's. She brought her concerns to the town of Hudson's City Council and with tireless persistence warned her neighbors that the garden chemicals they were using on their lawns caused severe health risks to humans and the environment. Her thorough research, meticulous data and sheer tenacity eventually led to the town enacting a ban on chemical pesticides and herbicides for cosmetic purposes. Local chemical companies such as ChemLawn (now known as TruGreen) and Spraytech challenged the law in court claiming 'the municipality had no authority to prohibit federally registered products.' (In other words, if the federal government and the chemical companies tell you their products are registered and safe yet they're increasingly linked to rising cancer rates, asthma, leukemia, early-onset Parkinson's and various neurological disorders, just shut up and spray!) The case eventually made it to the Supreme Court and . . . you'll have to see the movie to find out what happened next.
Just this year Health Canada, the equivalent of the U.S. Environmental Protection Agency, announced it plans to ban the sale and application of all weed 'n feed type products across Canada by the end of 2012. Half of Canada has already banned such products. Narrated by author and activist Paul Tukey and directed by Brett Plymale, A Chemical Reaction will have you cheering for the small town of Hudson, who fought the giant chemical lawn care companies for ten years.
"I knew as a journalist that there had to be a good back story," says Tukey. "That somebody had to go out on a limb and take on these chemical companies, because the chemical companies, trust me, go to unbelievable lengths to ensure they have the right to sell these chemicals."
Tukey, who worked in the lawn care industry for years before becoming an author, TV host and journalist, began coming home with blurred vision, nosebleeds and nausea. A doctor attributed his health problems to his work with lawn chemicals. In 2007, Tukey authored the acclaimed book,
The Organic Lawn Care Manual.
"Initially I wanted to make this film simply because it's a great story of a modern-day David vs. Goliath," says the film's director, Brett Plymale. "But as I delved deeper into the intricacies of how the anti-pesticide movement gained momentum and the impact that it had on the entire continent of North America, my motivation has become more driven to find out what forces are at work to shape public opinion, and why we collectively, are willingly do things that are potentially harmful to ourselves."
June Irwin, who is in her 70's is a still a practicing dermatologist on the West Island of Montreal. Tukey and Plymale believe she's changed the North American landscape forever just by daring to speak out. Though Irwin, herself, is often heard humbly stating; this is not about me. This is about us.
"She would attend every single town meeting form June 1985 till they passed the law. She would read documents full of facts and full of anecdotes that came in the news," says Tukey. "She would read this aloud and say why aren't we getting rid of these things? Why are we allowing these products to be on our properties?"
The film will leave you wondering why WE are allowing these chemicals into our backyards, local parks and school landscapes. According to the Canadian Cancer Society, a growing body of evidence is linking cosmetic pesticides to several cancers, including adult and childhood leukemia, non-Hodgkin's lymphoma, pancreatic cancer, kidney cancer and some brain cancers.
"Parents are afraid because hundreds of untested chemicals are found in their children's bodies," says Senator Frank Lautenberg (N.J.) "EPA does not have the tools to act on dangerous chemicals, and the chemical industry has asked for stronger laws so that their customers are assured their products are safe."
Many scientists and environmental health advocates cite the fact that U.S. EPA has evaluated only 200 of the estimated 80,000 industrial chemicals in commerce-and banned only five- as evidence of TSCA's (Toxic Substances Control Act) failure to protect the health of consumers.
Therefore, billion dollar corporations, with somewhat arbitrary oversight, are telling us we are safe. Hmmm, where have I heard that before? . . . Oh, yes, too big to fail; The financial industry.
As we say in my tribe, that's mashugena!
While making this movie, Plymale spoke with countless adults who had developed serious illnesses from pesticide poisonings. He was told hundreds of anecdotal stories about sick children and pets as well. He and his crew interviewed many credible doctors, veterinarians and scientists who all agree that the chemicals found in these lawn care products are dangerous, and in some cases, are known carcinogens. They also agree that the effects on the human body are largely unknown and are nearly impossible to isolate and prove scientifically.
"My interest is to force the issue that every single person who uses these chemicals on their lawn needs to be aware of the risks. The people warning of the risks don't have a million-dollar advertising campaign to reach the public, "says Plymale. " These risks need to be known so that a homeowner can make an educated decision about what they're doing on their patch of paradise, and conversely what effects their decisions have on their community, or better yet, their own family."
To order the film or to set up a local screening or to find a showing during 'Earth Day' week, go to www.chemicalreactionmovie.com
EXTRA CREDIT:
To learn more about making your home garden safe, visit www.safelawns.org or www.whatsonmyfood.org Become a member of Environmental Working Group www.ewg.org, who just this month introduced the 'Safe Chemicals Act' in the U.S. Congress. This new legislation aims to reform our toxics laws and force companies to show that their chemicals are kid-safe before they're put on the market.
EXTRA CREDIT AND A GOLD STAR:
Support organic lawn care companies like Fire Belly Organic Lawn Care, John & Bobs, Chickity Doo Doo, Dr. Earth, Natraturf and Gardens Alive. Or, grow Eco-Lawn (eco-lawn.com) a native drought tolerant grass that doesn't require any fertilizer.
EXTRA CREDIT AND A SPARKLY PINK PONY:
Become a 'TALKING DIRT' fan of mine on Facebook. C'mon, you know you want to!
or visit me at www.dirtdiva.com
This Blogger's Books and Other Items from...
FOLLOW HUFFPOST