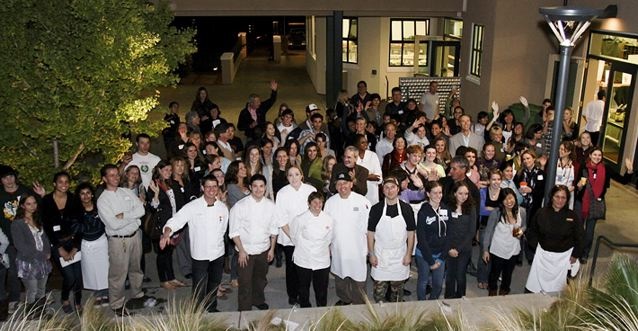 Last week Sarah Palin opened her mouth again and out belched super-sized, high-fructose corn-syrupy pearls of misguided logic and fool's gold wisdom. She was pontificating about the amount of sugary desserts being brought into schools. Palin thinks that parents should be the ones deciding what to feed their kids at school, not the government or local school board. No matter how unhealthy and harmful the so-called "food" item is. Palin's logic is equivalent to a parent justifying exposing their children to second hand smoke just because they can. Something is wrong with Palin's logic: parents are the ones doing a tragically disastrous job of feeding their kids! America now rates number one globally in childhood obesity. It wasn't always like this. Since the 1980s, the percentage of obese youth has tripled. According to the CDC, Hispanic or African American girls born in 2002 have a 1 in 2 chance of being diagnosed with diabetes. Diabetes and obesity have related complications of heart disease, stroke, high blood pressure, kidney disease, amputation and blindness. Parents are allowing the food and advertising industry to raise the next generation to be a nation of overweight, diabetic, sickly, lethargic pill-poppers. Some would label this child abuse. Where's the love, baby?
Are parents sinners or just oblivious, gullible and completely exhausted? When did the pod-people steal their brains? Last Friday, I decided to go searching for their brains so I went to an event called the School Lunch Challenge put on by the student led advocacy group Teens Turning Green at Marin Academy, a high school in San Rafael, California. I knew that the county's private school kids were eating what we all should be eating: organic, locally grown, whole foods with a wide variety of fruits and vegetables in their school lunches. These students were excelling in sports and academics, of course. Feeding our children fake food, without any nutritional value and expecting them to be successful in school and later in life, is absolutely preposterous. But how do we bring those 'real' foods into the public schools so that all kids have a chance to live a healthy lifestyle?
Who better to ask than Chef Anne Cooper, also known nationally as the Renegade Lunch Lady, who is responsible for changing the Berkeley, California public school lunch program for the better. "We spend 5 million a week on diabetes and billions on the Iraq war. We can't seem to find the money to feed out kids better. This is your money. As parents you should all be pissed. I want you to get mad," vented Cooper, after I asked her how she's been. And those were just her opening remarks.
Cooper directed the school cafeteria while six chefs cooked for the School Lunch Challenge. The extraordinary chefs (Heidi Krahling of Insalata's Restaurant, Matt Boucher of Good Earth Natural Foods, Nicole McKinney of Epicurean Group, Ric Keeley of Acre Gourmet, Jeremy Goldfarb of 123 Bolinas and Justin Cope of Whole Foods Market) were asked to cook meals for the evening's 100 guests on a public school lunch budget. Most U.S. public school food service directors are given just one dollar per child to feed a student a "nutritious" lunch. (That's why our kids eat frozen, deep fried, over-salted, white sugar/flour, trans fatty acid laden, pesticide contaminated, hormone-injected filler "stuff" for lunch. YOU try to feed them a healthy lunch for a buck. Let me know how that turns out for ya.)
Miraculously these six chefs, with the help of 30 bright students prepared healthy, wholesome, beautifully colorful meals for a crowd, with a budget of $1.25 per person. They proved it can be done but not for a single dollar. The chefs believe if they could have 25 to 50 cents more, per child, they could feed students a wide variety of delicious and highly nutritious lunches each day.
California Congresswoman Lynn Woolsey (D), a longtime supporter of childhood nutrition, spoke at the event. "If change in food policy can't be made here, it can't happen anywhere. This is where it begins," she said. She spoke of the 2010 Child Nutrition Reauthorization bill that will be coming up for a vote in the House later this month. The bill would help fund the use of healthier options such as whole wheat buns, more plant-based foods and less candy or high-calorie drinks in school vending machines. U.S. Secretary of Education Arne Duncan and Agriculture Secretary Tom Vilsack are both urging Congress to pass the child nutrition bill, which is a priority for the White House and for First Lady Michelle Obama's anti-obesity campaign.
This week more than 90 nutrition groups sent House members a letter urging passage of the bill. The coalition favoring passage is organized by the Center for Science in the Public Interest and includes Feeding America, the network of food banks, and Bread for the World. The U.S. Agriculture Department's "Household Food Security Report" was released on Monday showing that 17.4 million households had trouble putting food on the table in 2009. The 17.4 million households experiencing food insecurity make up about 14.7 percent of U.S. households, the highest percentage since the survey was started in 1995. That's estimated at one in six Americans. Oftentimes, the federally-assisted school lunch is the only meal some children eat all day.
Though this bill has bipartisan support, there is concern however, that money would be taken away from the food stamps budget to help pay for it, so this critical bill may not pass.
School Lunch Challenge teen leaders Ali Chan, Max Norman and Courtney Jacobson, all students from various local high schools, gave emotionally charged speeches demanding more nutrition awareness and activism from parents, teens and government. "Why is it that students have to ask adults not to feed them food that kills them?" asked Ali Chan, a senior at San Marin High in Novato, California. The students also moderated a lively panel discussion with California State Assemblymember Jared Huffman, Miguel Villarreal, food service director at Novato Unified School District, Chef Ann Cooper, Helge Hellberg, Director of Marin Organic, Anna Kharbas of Straus Creamery and Marin Academy science teacher Mark Stefanski. Huffman said:
Here in Marin, with our access to local organic foods, generous community support, and creative leadership, we can take on the School Lunch Challenge to address the many health and academic issues that accompany a poor diet -- especially for our young school children. It is great to see that many of our local schools are already on the path, providing nutrition education and school gardens, and I look forward to supporting this important collaboration as it grows and develops.
Judy Shils, Founder and Director of Teens Turning Green, hopes to now work with the professional chefs who were involved in the lunch challenge. They hope to refine their menus and recipes based on the USDA nutrition standards and work with local school food service directors to integrate these meals into the county schools. The teen judges voted the Vegetarian Enchiladas, prepared by a local favorite chef Heidi Krahling, as the winning meal of the night. This will be the first recipe to incorporate into the local school lunches. Shills added:
We will finalize our Project Lunch Platinum Standard as a guideline for schools to implement change in their existing school lunch program. Short of a bond measure in this community, there is not going to be a tremendous amount of additional funding coming our way. But even 25 cents would make an enormous difference. In the interim, we will look locally, work with local farmers, local food wisdom, local business partnerships and local innovative ideas. If we can step outside the conventional school lunch box... then we can be change makers. At the same time, we can lobby for policy that puts our kids first and allows them to be nourished and healthy.
Become a member of the fabulous Dirt Diva Royal Horticultural Society at www.dirtdiva.com
May the delicious photos below inspire you to get involved and create change in school food policy in your 'hood. Fire it up!